Condé Nast subsidiary Fairchild Fashion Media will acquire Fashion Networks International, best known for its curated blog portal NowManifest, in a move that is likely to increase the publishing giant's Web presence at a crucial time.
NowManifest – which hosts popular bloggers including BryanBoy, Elin Kling and Anna Dello Russo – attracts nearly 1.2 million unique visitors per month. In addition, Fashion Networks executives will become part of the Fairchild team, where they will overlook products and development for NowManifest.
"The acquisition makes sense in theory, yes," said Al Ries, chairman of marketing consultancy Ries & Ries, Roswell, GA. "But, in practice, it would depend upon the price Fairchild paid. If the price is reasonable, then the acquisition is probably a good one since it is consistent with the luxury-market position Fairchild wants to dominate.
"Also, there is no question that print media have been declining and digital media have been taking their place, so Condé Nast and other publishers need to stake out positions on the Web," he said. "It's hard to know in advance what would make a good digital strategy, therefore a print publisher needs to experiment with different approaches.
"Perhaps a blogging site is a good direction."
Mr. Ries is not affiliated with Fashion Networks or Fairchild, but agreed to comment as an industry expert.
Fairchild Fashion Media, which publishes Women's Wear Daily, Style.com and Style.com/print, declined to comment for this story.
Invest in manifest
NowManifest's insider's look into the fashion world is what makes it so popular with consumers and, after that, luxury brands.
Cartier, Bulgari, Net-A-Porter, Hugo Boss and Marc Jacobs have all bought ad space on NowManifest.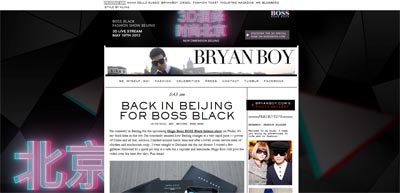 Hugo Boss ads on BryanBoy's page
In fact, apparel and accessories designer Marc Jacobs International saw strong site traffic and click-through rates with an advertorial launch celebrating 10 years of its Marc by Marc Jacobs line on NowManifest (see story).
Fashion Networks cofounder Christian Remröd will become Fairchild's managing director of NowManifest and Fairchild Fashion Media Business Development.
Mr. Remröd will oversee product and development for NowManifest, per the company. He will also work with Fairchild to develop new digital concepts for current and new businesses.
As of right now, all aspects of NowManifest and its marketing efforts will not change, according to Fairchild. However, Fairchild may begin to discuss changes when Mr. Remröd settles into his new role.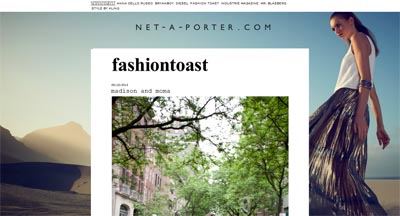 Net-A-Porter ads on Fashion Toast's page
Emerging trends
The fashion industry is constantly reinventing, adding and dropping brands to perfect their image.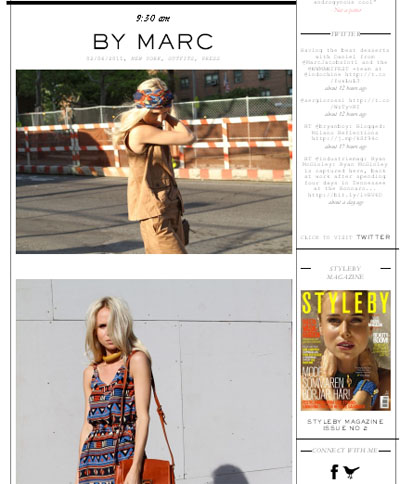 Style by Kling's Marc Jacobs advertorial
Indeed, the merger-and-acquisition market in the luxury industry has been active in the past year.
After the recession hit the luxury industry, most companies were reluctant to take risks and continue a profitable mergers-and-acquisitons business. However, experts are taking its recent revival as a sign of a recovering industry (see story).
For example, with the acquisition of Italian label Brioni last year, Gucci and Yves Saint Laurent owner PPR has made clear its interest in a luxury menswear, a segment where it sees much potential (see story).
PPR also acquired sportswear manufacturer Volcom and announced its majority control of Swiss watchmaker Sowind Group, parent company of Girard-Perregaux and JeanRichard.
The right acquisition move can help companies increase revenue, awareness and prestige within the industry, but the buy must make sense.
"If NowManifest continues to grow and prosper, the acquisition will obviously add value to Fairchild Fashion Media," Mr. Ries said. "It depends on how Fairchild manages the bloggers on the site. This can be difficult since many bloggers are independent souls and don't take well to being a part of a large corporation.
"Don't try to make too many changes in the near future," he said. "Micro-management is the cause of many ill-fated mergers and acquisitions."
Final Take
Rachel Lamb, associate reporter on Luxury Daily, New York