U.S. fashion house Oscar de la Renta is aligning with national Breast Cancer Awareness Month through a digital shop that offers some of the label's pink-colored items with 10 percent of net proceeds being donated to a charity.
Oscar de la Renta sent an email to its list yesterday directing consumers to The Pink Shop on its ecommerce site that features womenswear and childrenswear items that come in a shade of pink. The label is preserving its typical price point and product quality within the e-shop likely to keep up the brand image while targeting all types of female consumers.
"Luxury brands need to have proper expectations for initiatives of this nature," said Rachel Lewis, Fort Worth, TX-based senior strategist at iProspect. "While it is certainly fantastic for this issue to receive so much attention, it can be difficult for advertisers to stand out at a time when so many marketing initiatives in the space have a similar message.
"For brands to make the most of these initiatives, they must remain true to brand heritage while incorporating the common denominator, in this case, Breast Cancer Awareness," she said.
"Email is an excellent way to reengage loyalists who are likely to appreciate the brand's philanthropic efforts and participation in Breast Cancer Awareness Month."
Ms. Lewis is not affiliated with Oscar de la Renta, but agreed to comment as an industry expert.
Oscar de la Renta did not respond before press deadline.
Little pink dress
The Pink Shop section of Oscar de la Renta's ecommerce site is offering women's apparel, accessories, jewelry, shoes, beauty products and fragrance as well as girl's apparel, accessories, shoes and outerwear.
The Pink Shop 
The label is donating 10 percent of net proceeds from items purchased in the Pink shop to The Society of Memorial Sloan-Kettering Cancer Center.
Oscar de la Renta is raising awareness for The Pink Shop via email and on the homepage of its ecommerce site.
An email sent yesterday with the subject line "Shop Pink for a Cause" showed four women's looks from the e-shop and told consumers about the donation. It contained a "shop now" button that led consumers straight to the Pink Shop section of the label's site.
Pink Shop email 
Also, Oscar de la Renta is aiming at site visitors with a large portion of its homepage dedicated to the Pink Shop.
Additionally, products from the Pink Shop are available in their designated sections throughout the site and are marked with the pink ribbon for Breast Cancer Awareness Month.
Oscar de la Renta ecommerce site 
"Breast cancer has touched many, many women's lives and supporting awareness and the people who are working on care-giving and cures is smart and risk-free," said Marko Muellner, senior director of marketing at ShopIgniter, Portland, OR.
"This issue touches women across generations so it is also a good way to reach a broad audience," he said.
"Lastly, there is proof that younger customers, especially young women, are more influenced by charitable giving."
Colorful email
Other marketers are pushing alignment with Breast Cancer Awareness Month this year via email.
For instance, beauty marketer Estée Lauder pushed its longtime Breast Cancer Awareness campaign Monday through an email to its list.
The brand told consumers to shop its limited-edition Evelyn Lauder Dream Collection items. For each purchase, Estée Lauder will donate 20 percent of the suggested retail price to The Breast Cancer Research Foundation.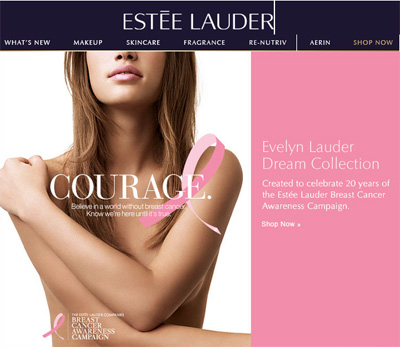 Estée Lauder email 
In addition, watchmaker Movado sent an email Tuesday to raise awareness for its 2012 Special Edition Bold watches. The brand will donate $50 from the sale of each timepiece to The Breast Cancer Research Foundation.
The email linked to a page where consumers can buy the watch for $395.
Movado email 
U.S. label Ralph Lauren also sent an email Tuesday, Oct. 9 to push donations to its Pink Pony Fund, which is part of the Polo Ralph Lauren Foundation.
The brand linked to a few different pages from the email including the Pink Pony e-shop where 10 percent of the purchase price of products benefits the Pink Pony Fund and a donation page.
Ralph Lauren email 
These types of campaigns give customers an incentive to buy and creates urgency during the month of October, per Mr. Muellner.
Oscar de la Renta is tapping the national conversation during Breast Cancer Awareness Month while driving discovery of its fall collection, he said.
"I think this is an appropriately subdued campaign with a nice email, subtle pink ribbons on select products within the ecommerce store and a special curated collection of pink items," Mr. Muellner said. "I do not think a campaign like this needs to have all sorts of bells and whistles.
"That being said, I think 10 percent of net proceeds is potentially a lot of money and a few small additional touches could make this campaign more successful from both branding and commerce perspectives," he said.
"For example, a story or two about who the proceeds go to could be very powerful."
Final Take
Tricia Carr, editorial assistant on Luxury Daily, New York