German automaker Porsche is encouraging affluent mobile users to learn more about the new 29-miles-per-gallon Cayenne Diesel through an ad on Reuters that reveals a model summary, images and a video.
Porsche is inviting clicks on its mobile banner ad through a call to action button that states, "Learn More." The ad brings users to an optimized page that gives more information about the model through vehicle highlights and visual media as well as lets users find a dealer, register to receive more information or sign up for the Porsche newsletter.
"Porsche's ad allows users to engage with the car, examine its design, explore its state-of-the-art features, understand more about its impeccable design and slowly fall in love with it," said Shuli Lowy, marketing director at Ping Mobile, Beverly Hills, CA.
"This is very much in line with Porsche's overall marketing strategy which views its ads as a long-term investment in consumer interest and market caliber, rather than a means to immediate sales," she said.
Ms. Lowy is not affiliated with Porsche, but agreed to comment as an industry expert.
Porsche did not respond before press deadline.
Mobile-per-gallon
The banner ad that appears at the top of the Reuters mobile homepage shows an image of a Cayenne Diesel vehicle in blue, the Porsche insignia and a button to learn more about the car.

When clicked, users are brought to an optimized page on butyr.com. It displays various images of the model, a vehicle summary, an image gallery and a video and links to the Cayenne Diesel section of the Porsche mobile site, dealer locator, information sign-up and newsletter sign-up.
The top of the page states, "Different fuel. Same soul."
Below the slogan is an image of the Cayenne Diesel in blue and bold text that reads, "The new 29 mpg Cayenne Diesel."
The first section of the optimized content is Performance. Below an image of the blue vehicle in motion, the automaker states, "The 3.0L V6 Turbo Diesel turns out 406 lb.-ft. of torque giving you instant acceleration."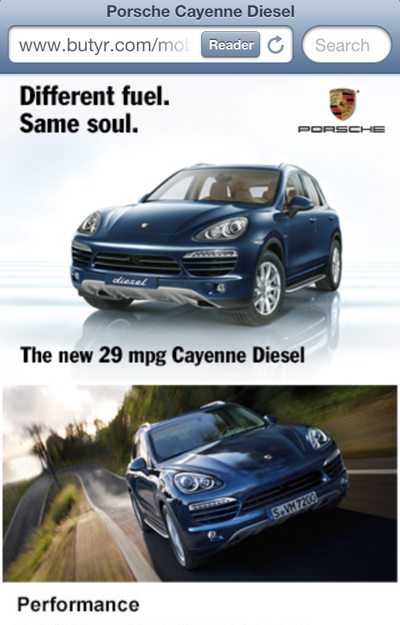 Ad content 
Next is another image, the word Efficiency and the statement, "With 29 mpg highway, it gives you a range of up to 765 miles."
Below another image is the Towing Capacity headline and the statement, "Pull up to 7,716 pounds."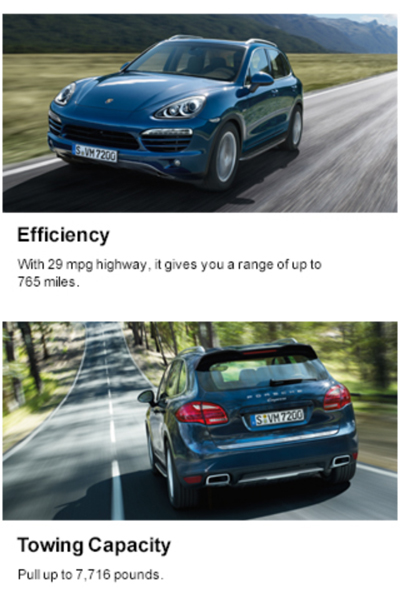 Ad content 
Toward the bottom of the page is a link to the image gallery and video for the Cayenne Diesel model.
The image gallery displays 10 images on a section of the Porsche mobile site.
The video is housed on YouTube. It is titled, "Introduction of the Cayenne Diesel to United States."
At the very bottom of the screen, users can click "Learn More," "Find a Dealer," "Sign up for Info" and "Porsche Newsletter." Each button leads to a corresponding section of the Porsche mobile site.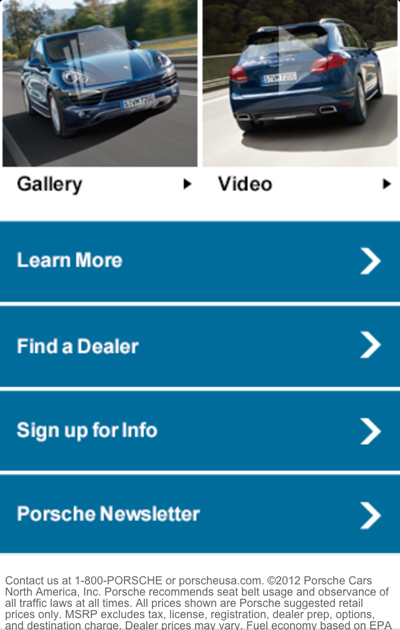 Ad content 
Porsche is likely targeting new affluent prospects through this particular mobile ad placement.
"Porsche makes some of the most luxurious vehicles that can only be afforded by the upper echelons of society," Ms. Lowy said. "Reuters, which brands itself as 'the leading source for intelligent information,' is an online news source that serves a professionally advanced and educated audience.
"Porsche is working under the assumption that those who take the time to stay informed on the most current business affairs are more likely to be professionally successful and, therefore, possibly able to afford a Porsche vehicle," she said.
Porsche on-the-go
Porsche has previously tried its hand at mobile marketing.
For example, one of Porsche's most extensive mobile efforts is its Drive+ app that allows enthusiasts to connect not only with the brand, but with one another.
Also, the automaker upped its mobile presence through the incorporation of QR codes on print ads to show consumers a video.
Porsche marketed the 911 model through ad placements with the QR-code in high-end publications including ClubCorp's Private Clubs magazine.
The automaker partnered with Microsoft Tag to produce content that added to the print experience (see story).
Porsche is likely using multiple mobile efforts to up interest and engagement, per Ms. Lowy.
"Marketing cars via mobile is very different than marketing most other items," Ms. Lowy said. "Let's face it – nobody is going to buy a car on their phone.
"Cars are one of consumers' largest and most important purchases," she said. "We like to see our cars up front, sit in them and test-drive them before signing on the dotted line.
"The focus for luxury auto manufacturers that are advertising on mobile is, therefore, not to close the deal but rather to spur interest and engagement."
Final Take
Tricia Carr, editorial assistant on Luxury Daily, New York