Prada-owned Miu Miu is flaunting the power of femininity and its products through a series of short-films titled "The Women's Tales."
The fifth and newest addition to the series is titled "The Door" and shows the power of female friendship around a central theme of changing emotions by changing attire. Although the products are not overly presented in the video, having a central theme on attire could help the brand push its products.
"Videos and series like this always help to mold a brand's story and vision," said Brittany Mills, director of client services at B Culture Media, Atlanta.
"The series provides entertainment and showcases the products in a way that will generate shares and multiple views," she said. "I think this is a great series that will only help to create lasting impressions for customers."
Ms. Mills is not affiliated with Miu Miu, but agreed to comment as an industry expert.
Miu Miu was not able to comment directly.
Women's Tale
Throughout "The Door," the story is told through emotions portrayed by the actors and music since there is no dialogue.
The film begins with a girl who is at home laying on her couch as her friend shows up to take her out, which seems to be an attempt to cheer her up. Before they depart, the friend helps her pick out an outfit.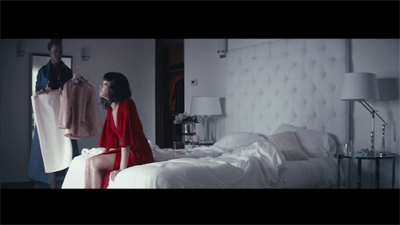 Attire change in The Door
The two girls go out to lunch, as the main character looks happier, but is struggling.
Then, another friend shows up at the door to ask the protagonist to go out to the club with her. A mini-argument happens before an outfit is selected and the girls go out.
After a seemingly enjoyable night, another friend shows up at her door with concert tickets. Her friend helps pick out an outfit to wear to the concert.
The protagonist is finally shown enjoying herself at the concert and smiling in the audience as her friend is up on stage singing.
Then she is shown having a dramatic talk with an older woman who appears to be her mother.
In the closing sequence, she takes off her wedding band and puts it back in its case. Then she puts on her jacket, grabs a pair of leather gloves and walks out of her home as the film ends.
The short film directed by Ana DuVernay was created to show the transformative power of feminine bonds and the symbolic story of life change through a change in attire.
Each time the main character changes clothes from her original attire, her mood lifts.
The Miu Miu products were a main element in the film to show a change of mood in the main character.
The video is being promoted on the brand's homepage and is available to be viewed at http://www.miumiu.com/en/women_tales/5/film.
Leading women
This film is part of a series  that features short films centered around female leads.
Other films featured in the series are titled, "The Powder Room," "Muta," "The Woman Dress" and "It's Getting Late."
The series shows off the female point of view through various political and social issues using fashion as a foundation for creative storytelling.
Miu Miu has tapped its female audience with its other promotions including its private club the Miu-Miu London that was open Nov. 27-29 at the Café Royal on Regent Street and shared through a branded digital experience that hosted activities that celebrated various aspect of Miu Miu femininity (see story).
However, promoting the brand is different than using video to directly promote the brand's products.
While Miu Miu's videos tells a good story, it may not have a large enough audience to go viral and the brand promotion aspect could be lost on some viewers.
"I think it is an excellent way to promote the Miu Miu brand," said Al Ries, founder and chairman of marketing strategy consultancy Ries & Ries, Roswell, GA.
The video will add value to the brand and its products, but only if enough women watch it and it attracts a large number of viewers, he said.
"However, I question the effectiveness of this particular video, it is too esoteric," Mr. Ries said.
Final take
Erin Shea, editorial assistant on Luxury Daily, New York