The proposed bill to curtail the rampant sale of counterfeit luxury items in New York and protect brand integrity hones in on consumers rather than vendors.
Up to a $1,000 fine or a year in prison will be dispensed to those guilty of buying counterfeit luxury items if the bill in its current form passes. Perhaps the most intrepid tactic seen in years against the counterfeit specter, the proposed bill may fortify luxury brand integrity by discouraging the purchase of phony products.
"The bill would raise awareness and send a strong message, but it's not likely to put a dent in the sale of counterfeit luxury goods, the majority of which are bought and sold online," said Alina Halloran, vice president for global online brand protection at OpSec Security, Boston.
"I do think the fear of monetary penalties or imprisonment would likely make consumers in New York City think twice about buying counterfeits, thereby decreasing the demand in this area," she said.
"However, I don't think this bill alone will significantly weaken the problem overall."
Foes of all fabrics
There is no denying that counterfeit items have hurt luxury brands not just financially, but also reputationally.
"According to a 2010 report by the International Anti-Counterfeiting Coalition, up to $600 billion is lost each year to the trade of counterfeit goods," according to The Fashion Law Group, CA.
Counterfeit items deflate luxury value by flooding the streets with cheap imitations.
Up close the difference in quality seems clear, but from a distance, a knockoff item can look just as authentic as the actual thing.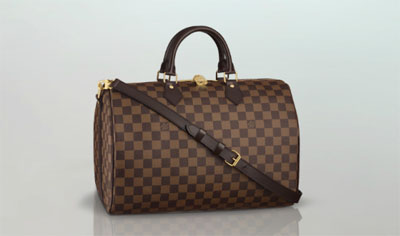 Louis Vuitton Speedy 35 is often counterfeited
If everyone has a near-identical item, the status afforded to the true item is diminished.
If the bill is passed it will be the first of its kind in the United States, potentially triggering a pattern of reprisals.
"[This is an important step in] raising the public's consciousness of the problem surrounding counterfeit goods," said Steven Gursky, partner and head of intellectual property practice at Olshan Frome Wolosky LLP, New York.
"We know from the enactment of other laws that violation of criminal statutes requires an intention and a knowledge," he said.
"How will authorities establish that consumers are breaking the law?"
Both positive and negative consequences of the bill may reverberate far further than Canal street as it will rupture a popular, albeit clandestine, market.
"Politicians supporting the bill could face some blowback from constituents who value the availability of inexpensive alternatives to luxury goods," The Fashion Law Group said.
"Nevertheless, luxury retailers will most likely win the debate due to the economic incentives for both the city and luxury brands," they said.
Precarious sales
Luxury brands are prone to many snares that can affect sales, but counterfeiting continues to be a persistent issue.
Some luxury brands have been more tenacious in battling counterfeits.
In one bright spot, Richemont brands such as Cartier, Alfred Dunhill and Roger Dubuis won $100 million Jan. 4 in their case against the Nanyang Technology Company for running Web sites that sold counterfeit watches (see story).
Recently, Richemont-owned Cartier won a trademark infringement lawsuit against China-based companies, indicating that luxury marketers should not ignore threats to brand equity in the country and send a message to counterfeiters (see story).
Moreover, some countries are more vigilant than others when addressing counterfeits.
"Countries like France and Italy have already enacted similar laws threatening consumers who buy fake goods with steep fines," the Fashion Law Group said.
"Yet, the fines for purchasing counterfeit goods in those countries are significantly higher than what the New York bill is proposing," they said.
"However, are we really going to be putting consumers behind bars for buying a fake purse when there are graver atrocities happening around the city?"
Though the proposed bill is geared towards consumers, luxury marketers will benefit from the heightened awareness it creates.
"The fact that such a bill was even proposed is progress in the fight against counterfeiting," Ms. Halloran said.
"Even if the bill doesn't pass, it will raise awareness about the damages of counterfeiting, which is a step in the right direction," she said.
Final Take
Joe McCarthy, editorial assistant on Luxury Daily, New York