The Ritz-Carlton, Berlin is continuing to set an example for environmentally sustainable activities with its position as the first five-star hotel in Europe to be certified by the European Union Eco-Management and Audit Scheme.
The property will be held to strict standards and has established a Ritz-Carlton Environmental Action Conservation Team to ensure that its record for environmental trailblazing is maintained. Taking such an adamant stance toward environmental sustainability may influence other luxury hotels to follow suit to not lose out on the growing consumer segment favoring eco-friendly brands.
"Regular improvements and new implementations have to be carried out," said Joanna Schulz, public relations and marketing assistant for the Ritz-Carlton, Berlin.
"Furthermore, the hotel is the only five-star luxury hotel in Europe which obtained this specific EMAS certificate in order to be a leader and demonstrate to the guests that it is highly important and also possible to implement environmentally friendly aspects which do not influence the high quality standard and uphold the well deserved five-stars," she said.
"The focus for The Ritz-Carlton, Berlin was not to drive more travelers, but to save energy and be environmentally friendly."
EMAS is a European Community management tool designed to improve the environmental performance of organizations and companies using third-party independent auditors and a publicly transparent reporting process.
Keep climbing
EMAS established criteria to ensure that the hotel continues raising its sustainability standards.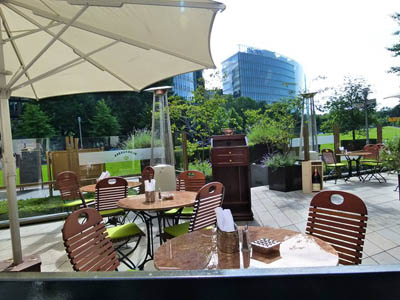 Ritz-Carlton, Berlin
Annual updates will be carried out to determine whether or not the property has sufficiently expanded its sustainability efforts.
To prepare for recurring audits, the property has established the Ritz-Carlton Environmental Action Conservation Team - or REACT -  that is headed by an environmental officer.
REACT has initiated many programs to sustain Ritz-Carlton, Berlin's status, such as reducing the property's light energy consumption using 'Green Energy'. The housekeeping department now uses environment-friendly cleaning products as well.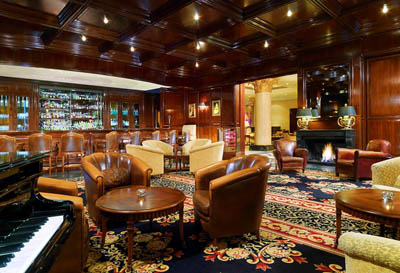 Ritz-Carlton, Berlin
Also, water consumption has been reduced by 50 percent through the installation of water aerators and smaller cisterns in rooms and public spaces. The hotel terrace has a new irrigation system for plants that reduces water waste.
The sales office works in a paperless environment and new energy-efficient hand dryers have been installed in all staff areas to avoid paper towel waste.
Additionally, the property has teamed up with Recycling Berlin to transfer paper waste that can be transformed into school notebooks.
Three beehives were installed on the roof yielding between 140-240 pounds of honey per year, which is incorporated into breakfast meals.
Furthermore, the Ritz-Carlton, Berlin has urged all its suppliers to deliver goods in eco-friendly disposal boxes. All packing materials are returned to suppliers and disposable bottles are refused.
Staying green
Other hotels have doing their part in raising environmental standards.
For instance, The Ritz-Carlton, Kapalua, HI, expanded its on-site garden to increase the amount of fresh produce used in its restaurant menus and to prepare for wellness activities this fall.
The Kapalua garden provides benefits for both the hotel and the surrounding area with compost piles, a horticulture learning center and an abundance of fresh ingredients. Environmentally sustainable practices can uplift the spirit of the surrounding community and provide the hotel with a level of authenticity that imported ingredients cannot attain (see story).
Also, Fairmont Hotels & Resorts is beginning a month-long charity initiative in September that tackles issues relevant to its properties' surrounding areas.
The "Community Connections Month" invites Fairmont colleagues and hotel guests to work with local organizations to volunteer at shelters, improve elderly facilities, spread knowledge of bee preservation and other charitable activities. Making a sweeping effort to aid community outreach projects will likely appeal to luxury travelers who search for brands engaged in authentic philanthropy (see story).
Perhaps the most distinct aspect of The Ritz-Carlton, Berlin's arrangement is that it will be required to innovate, which will likely breathe new life into the property year after year.
"Recertification without innovation is inconsistent to how a luxury marketer sees the world," said Chris Ramey, president of Affluent Insights, Miami, FL.
"The Ritz-Carlton wouldn't have accepted the certificate had it been stagnant," he said. "Innovation is a pillar of luxury."
Mr. Ramey is not affiliated with Ritz-Carlton, but agreed to comment at as industry expert. Innovation is critical to any long term commitment."
Final Take
Joe McCarthy, editorial assistant on Luxury Daily, New York