Rolls-Royce Motor Cars claimed a 31 percent increase in sales from 2011, attributing its heritage and branding in addition to a resurgence of luxury goods spending as the reasons for the best annual sales record in its 107-year history.
The 3,347 cars sold last year is the highest annual sales in the BMW-owned brand's history. The uptick included both Ghost and Phantom models with its bespoke content at extremely high levels.
"I think that there were a number of elements – first is that we are a very strong brand," said Andrew Ball, corporate communications manager for Rolls-Royce, Goodwood, England. "The strength of our brand has definitely helped in our sales and the brand is renowned worldwide for quality and excellence and, as a consequence, attracts certain customers.
"If you look at a number of automotive and other luxury companies, you'll have seen that there's been a lot of success around the world and it's not that the luxury economy is unaffected by the economic issues and constraints, but it does tend to sit slightly outside them," he said.
"Our customers in real terms were not hugely affected, but it may well have been a visibility thing for them and they didn't want to be seen purchasing a new Rolls-Royce at that time."
On a roll
Rolls-Royce's heritage for fine craftsmanship and values is the main component that the brand attributes to its success last year.
The market with the most growth was Asia-Pacific at 47 percent growth, followed by North America with 17 percent growth and the Middle East with 23 percent growth.
Additionally, Germany and Russia saw double-digit growth and Britain saw a 30 percent increase last year.
Rolls-Royce's products – the Phantom, Phantom Extended Wheelbase, Phantom Drophead Coupé, Phantom Coupé, Ghost and Ghost Extended Wheelbase – all saw dramatic growth.
Rolls-Royce Web site
The breadth of the portfolio definitely attracted new customers to the brand.
The Ghost model launched two years ago and approximately 80 percent of buyers for that vehicle are new to Rolls-Royce, according to Mr. Ball.
Rolls-Royce's personalization and bespoke services also played a huge role in 2011 sales.
Many customers, particularly those who own Ghosts, run the bespoke gamut from embroidery to anything else they can imagine, per Mr. Ball.
Finally, the fact is that customers were ready to spend again.
"What we're seeing from our customer base is that a large percentage is from an entrepreneurial background," Mr. Ball said. "These men and women have made their own cash and are buying as a reward to themselves.
"They are wealth generators and creating money for the economy, and they have every right to celebrate their success and buy the very best they can," he said.
Under the hood
As a rule, Rolls-Royce does not advertise as a company. Rather, the brand focuses on building close and personal relationships with existing customers.
For example, the automaker has held events where consumers can test its new experimental electric car (see story) and are alerted when there are new product launches and dealerships.
"These are generally very discrete and very targeted," Mr. Ball said. "Overall, we have a relatively small customer base."
In addition, Rolls-Royce released two applications for the iPad this past year, one for the Ghost models and one for the Phantom models (see story).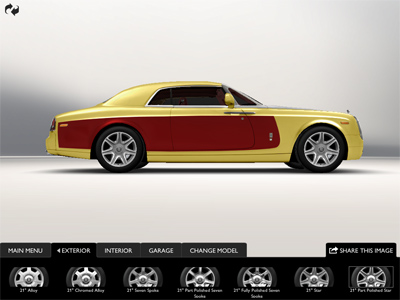 Customization feature in the Rolls-Royce Phantom app
These apps allow consumers to see a shop window on their mobile device and works as a builder for brand awareness.
This way, the brand can be shared in a modern way, per Mr. Ball. Consumers can build a picture of Rolls-Royce as a modern, contemporary, leading-edge company.
The automaker also flaunted its heritage by celebrating the centenary of two important Rolls-Royce events.
Rolls-Royce celebrated the 100th anniversary of its iconic hood mascot with a grand procession of branded vehicles in London Feb. 6 (see story) and with inspired portraits that were hung in dealerships and meant to bring in foot traffic (see story).
Additionally, the automaker  celebrated the centennial of the brand's first 100-mile journey with experimental speed car 1701 through a procession of 17 historic branded vehicles headed by the 20-Ghost Club in September (see story).
Another surprise marketing tactic came in April in London when Katherine Middleton stepped out of a Rolls-Royce Phantom on her way into Westminster Abbey to marry Britain's Prince William.
Given the momentous appeal and reach of the wedding, Rolls-Royce likely gained awareness as the Alexander McQueen-clad bride stepped out of the car on her way into the chapel.
"Let's be honest – it didn't hurt us," Mr. Ball said. "The royal wedding was a fabulous occasion, bearing in mind that they weren't using a current [Rolls-Royce] product.
"It was a huge reminder that we have a huge heritage and our products have great longevity and are built to last," he said.
Final Take
Rachel Lamb, associate reporter on Luxury Daily, New York