Saks Fifth Avenue's new owner Hudson's Bay Company will help boost Saks' omnichannel experience as part of its portfolio of retailers.
Hudson's Bay Co. purchased Saks July 29 for $16 per share in an all-cash transaction that is valued at $2.9 billion, which includes debt. This purchase is likely to help Saks reach its goal of becoming an omnichannel retailer and provide its customers with an enhanced shopping experience.
"Hudson's Bay Co. and Lord & Taylor are a nice fit with Saks as each of the banners share an image of prestige fashion," said Dave Rodgerson, senior management consultant of retail strategy and change at IBM Canada, Toronto.
"For those who are a big fans of the iconic retail brands this is good news," he said.
Mr. Rodgerson is not affiliated with Saks, but agreed to comment as an industry expert.
Saks declined to comment directly.
Hudson's Bay Co. owns other retailers including Hudson's Bay, Lord & Taylor, Zellers and Home Outfitters.
Omnichannel offers
Hudson's Bay Co. and Saks announced July 29 that the acquisition is set to take place after each company's board of directors approves and is expected to close before the end of the year.
Saks seems to be optimistic about the purchase and expects this to help with its omnichannel customer experience.
"We believe this transaction delivers compelling value to our shareholders and that Saks Fifth Avenue is an excellent fit within the Hudson's Bay Co. organization," said Steve Sadove, chairman and CEO of Saks, in a company statement.
"We have made significant progress over the past few years to position Saks for future growth and to evolve into an omnichannel retailer," he said.
"We are excited about what this opportunity and being part of a much larger enterprise can mean for the future of the Saks Fifth Avenue brand."
Saks catalog
These omnichannel efforts will help continue Saks' previous rebranding efforts.
For instance, the retailer is rebranding itself as a place of fashion inspiration and not just a place to shop with a new forward-looking multichannel campaign.
Saks' new "LOOK" initiative is being incorporated into all aspects of the store such as the catalog, Web site, shopping bags, in-store events and visual displays. Revamping strategy is imperative for a store brand to compete in the retail industry and keep its customers coming back (see story).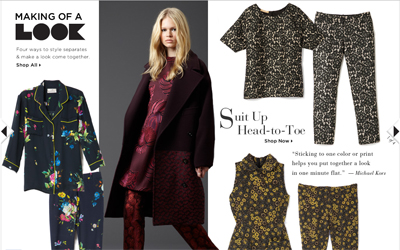 Saks online LOOK initiative
The battle is over
In May, the department store chain hired investment-banking firm Goldman Sachs Group Inc. to explore its options and considered selling itself to a private-equity firm in a leveraged buyout (see story).
Then, a few investors publicly expressed interest in Saks.
For instance, global investment firm KKR & Co. was said to be exploring the decision to invest in Saks and was possibly looking to combine Saks with Neiman Marcus, according to Bloomberg.
Then, it seemed that Starwood Capital and Hudson's Bay Co. were the two front-runners by making offers of $17-18 a share for the company.
In addition, there were rumors that a third bidder may be in the mix. This bidder was believed to be a Middle Eastern sovereign-wealth fund, which may be Qatar, according to the New York Post.
However, experts agreed that any of these companies would benefit Saks (see story).
As the buyer, Hudson's Bay Co. is likely to help Saks expand its customer service through the ownership of other retail companies.
"Looking forward, these retailers are trying to establish themselves as leaders in the way they create a compelling customer experience both in-store and through a digital presence," IBM's Mr. Rodgerson said. "It's this Omni-channel strategy that can serve to benefit Saks and its customers.
"Creating a great customer experience in both the stores and online requires a great deal of investment and technical expertise," he said. "As a combined entity, the new organization has access to funds and the opportunity to leverage an infrastructure synergy where resources can be used more effectively.
"For the Saks shopper, it's going to give them the chance to see new merchandise and potentially a different in-store experience."
Final take
Erin Shea, editorial assistant on Luxury Daily, New York