Luxury marketers such as Jaeger-LeCoultre and Mercedes-Benz USA are pushing products through the redesign of career-oriented social network LinkedIn.
LinkedIn now features a products section on brand pages where they can showcase products and services. In turn, users can make recommendations and share products and information through posts on their profiles.
"LinkedIn has great features to showcase a company, services and products with the latest updates to the pages," said Brittany Mills, director of client services at B Culture Media, Atlanta. "I would recommend any brand to take advantage of that real estate and make it work.
"Jaeger-LeCoultre's prime demographic can be found within the LinkedIn demographic and this is just another way to communicate," she said. "I would think that the brand's social customers are spending more time on a platform like LinkedIn rather than Pinterest.
"It depends where a brand's demographic is living online."
Making connections
The goal of users on LinkedIn is to connect with other users in a professional setting.
The social platform has approximately 187 million members and 2.6 million companies located in more than 200 countries as of September 2012, according to LinkedIn.
Companies can post images, updates, products and services, job listings and insights.
Users are also able to view how they are connected to the company through their personal connections.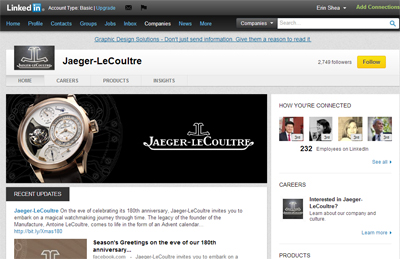 Jaeger-LeCoultre LinkedIn page
Under the product and services section, companies can now add images, videos and overviews about products.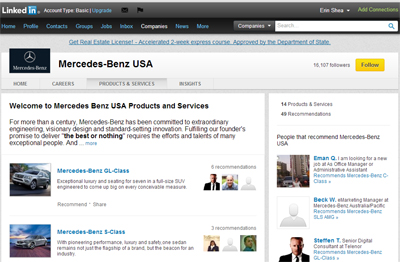 Mercedes-Benz USA product and services page
LinkedIn users are able to give recommendations on products and leave comments within a recommendation. The recommendations will be displayed on the product's page.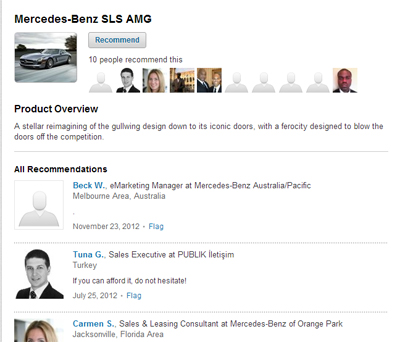 Mercedes-Benz SLS AMG recommendations
Users can also share a link to the product page via their own profile updates through the share feature.
Since this is a relatively new feature on LinkedIn, it is likely that many brands have yet not made use of it.
"It would be interesting to see if LinkedIn had any long-term plans for turning these products into paid ads, similar to Facebook, which would create an interesting revenue channel for the company, but might frustrate its core users who use the platform mainly to advance their careers," said Yuli Ziv, founder/CEO of Style Coalition, New York.
"It would be interesting to see if these product pages could drive actual product sales, since online shopping is not the natural purpose of the LinkedIn platform," she said.
Affluent professionals
The target demographic of many luxury marketers is active on LinkedIn.
"LinkedIn users are an attractive demographic, especially for marketers targeting the affluent consumer," Ms. Ziv said.
Thirty-two percent of LinkedIn users have an annual household income of more than $100,000 and 75 percent of users have at least a college degree, according to data from Quantcast.
Even though this demographic is available on LinkedIn, it may not be the best platform on which luxury marketers should be investing their time since LinkedIn has a more professional tone to it than other social media networks.
"The luxury consumer tends to prefer to be reminded of the luxury brands during good times, not necessarily on a career platform such as LinkedIn," said Christopher Renz, founder and director of The brpr Group, Miami.
Peer influence
Consumers can be influenced by what their friends are sharing online, which is especially true for Facebook users.
Seventy percent of consumers prefer to hear about new products from Facebook friends rather than brands, according to a new report by 8thBridge. Therefore, online retailers should incorporate social sharing into the commerce experience (see story).
"Brands are counting on the power of user recommendations, which is one of the most powerful tools driving today's ecommerce," Style Coalition's Ms. Ziv said.

However, LinkedIn serves a different purpose than Facebook, so product promotions on LinkedIn may not produce a similar outcome.
"The primary utility for LinkedIn is to connect people who are looking for career opportunities, looking to fill a career opportunity or general networking," Mr. Renz said.
LinkedIn could be used by luxury marketers to promote specific products tailored to job seekers such as fashion and jewelry for interviews, Mr. Renz said.
"LinkedIn is not a platform suited for many brands," Mr. Renz said.
Final take
Erin Shea, editorial assistant on Luxury Daily, New  York