Starwood's St. Regis Bahia Beach Resort in Puetro Rico is promoting eco-tourism by letting guests monitor and learn about Leatherback Turtles that nest on the property's shores.
Promoting eco-tourism with simple activities is a good way for luxury hotels to tap into the growing eco-tourism market and inspire environmentally conscious guests to consistently visit. Furthermore, observing the natural trends of the surrounding area allows luxury hotels to maximize their use of the environment.
"There's no questioning the power of eco-tourism in the luxury travel market," said Taylor Rains, account coordinator at Rawle Murdy Associates, Charleston, SC.
"While once associated with less-than-stellar accommodations, eco-tourism has evolved in recent years to embrace luxury travelers with a passion for the environment," he said.
"People travel not only for the accommodations but for the surroundings. Eco-tourism activities could be just the added flavor they're looking for."
Taylor Rains is not affiliated with St. Regis Bahia, but agreed to comment as an industry expert.
St. Regis Bahia was unable to respond by press deadline.
It takes a village
The hotel aims to situate itself as a stalwart of environmental protection. 
The Leatherback Turtle opportunity does not require guests to sign up for an elaborate package. Rather, the proposition is that guests can alert hotel staff when the turtles begin to nest so that the creatures can be guarded during a time of vulnerability.

Baby Leatherback turtles
The turtles nest between February and August, so the likelihood of a guest being involved is contingent on the time of the year.
An on-site marine biologist at the property's nature center coordinates the event and educates guests. The presence of an expert increases the hotel's credibility.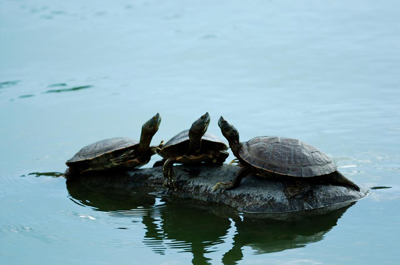 Turtles at St. Regis property
By marketing the occasion as optional, guests may feel as if they are taking a more firm stand to protect the environment.
Additionally, participating guests will enhance their knowledge of the turtles and potentially develop an affinity for them, which may lead to regular visits to the property.
"While some environmental efforts can be polarizing, there are others – such as protecting the turtles – that are overwhelmingly supported," Mr. Rains said.
"By aligning with such efforts, a luxury brand has the opportunity to tip the scales in its favor among those considering a stay," he said.
Guests can book the "Suite Luxury" package and enjoy 40 percent off their second night when staying in an Astor Suite. The offer can be booked online with starting rates at $730 per night.
Look around
Scouting the environment can provide scaffolding for luxury hotels looking to offer new packages.
For instance, Waldorf Astoria Park City, Park City, UT, is taking advantage of the Wasatch Mountain Range to bring guests on a foraging journey. Guests will  use the ingredients they gather for a custom-prepared meal by chef Clement Galas.
Introducing guests to the surrounding landscape and training them how to forage may create long-lasting memories which, in turn, may lead to future visits (see story).
Similarly, Four Seasons is banding together its China properties by offering a Grand Tour package in an effort to stimulate tourism in the area and attract new guests to its hotels.
The Grand Tour of China package allows visitors who stay at least three nights to choose from any of Four Seasons' other China properties for an additional night. The offer celebrates the hotel chains' latest property in Shenzhen that solidifies the brand's desired status as an eclectic purveyor of Chinese culture (see story).
Perhaps the chief aspect of such offers is that they engage the widest audience possible.
"[The event] is something that everyone can participate in and it adds to the aura of the property," said Chris Ramey, president of Affluent Insights, Miami, FL.
Final Take
Joe McCarthy, editorial assistant on Luxury Daily, New York