Precision-cut crystal maker Swarovski is looking to drive ticket sales with social media promotions to its first feature film production, "Romeo & Juliet," developed by its entertainment division.
Released Oct. 11, Romeo & Juliet is Swarovski's first time working with Hollywood partners to develop, finance and produce a film shown in international theaters. While many brands participate behind-the-scenes in costume and set design, Swarovski is likely to build more brand awareness by using a dual approach that includes jewelry featured in Romeo & Juliet as well as its behind-the-scenes participation.
"Film is costume and helps to bring many brands to life," said Marie Driscoll, CEO and chief consultant at Driscoll Advisors, New York.
"Involvement with film projects creates awareness, aspiration and desire," she said.
"This should be a beautiful film and an association with Shakespeare is about as good as it gets."
Ms. Driscoll is not affiliated with Swarovski, but agreed to comment as an industry expert.
Swarovski was unable to comment before press deadline.
Star-crossed lovers
Since the 1930s, Swarovski has participated in the world of cinema and theater by curating the jewelry worn by the actors. Notable Swarovski pieces worn in film include Audrey Hepburn's tiara in "Breakfast at Tiffany's" and Dorothy's ruby-red slippers in "The Wizard of Oz."
The re-imagined telling of William Shakespeare's Romeo & Juliet is directed by Academy Award winner and writer of British television series "Downton Abbey" Julian Fellowes and stars actors Hailee Steinfeld as Juliet and Douglas Booth as Romeo.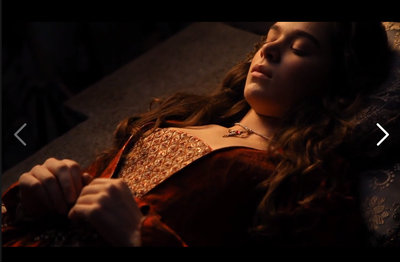 A video still of Ms. Steinfeld wearing a Swarovski necklace
To emphasize the brand's heritage of jewelry in the film, Swarovski designed a 15-piece "R&J" collection which includes rings, necklaces, earrings and bracelets to be sold online and in-stores. Although priced between $70-$180, the R&J collection's entry-level prices will appeal to young consumers who become fans of the Swarovski-backed film.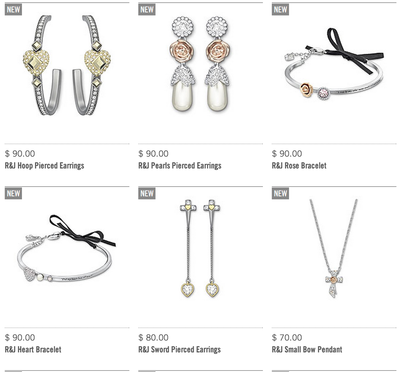 Swarovski's R&J collection
On Facebook, Swarovski has steadily promoted the film by including behind-the-scenes footage, trailers, soundtrack videos and a three-minute video that explores how the costumes worn in Romeo & Juliet were created.
Romeo & Juliet - Official Trailer 
Sharing these features with fans shows that the brand's involvement in the film goes beyond mere sponsorship.
To increase conversation and generate interest in the R&J collection, Swarovski had a giveaway that ended Oct. 23. The giveaway featured the Knot ring and Pendant necklace from the Romeo & Juliet-inspired collection.
Swarovski's Facebook giveaway 
In front of the camera
Swarovski's role in the development of Romeo & Juliet will likely bring the brand attention, but product placement may be more useful to increase exposure.
Luxury brands are likely to benefit from increased exposure created by product placement in feature films than from brand-sponsored events that reach a narrow number of consumers.
Branded sponsorships are common among luxury brands looking to attract consumers through a shared hobby or cause. Product placement in feature films, on the other hand, allows the brand to be viewed on a platform likely to resonate with more prospective consumers (see story).
For example, Italian footwear label Salvatore Ferragamo flaunted its presence in upcoming Hollywood film "Rush" by sponsoring the opening of the film Sept. 2 in London.
The new film, which is directed by Academy Award winner Ron Howard, is based on a true story about Formula One racing rivals in 1976. The costumes worn by two of the main female characters were designed by Ferragamo, which could give the brand additional exposure if the film does well (see story).
Like Ferragamo's association with Rush, it is yet to be known if Swarovski will benefit from its investment.
"If executed properly, what's at stake is maximizing Swarovski's brand personality in the form of a real, measurable return," said Ryan Hattaway, president of Mogul Media Group, Miami, FL.
"I've previously said that a brand is more than a logo; it's an experience, a brand is a living, breathing being," he said. "In this digital age, branded entertainment creates the opportunity for companies to define what experiences make it who it is, and what story it has to tell, including its values, its dreams, its goals and its vision.
"It allows the consumer to participate in the process of a brand's self-discovery and expression, which creates engagement and enchantment on a much deeper level than any form of advertising."
Final Take
Jen King, editorial assistant on Luxury Daily, New York