Precision-cut crystal maker Swarovski is pushing its new how-to book through companion iPhone and Android applications that let consumers virtually try on jewelry and see themselves as the book's cover model.
Apps are often used by luxury marketers to bring campaigns to a channel on which young, affluent consumers are comfortable. In this case, Swarovski is looking to make the brand more accessible to its female consumers through its book called "Multiface(t)s: Style Yourself with Jewelry" and likely chose mobile to reach this audience for an additional push.
"Our strategy for the app was to underscore the key message of the book by inviting women everywhere to style themselves in Swarovski jewelry in ways that complement the different facets of their everyday lives – from simple, classic pieces at the office to easy, casual weekend sparkle, to fun statement jewelry to go into evening," said Yelena Leshchinsky, head of communication and social media at Swarovski's consumer goods business in Männedorf, Switzerland.
Mobile accessorizing
The Swarovski Multiface(t)s app is available for the iPhone and Android devices. It is free in the App Store and Google Play.

Multiface(t)s, the book, was released Oct. 25. The book and app are available in English and French.
In the book, Multiface(t)s shows readers how to style jewelry according to Swarovski's creative director Nathalie Colin as well as various contributors such as Nina Garcia, Glenda Bailey, Anna Dello Russo and Eric Daman.
Through the app, users can navigate to an exclusive interview with Ms. Colin, a description of the book and the "Cover Star" tool.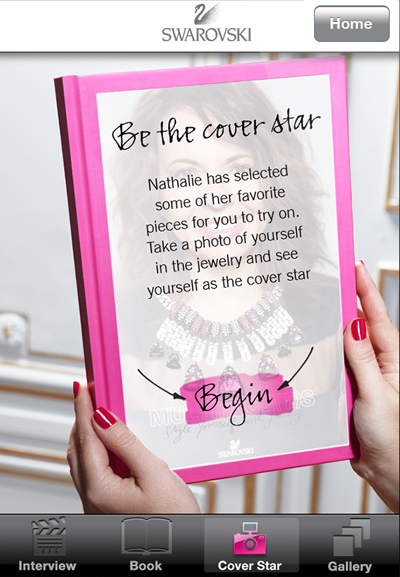 Swarovski app 
The tool lets users try on Swarovski jewelry using their device's camera.
First, users must choose which type of jewelry that they would like to try on from seven "style occasions" straight from the book. Categories are: Career Girl, Cocktail, Weekends, Girls Having Fun, Ready to Rock and Rendez-vous.
Users can choose from one of four necklaces or pendants in each category.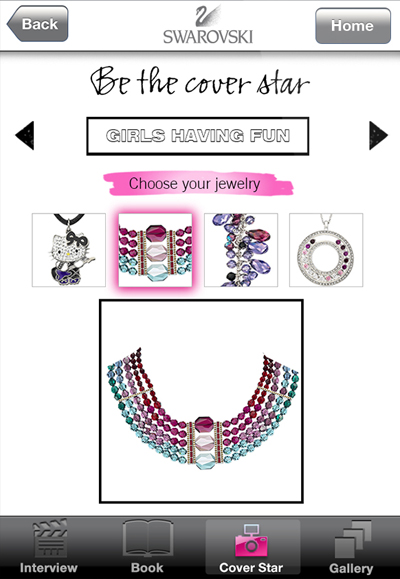 Swarovski app 
Next, users can take a picture with their smartphone's camera to "try on" the piece of jewelry. The image of them in the jewelry can be saved and shared with other app users in the photo gallery or via social media.
The app's main function mimics the cover of the Multiface(t)s book.
The cover shows the Serena necklace from Swarovski's fall/winter 2012 collection on a mirrored surface so that consumers can see themselves wearing it when they look at the book (see story).
"The mobile app provides this experience – seeing yourself as the book's cover star wearing various styles based on the moods and occasions covered by chapters in the book," Ms. Leshchinsky said.
Campaign on-the-go
Swarovski is not the only marketer to create a mobile app that acts as a companion to an existing campaign.

For instance, footwear brand Tod's is spreading its "Italian Portraits" photography book and digital efforts via mobile with an iPhone app that contains an image gallery and additional content to let users get to know each male personality in the campaign.
Tod's is sharing its "Made in Italy" traditions, heritage and craftsmanship while looking to reach affluent consumers on smartphones (see story).
In addition, French fashion house Christian Dior is sticking with its upbeat, summer-focused campaign for the Dior Addict fragrance in an iPhone app that shares campaign components such as images, videos and quotes by the designer.
The label is presenting consumers with daily bits of happiness from its fragrance campaign in the app that produces random images, videos and download links when users shake their iPhones. This is part of Dior's all-encompassing digital campaign for its new fragrance featuring model Daphné Groeneveld (see story).
Swarovski's app was created to raise awareness for the release of "Multiface(t)s: Style Yourself with Jewelry."
"Overall, we aim to increase awareness around the breadth of our collections and engage our consumers around the topic of jewelry styling," Ms. Leshchinsky said.
"Our goal with the mobile app is to drive conversation about the book and reinforce its unique value – the first book of its kind to provide styling advice specifically for jewelry and accessorizing," she said.
Final Take
Tricia Carr, editorial assistant on Luxury Daily, New York