Swatch Group's recent distribution limitation of certain mechanical movements and assortments by the Swiss Federal Competition Commission, or Comco, allows rival watchmakers to continue operations largely unimpeded and without any urgent reason to research and develop their own production techniques.
The decision to modify Swatch Group's shrinking supplies arm stems from Comco's belief that market conditions are too feeble for major structural changes, and future developments that would adequately replace Swatch Group's services remain murky. Comco recommended Swatch Group to revisit the issue and devise a plan that was more gradual and better suited to the enormous production disparity in the market.
"It is surprising to observe that practically nobody in the Swiss watch industry has moved since the discussion started more than ten years ago," said Nick Hayek, CEO of Swatch Group, Bienne, Switzerland.
"Especially in the light of Swatch Sistem51 with which Swatch Group has proven that it is possible to create and industrialize a new mechanical movement in a bit over two years, a movement that is not 60 percent, but 100 percent Swiss made, by investing between [$48-$64 million]," he said.
Swatch Group owns a number of brands including Breguet, Omega, Harry Winston, Longines and Blancpain.
Sudden storms
The deal between Comco and Swatch Group was modified on July 12.
The proposed deal sought 30 percent cuts in Swatch Group's 2010 supply levels by 2014. Instead, Comco adjusted 2014's permitted rate to drop to 75 percent of 2010's level, 20 percent lower than where it currently stands.
Swatch Group can elect to renegotiate the terms or settle for its parental role. If this deal is rejected and a new deal is not reached by the end of the year, the current level of 95 percent of 2010 supply levels will expire.
Watchmakers such as a number of Richemont brands rely on Swatch Group for assortments that are technically complex to produce.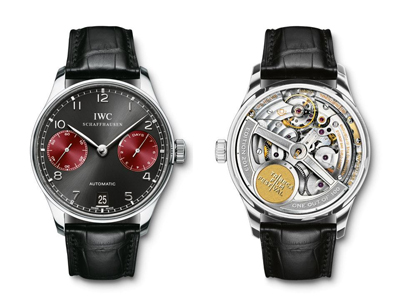 Richemont owned IWC - Schaffhausen watches
Swatch Group has 13 production groups under its wing, including Nivarox-Far, which is the leading Swiss specialist of oscillating and escarpment parts.
Comco has ruled that component supplies such as Nivarox's hairsprings can no longer be slashed.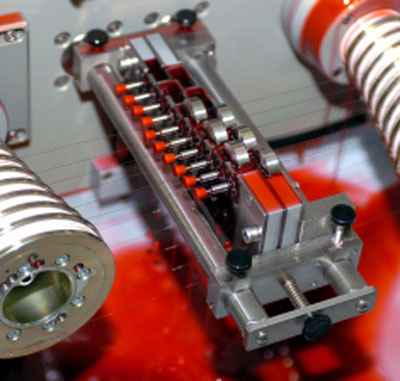 Nivarox produced component
The commission wants to observe market conditions for a few more years before it agrees to more drastic cuts.
Swatch Group likely feels spurned since the modified deal continues to prop up rival watchmakers that can spend time marketing rather than researching and developing new techniques.
"This will mean that Swatch Group can't execute its strategy to exit the parts supply business, where it essentially has a monopoly," said Milton Pedraza, CEO of The Luxury Institute, New York.
"Comco is basically saying, 'you've had a preferred role in our industry almost to yourself and now you want to exit because you don't find it as profitable, but you can't pull the rug out from under our industry,'" he said. "For the Swiss watch industry, there is a sigh of relief that they can continue to get parts.
"Some of the brands will go off and source parts from other places or begin to build their own parts, but that's a complex, multi-year process."
One of many
Although Swatch Group has been stalled in its quest to minimize its role as a supplier, the conglomerate has made other moves in other areas.
For example, together Harry Winston Inc. and Swatch Group Ltd. are likely to benefit from combining their manufacturing practices and diamond expertise with the $750 million acquisition, experts said.
Swatch Group will get a boost from the purchase of Harry Winston Diamond Corp.'s luxury jewelry and timepiece division and, at the same time, the jewelry brand's reputation will be upheld. Moreover, Swatch will also assume up to $250 million in debt from Harry Winston (see story).
Meanwhile, Comco has a delicate job supervising the activities of the watchmaking industry.
"The Swiss don't want to outsource parts because it will demean the watch industry," Mr. Pedraza said.
Final Take
Joe McCarthy, editorial assistant on Luxury Daily, New York