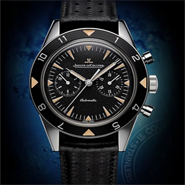 Just when many luxury brands are starting to tap into Brazil, Russia, India and China, Jaeger-LeCoultre's CEO believes that it is time to push electronically into other other emerging markets, since digital is the easiest way to mold a strategy to a local culture.
Although there are still many venues that the storied Swiss watchmaker uses to access its customer base -- including print, product placement and celebrity endorsement -- digital's fast-moving pace provides the easiest route. Furthermore, the brand is increasing its mobile awareness for the probable tablet takeover.
"Print in magazines is still the No. 1 channel for us, but digital is growing more and more and if you consider our investment in digital, it is growing three-to-five times more than our investment in print," said Jerome Lambert, CEO of Jaeger-LeCoultre, Geneva, Switzerland. "In a global world, it is a much more localized approach than what it used to be.