If a consumer goes through the trouble to download a branded mobile application, he or she is likely a true brand loyalist. Knowing this, many luxury companies are either developing or evolving their apps to both woo and keep customers. 
In the second quarter of 2011, luxury retailers, hotels, auction houses and automakers developed mobile apps to provide products, commerce and the latest news to their most loyal customers. It would seem that most luxury brands prefer to develop a mobile app as their first foray into the mobile sphere.
Luxury Daily measured these listed mobile apps for user-friendliness, aesthetics that convey the brand's values and their ability to drive traffic to other channels. Here are the top 10, listed alphabetically:
Audi 24H by Audi – German automaker Audi launched a new mobile app for the Le Mans 24-hour race, which further integrated the brand with what is arguably the toughest sports car race in the world.
The Audi 24H app features an augmented reality hook that will engage Audi fans who are not attending the event and runs across iPhone, iPad and Android devices.
The app's most engaging feature is an augmented reality game that allows consumers to test-drive multiple Audis that have won previous Le Mans races, such as the R8, R10 TDI, R15 TDI and R18 TDI.
Audi connects affluent car enthusiasts with the brand in a unique way.
BMW EVolve app by BMW – German automaker BMW is deciphering consumers' driving habits to determine whether or not they are compatible with an electric car by introducing a mobile app that tracks the miles they drive per day.
The BMW app is a test for target consumers for BMW's next car, ActiveE, out in the fall and is  available for Android and Apple customers.
Since many consumers are confused about the concept of an electric vehicle, the BMW app took down average miles spent driving in a day to determine whether consumers drove less than 100 miles, which is the distance the ActiveE can go without having to be charged.
Customers can use the app by entering their ZIP code and other information which can help EVolve determine a consumer's transportation habits.
Christie's Venice Biennale by Christie's – Famed auction house Christie's developed an iPhone app to aide wealthy participants in navigating through the 54th annual Venice Biennale Art Exhibit.
Christie's developed the app that incorporates GPS, maps, reviews, expert opinions and Biennale information from the auctioneer's experts.
As the Biennale is a huge festival attracting millions of people, incorporating an app to help consumers get around is probably a great convenience to those at the festival in Venice.
Users are encouraged to download the app to navigate through the exhibits and events that are mapped out.
Consumers can also look up expert opinions and nearby attractions such as bars and restaurants.
Fontainebleau by Fontainebleau Miami – Fontainebleau Miami targeted upscale hotel consumers with a new commerce-enabled, cross-platform mobile app that allows guests to explore the property and its amenities.
Features of the new mobile campaign include hotel menus, local weather, information on local attractions and events in or around the Miami Beach hotel.
Consumers can also receive special offers and have the ability to book rooms right from their iPhone and Android devices.
To emphasize the new campaign, Fontainebleau hosted a contest on its Facebook and Twitter pages with prizes that include a weekend getaway, dinner at a signature restaurant or access to LIV and Arkadia, the hotel's famed nightspots.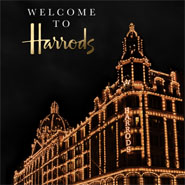 Harrods by Harrods – British department store Harrods broke into mobile marketing this quarter with its first app that serves as a map and information center of the famed Knightsbridge store.
Consumers can navigate through the seven-story building using the mobile app to find restaurants, retailers and departments.
Upon the opening of the app, users are shown the news section where they will find new stores, upcoming events, must-have and most-desired items, Harrods' Twitter feed and other news.
Consumers can tap on these options and scroll down to read more information.
Harrods customers can also add events at the retailer that will sync to their iPhone's iCal calendar.
Jetsetter for iPad by Jetsetter – Gilt Groupe-owned travel Web site Jetsetter has expanded its vacation and travel deals onto the iPad with an app in an attempt to make a smoother, more relaxing travel experience.
Jetsetter's app allows consumers to book reservations, explore 360-degree angles of properties and read customer reviews.
Similar to Gilt sales, Jetsetter offers flash-sale hotel packages. It has longer time limits on other packages in which to book vacations.
Jetsetter has developed its app experience to the point where its photography exceeds iPad resolution technology.
Even as new models of the iPad come out, the pictures inside of Jetsetter's app will still be clearer than other images.
The Lazare Diamonds 4C's by Lazare Kaplan International – Diamond cutter and manufacturer Lazare Kaplan International is educating customers on the four "C's" of diamonds – color, clarity, carat and cut – via the interactive mobile app.
Available on iPad and iPhone, the Lazare app shows customers exactly how it selects and prepares its diamonds.
The app also allows for sharing via social media and retailers where customers can buy products.
The 4C's app was made for consumers, especially males, who buy diamonds but do not actually know what they are looking for in terms of color, clarity, carat and cut.
The app educates consumers giving examples, descriptions, interaction, videos and images.
Mir Faberge by Faberge - Russian jeweler Faberge launched its first iPad application that describes the brands' legacy and values.
The app was inspired by Mir Iskusstva, an influential art movement in the early 1900s that brought together intellects such as Leon Bakst and Coco Chanel. 
Faberge's app includes six stories in varying visual and audio formats.
The Mir Faberge app aims to bring together today's artists such as photographers, directors, film makers, actors, dancers, artists, illustrators, composers, writers and costume designers.
Small Luxury Hotels by Small Luxury Hotels of the World – Small Luxury Hotels of the World is steadily building its presence in the mobile market by incorporating a mobile application into its marketing strategy.
Often second fiddle to larger hotel chains, small luxury hotels have been fighting to be noticed amongst wealthy global jetsetters around the world.
However, SLH's iPhone app will most likely help the group to earn some clout and presence in the industry.
The SLH app is functional, aesthetically pleasing and easy-to-navigate.
App users can use the app to discover hotels in a destination to book in advance, or use the phone's GPS to help them find a luxury hotel that is closest to them, or use this app if they are already at their hotels to find entertainment around them.
Zenith Watches by Zenith – Luxury Swiss watchmaker Zenith is taking its digital marketing strategy to the next level by incorporating mobile augmented reality in its iPhone app showcasing the brand's watch collections.
The Zenith Watches app lets users browse the selection of luxury watches and see how a Zenith timepiece would look on their wrist.
The app incorporates images of the watches and the "share with friends" functionality using the iPhone's built-in camera.
Zenith's app opens with images of the watches found within the "Iconic Collection."
Users can browse four different Zenith collections: The Academy Collection, The Classic Collection, The Iconic Collection and The Legend Collection.