Precision-cut crystal maker Swarovski has found mobile to be an integral channel and is in the midst of developing a long-term strategy. However, increasing application usage and gaining control of user-submitted content are the brand's biggest obstacles.
Swarovski pushed its fall/winter 2012 collection through a cross-channel, multi-city campaign and found that 40 percent of the traffic originated from mobile devices. Consequently, the brand is looking to reach its savvy, female consumers through future mobile efforts that insert it into relevant conversations and demand the target audience's attention on the crowded channel.
"Our consumers live a digital lifestyle," said Yelena Leshchinsky, head of communication and social media at Swarovski's consumer goods business, Männedorf, Switzerland. "They are connected through mobile devices as well as social networks.
"It is important for us to be both available and engaging through mobile touch points," she said. "This is where the consumer spends a large portion of her time, so to be absent from this channel would be a huge missed opportunity."
Fall for mobile
Swarovski gave its customers in top international markets access to customized city guides and the chance to unlock exclusive digital experiences during its campaign to push the fall/winter 2012 collection.
The month-long Kingdom of Jewels campaign was presented Aug. 27-Sept. 30 on a microsite where Swarovski offered public city guides as well as exclusive experiences that a limited number of consumers could access with a unique code found in stores.
Swarovski pushed its efforts via digital advertising, social media, its retail locations and brand visuals.
Markets included London, Madrid, Shanghai, Amsterdam, Milan, Stockholm, Berlin, Sao Paulo, Seoul, Istanbul, Montreal, Melbourne, Paris, New York and Hong Kong (see story).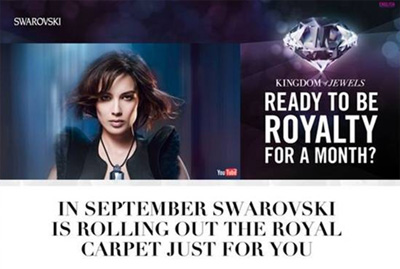 Kingdom of Jewels desktop site 
Though the campaign did not require mobile use, Swarovski found that 40 percent of the traffic to the digital experience came from mobile.
Swarovski ensures that all of its digital communication campaigns are accessible via mobile, per Ms. Leshchinsky.
Also, the brand found that tablets are key as consumers spend more time shopping on those devices in comparison to smartphones.
Swarovski's Digital Business Center relaunched its ecommerce site in August to be optimized for tablets.
There are also opportunities to make use of social media on mobile devices, but some platforms are not yet user-friendly.
"The competition is increasing," Ms. Leshchinsky said. "More and more brands are strengthening their mobile presence, which makes it more difficult to grab the target's attention and avoid getting lost in the clutter.

"Also, social media is used increasingly on mobile, but the top platforms have not developed an intelligent way to integrate paid media without disrupting the user experience," she said.
Girls on-the-go
On the other hand, Swarovski was able to directly incorporate mobile into quite a few campaigns this year.
Recently, the brand created an iPhone and Android app that is a companion to the brand's how-to book that was released Oct. 25. The app lets consumers virtually try on jewelry and see themselves as the book's cover model.
In the book, Multiface(t)s shows readers how to style jewelry according to Swarovski creative director Nathalie Colin as well as various contributors such as Nina Garcia, Glenda Bailey, Anna Dello Russo and Eric Daman.
Through the app, users can navigate to an exclusive interview with Ms. Colin, a description of the book and the "Cover Star" tool. The tool lets users try on Swarovski jewelry using their device's camera (see story).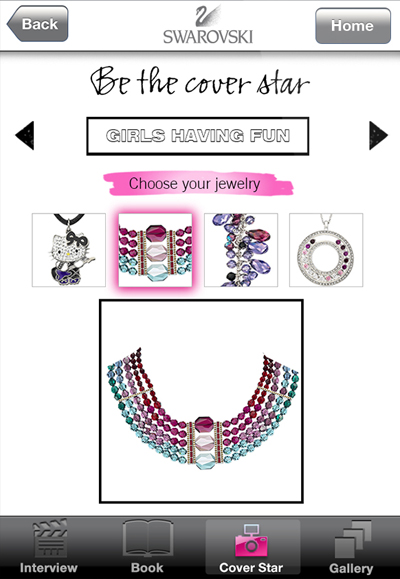 Multiface(t)s app 
Swarovski is pushing mobile users to download the app through a holiday contest. Users can virtually try on pieces of jewelry and then upload the generated app images to Instagram using the hashtag #swarovskistyle. Winners can receive a Swarovski watch or bangle.
In addition, Swarovski tapped consumers' competitive spirit in its Fashion's Night Out campaign by hosting a street-style contest via the Instagram mobile app to be judged the night of the event.
The brand chose mobile to host the bulk of "The Style Elite of FNO" national campaign that centered on a user-made look book created via an exclusive partnership with 52Grams, a mobile platform where brands can curate shoppable look books from Instagram images (see story).
The Style Elite of FNO look book 
"The key in targeting is identifying where the consumer we are aiming for is spending her time on her mobile, and then inserting the brand into the conversations that are relevant," Ms. Leshchinsky said.
Swarovski is in the process of developing its long-term strategy. It is testing and learning different methods.
The brand has encountered two challenges while working through its mobile efforts.
While apps can deliver great brand experiences, it is challenging to promote them among a critical mass, per Ms. Leshchinsky.
Also, user-generated content such as that on Instagram poses opportunities, but quality control is a challenge.
Swarovski's future mobile efforts will break down the barrier between the consumer and the brand while addressing these issues.
"We will continue to refine and focus our efforts and build toward longer-term objectives," Ms. Leshchinsky said.
"The ultimate goal is to leverage mobile in a way that will give us a shorter path to our consumers and make the brand more accessible, from both a brand and logistical perspective," she said.
Final Take
Tricia Carr, editorial assistant on Luxury Daily, New York