NEW YORK – Two Siegel+Gale executives at Forrester Research's Forum for Customer Experience Professionals East 2013 said companies need to simplify consumer experiences to attract and retain customers.
During the "Breaking Simplicity: Transforming The Customer Experience" session, the executives discussed trends in society and the three key principles to making experiences more simple for consumers. Simplicity can help brands gain the trust of employees and customers.
"Companies who correctly seize on the opportunity of simplifying see a huge benefit," said Irene Etzkorn, executive director of simplification at Siegel+Gale.
"Simplicity is attractive, it sells and it gets in our heads and stays there longer," she said.
"Complexity threatens our health and safety."
Building trust
The executives discussed three key principles to building simple experiences.
First, employees need to empathize with customers and put themselves in their position to understand their experiences.
Next, brands need to control the volume of the information given at one time. It should be cut down to the essential message since too much information can lead to confusion.
Lastly, plain language should be used that will help make the process more intuitive.
"Restraint and clarity ultimately deliver simple, clear and elegant experiences," said Thomas Mueller, chief experience office at Siegel+Gale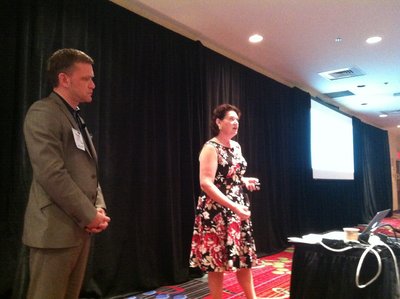 Mr. Mueller and Ms. Etzkorn
In addition, consumers are more willing to trust companies that make processes and campaigns simple.
Also, more than half of consumers are willing to pay more for this convenience.
"Consumers trust companies that they think are speaking in a straight-forward, clear manner," Ms. Etzkorn said.
"Conversely, they are very mistrustful of those companies that they think are pulling the wool over their eyes," she said.
Simple solutions
Many luxury brands have recently revamped digital campaign to make the consumer experience easier to understand and navigate through.
For instance, French fashion house Chanel remodeled its Web site to more effectively intertwine product browsing with content and imagery so that visitors become immersed in the brand world.
The label revamped the navigation offered on its site to be more intuitive of consumers' usage habits and is featuring higher resolution imagery that much of the time offers detailed information about the products displayed.
Additional features of the site include an increase in video content, mobile compatibility and social functions exclusive to its ecommerce-enabled fragrance, makeup and skincare sections (see story).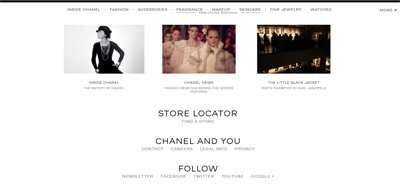 Main menu on Chanel's simplified site
Also, The Leading Hotels of the World refreshed its digital strategy through a updated Web site that offers content to help consumers plan their trip along with a simplified booking platform.
The hotel group made over its Web site after the completion of a global research and development project during which it sought out consumers' input. The site takes into account the digital habits of the affluent traveler and provides content to help in the research and planning stages (see story).
If brands do not simplify experiences for consumers then they run the risk of missing out on sales and other opportunities.
"Companies are leaving billions of dollars on the table when they do not simplify," Ms. Etzkorn said.
Final take
Erin Shea, editorial assistant on Luxury Daily, New York