The life and collections of late fashion designer Lee Alexander McQueen are to be commemorated at the Metropolitan Museum of Art Costume Institute Gala and will be complemented with exclusive interviews, videos and images of the event found in the new Vogue iPad application.
The app exclusive features comment and articles from Anna Wintour, Vogue editor in chief, and Hamish Bowles, European Vogue editor at large. Vogue's app remembers McQueen through the Met Gala history, as well as reflecting on his work displayed at the Costume Institute this year.
"The value is not only having the opportunity to see the amazing fashion but to have exclusive access to images that are only available on Vogue," said Kimmie Smith, designer, style expert and founder/editor in chief of Kitten Lounge, New York. "It reiterates that regardless of the changes in fashion and what technology is being embraced, that Vogue is still the definitive place to access what is taking place in the industry.
"Alexander McQueen left an amazing mark within the fashion world and like many designers who have passed on, his house will maintain its iconic status," she said. "To have his work featured ensures that the legacy of the brand will continue on through these events as well as digitally."
Alexander McQueen is known for its animalistic colors and fabrics and edgy style.
The designer's final collection was only partly completed at the time of his death. It contrasted light and dark colors with a medieval, religious flair.
McQueen committed suicide in February 2010 in London.
Archives of his work will be on display at the Costume Institute at the Met in May.
The Metropolitan Museum of Art Costume Institute Benefit Gala was first introduced in 1948. Ms. Wintour is a cochair. Tickets cost $6,500.
There are 35,000 costumes and accessories spanning five continents and many centuries in the museum's Costume Institute.
Gala chatter
The Vogue iPad app includes written content, images and exclusive videos from former Met galas.
Pictures of Hollywood royalty such as Nicole Kidman, Sarah Jessica Parker, Kate Hudson and Adrien Brody adorn the app.
Alexander McQueen with Sarah Jessica Parker at the gala in 2006
These pictures are shown with captions depicting what the actress is wearing, crediting vintage and contemporary Chanel, John Galliano, Dolce & Gabbana and Burberry designs.
The articles in the app depict past Gala events dating back to its conception.
The event is indicative of the changes of the fashion culture and within Vogue.
There are also complete sections of past galas from 2006 to 2010 with stunning images, content and videos.
McQueen is remembered through his work at this year's gala.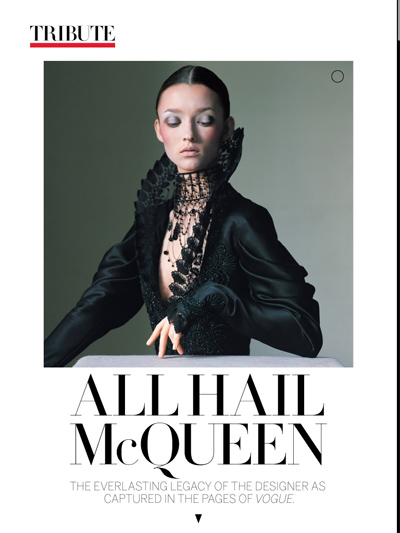 Alexander McQueen's work
The app gives a slight preview to the designer's work. Also, Vogue's Ms. Wintour depicts her memory of him through an article titled "Alexander the Great."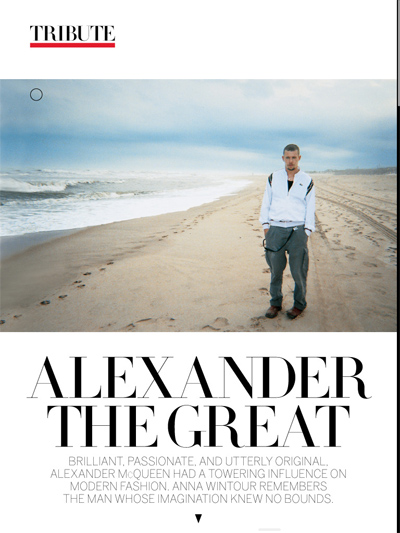 Anna Wintour's article in the Vogue app
Users can look at Alexander McQueen collections through images and videos. Captions provide extra information and anecdotes.
Coming attractions
A behind-the-scenes preview of the Alexander McQueen "Savage Beauty" exhibition is available May 2 with an app update.
Additionally, musicians Janelle Monae and Bruno Mars will be included in a video exclusive sharing their first Met experience.
Users who update the app on May 5 will be able to view this.
Finally, consumers will be able to see images and videos of celebrity guests, musical performances and the exhibit from the gala with an  update on May 6.
This iPad app puts consumers in the forefront of one of the biggest luxury industry parties with information on brands, apparel and industry icons.
"Accessibility is always a positive," Ms. Smith said. "There are those that work within fashion or have access to this industry who will attend these events and still look to the app to recapture their moments.
"There are those in the industry that will be unable to attend but will still have the feeling of being there and for those outside of this group, it's a way to capture an experience that at one time had to wait until the news highlighted various images," she said.
Final Take
Rachel Lamb, editorial assistant on Luxury Daily, New York