Condé Nast's Architectural Digest increased the breadth of its readership through its first digital version, revealing tablet-specific content and advertisements from brands such as Giorgio Armani, Patek Philippe, Bottega Veneta and Chanel.
The September issue is the first issue that has been specifically transferred for mobile devices including the iPad, Kindle Fire, Nook and Next Issue on iPad and Android. Readers who subscribe to the print version of Architectural Digest can access the digital version for free while others can pay $5.99 per issue.
"Essentially, the tablet edition is part of a larger, unified strategy for Condé Nast and Architectural Digest," said Margaret Russell, editor in chief of Architectural Digest, New York.
"Our goal is to be forward-thinking and adaptive in terms of creating and delivering our content and to produce editorial content that is relevant and well suited to each platform," she said.
Tablet tables
The Architectural Digest tablet issue includes all of the content of regular issues, but with bonus features depending on each issue.
Readers can check out interactive floor plans and enhanced views by tapping on a floor plan for tablet-exclusive images. They can also view time-lapse photography and alternate views not available in the print version.
Floor plans
Users can shop the clickable links in the Sources page. They can scroll through the editorial features, view products by room and use the links to connect to Web sites for contact or purchase opportunities.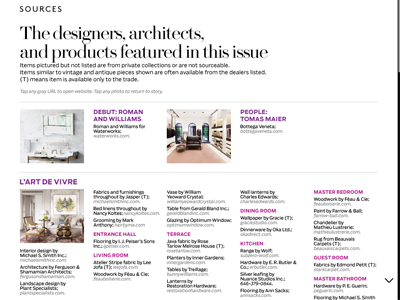 Sources
There is also special bonus content pertaining to each issue. For instance, since the September issue hones in on AD Innovators, readers can watch tablet-only videos from the innovators in addition to more images and expanded coverage for the Estates and Most Wanted sections.
Architectural Digest debuted the tablet versions for its September issue to pay tribute to its second issue of the AD Innovators. This group represents thought-leaders in the design world, per Ms. Russell.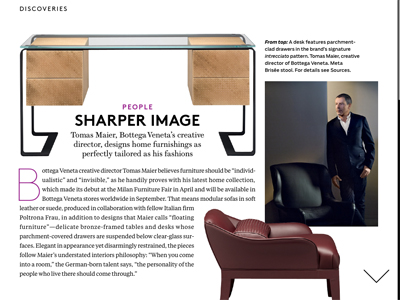 Feature on Bottega Veneta creative director Tomas Maier
"We believe this recognition of noteworthy game-changers is the perfect complement to our application launch as we take the next major step in this iconic brand's continued evolution," Ms. Russell said.
Brands such as Patek Phillipe, Chanel, Bottega Veneta, Holly Hunt, Jenn-Air and Giorgio Armani have ads in the digital version, but these are more for awareness than engagement since the ads do not provide links or other interaction.
Engage the page
This is not Architectural Digest's first move in the tablet space.
Last year, it launched an app called "AD Amazing Kitchens" with exclusive sponsor Jenn-Air where consumers could design their dream kitchen using products from major luxury appliance brands such as Jenn-Air, Wolf and Sub-Zero (see story).
However, Architectural Digest is now part of the many other luxury-focused publications that are using tablet editions to broaden their audience.
For example, Condé Nast sibling publications Vanity Fair, Wired and Vogue all use tablet versions to connect with an affluent audience.
In fact, research from Condé Nast Interactive is now revealing metrics for advertisers in its publications including total issues opened, total content views and average time spent on ads in seconds.
During the research, Condé Nast found that the current readership of digital magazines is young and affluent – the exact audience most luxury brands aim to reach (see story).
However, a commitment to making the tablet experience different from the print version is what could set it apart from rival publications.
"This is not a basic PDF replica of our pages," Ms. Russell said. "We have redesigned our digital content specifically for the iPad and other tablets.
"While the content itself is device-agnostic, we have transformed our editorial content for the tablet with a core principal in mind: a true celebration of the best of Architectural Digest," she said.
Final Take
Rachel Lamb, associate reporter on Luxury Daily, New York