Although World Water Day was March 22, Italian fashion house Giorgio Armani is extending its philanthropic involvement with UNICEF USA's Tap Project through June.
UNICEF USA's Tap Project is a nationwide initiative that provides clean drinking water and adequate sanitation for children around the world, a cause Armani has been actively involved with for a number of years. Lengthening its consumer facing involvement with UNICEF and a specific cause shows Armani as sincere in its efforts.
"Consumers want businesses to make it easier for them to be involved in societal issues, and to feel as though they are making a direct difference," said Diana Verde Nieto, co-founder of Positive Luxury, London. "With a tangible and emotional reward for the donation, consumers are likely to engage with the cause and spread the word to drive an increased interest through their wider communities and network. 
"This is a perfect example of combining the appropriate social cause and consumer segment, creating a shared value with the consumer who cares and shows this through their buying behavior," she said.
Ms. Verde Nieto is not affiliated with Armani, but agreed to comment as an industry expert.
Armani was unable to respond directly by press deadline.
Tapped in
In the days leading up to World Water Day March 22, Armani shared posts for UNICEF USA's #TapProject. Posts informed followers that Armani plans to donate 100 percent of proceeds from the #AcquaForLife Acqua di Gio fragrance to UNICEF.
Additional posts told the consumer that purchasing a $1 Acqua for Life bracelet from Armani boutiques and online provides a child in need with clean water for 40 days. After World Water Day had passed, Armani is continuing to promote this aspect of its charitable effort through June 30, or while supplies last.
As added incentive, those who purchase the $1 rubber bracelet, which reads Giorgio Armani on one side and Acqua for Life on the reverse, will receive a complimentary sample of the Acqua di Gio fragrance sent via mail at no extra cost.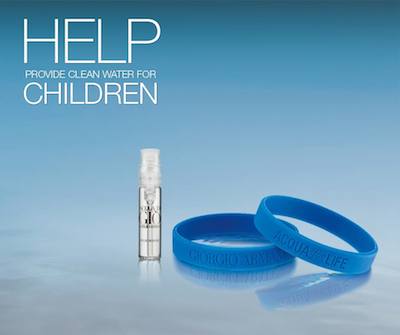 Armani's Acqua for Life bracelet and fragrance sample 
Also, different tiers have been set up by Armani for consumers to donate toward the clean water cause. For example, if PayPal is used to purchase Acqua di Gioia for women or Acqua di Gio for men, the payment service will donate a dollar to the cause as well (see story).
Through its multi-year partnership on the Tap Project campaign, Armani has raised $2.3 million, which translates to 92 million days of clean water.
Armani has highlighted the impact of its efforts over the last four years in a social video. A narrator explains that some people use more than 100 liters of water per day to perform daily tasks such as preparing meals and washing clothing, but for some 10 liters is considered a luxury.
Since Armani began its partnership with GreenCross in 2011, the brand has helped provide more than 530 million liters for communities around the world.
See the impact of our efforts over the last 4 years with the #AcquaForLife project in this short film.

Posted by Armani on Sunday, March 22, 2015
Additionally, Armani interspersed promotional films for Acqua di Gio between promotions for Acqua for Life on social media. These videos include vignettes of water crashing against rocks and a male model swimming in the depths of the ocean, so pairing these films with the charitable cause is well connected and fortified by existing communications.
Feel the freshness of Acqua di Giò Eau de Toilette. 

Posted by Giorgio Armani Beauty on Saturday, March 21, 2015
Reflecting back on good deeds
Similarly, U.S. fashion label Michael Kors reflected on its successful hunger campaign and by doing so reinvigorated interest in its efforts.
Michael Kors thanked consumers for their part in the accomplishment of 5 million meals served through its partnership with the United Nations' World Food Programme. By spreading news of the reach of the initiative so far through social media and email, consumers that have not participated so far may be spurred to action (see story).
In the fall, Michael Kors continued its efforts to stop world hunger through a limited-edition 100 Series watch specifically for Watch Hunger Stop. Proceeds from the timepiece were then donated to the United Nations' World Food Programme (see story).
Nearly all luxury houses align consistently with a cause, while also taking on smaller one-off charity initiatives to pay it forward.
"Luxury brands actions should reflect the way that their consumers want to act," Ms. Verde Nieto said. "By giving back to those less fortunate they are paving the way for their consumers to do the same, as well as helping them to feel good about the products they buy from that brand, adding emotional value to the purchase." 
Final Take
Jen King, lead reporter on Luxury Daily, New York