Giorgio Armani is selling the lifestyle of its Emporio Armani brand through Android and Apple applications that give consumers tips on how to shop, dine and play in European cities.
The apps offer an interactive experience that combines Armani products with sports and lifestyle, likely timed to correlate with the 2012 London Olympics. The EA7 app is available for free in Google Play and Apple's App Store.
"The app does add value to Armani's strategy due to the high-quality photography and content offered within the app, which is very much in keeping with the brand's premium image," said Simon Buckingham, CEO of Appitalism, New York. "Armani wants to add context to its sports products by adding relevant content such as fitness and lifestyle information."
Mr. Buckingham is not affiliated with Armani, but agreed to comment as an industry expert.
Armani could not respond before press deadline.
Living the lifestyle
The app is split into three sections: BEA7, LIVEA7 and GAMEA7.
The BEA7 allows consumers to follow training regimens, diets and other tips of athletes in sports such as swimming, boxing, gymnastics, high jump, running, volleyball, fencing and water polo.
Tips for swimmers
This section also offers outfit choices for each sport based on the current weather. It has click-to-commerce links that lead to the optimized Armani Web site.
The LIVEA7 section offers dining, shopping, hospitality, leisure, spa, sport and culture activities in cities such as Tokyo, London, Madrid, Milan, Moscow, Paris and Berlin.
Tapping on a category brings up a Google Map search. Each location has contact information listed along with a blurb curated by a blogger, and each city has a specified writer for this section.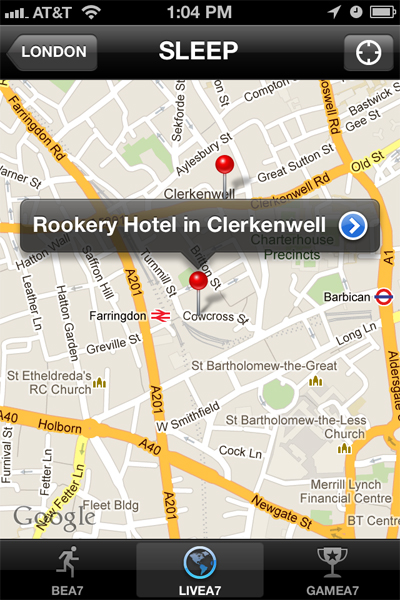 Map of London
The last section is GAMEA7, a virtual game where users participate by choosing their country and checking-in while traveling. This allows users to earn points in different locations.
The country that achieves the highest score will reach the podium and will have access to the Winner Circle.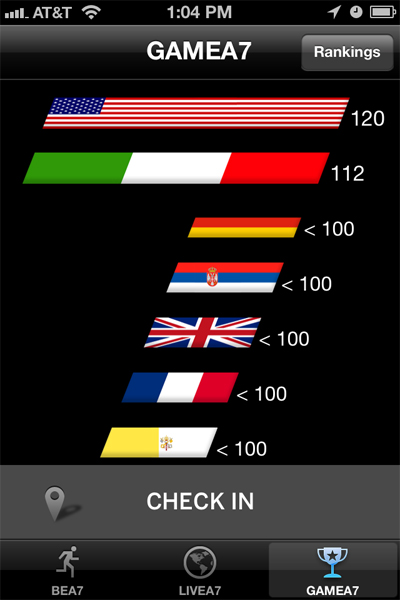 Country ranking
Consumers can sign in using a user name, Twitter or Facebook. Linking to these social sites was likely a move by Armani to encourage users to add their friends.
Game on
Using mobile to sell a brand lifestyle is a tactic that quite a few brands are employing.
By tapping into consumers' passions – such as sports or music – luxury labels can connect with consumers in a more real way.
For example, Omega is using its position as the official timekeeper of the Olympics in an app that takes consumers on a journey starting with the first games of which the watchmaker was part.
Omega introduced users to the brand's technology and how it helped further the Olympics for 25 consecutive games. It also introduced timepieces that were Olympics-themed (see story).
Indeed, the timing of Armani's app was likely due to the Olympics, since the sports that consumers could choose to live the life of are those that are in the games.
Also, adding a competitive twist by allowing consumers to show their national pride also adds to the Olympic theme.
However, the real kicker was that Armani included outfits that linked to an optimized site so that consumers could buy branded apparel that they assume Olympic athletes use when they work out.
This way, Armani is not only selling the brand image, but its products.
"The app is a good step in Armani's sports strategy as it is not known primarily as a sports brand or established in sports apparel, so having this app and content helps establish its credibility in this new area," Mr. Buckingham said.
"Armani is successfully using this app to help establish the credibility of the EA7 brand and establish Armani as a player in the sports apparel category," he said.
Final Take
Rachel Lamb, associate reporter on Luxury Daily, New York