British automaker Aston Martin is debuting its new Silver by Aston Martin collection – a selection of silverware, travel goods and gifts – in a new shop-in-shop inside department store Harrods.
The Silver collection is made with the same engineering, fine lines and materials as all Aston Martin cars, according to the brand. Silver by Aston Martin spans tableware, gifts and travel accessories.
"Aston Martin has been extremely strategic in its relationship with Harrods, as they are one of the most prestigious as well as famous shopping destinations," said Dalia Strum, president of Dalia Inc., New York.
"Automative innovation combined with elegant design will create synergy in its consumers' lifestyle," she said.
Ms. Strum is not affiliated with neither Aston Martin nor Harrods, but agreed to comment as an industry expert.
Making a marque
The Silver by Aston Martin shop-in-shop is on Harrods' second floor at its Knightsbridge store.
The collection is designed by Grand McDonald. The inspiration of the collection is the same craftsmanship, elegance and engineering excellence renowned to Aston Martin vehicles, per the brand.
For example, the bottle cooler is a design using carbon-fiber to insulate the silver exterior and prevent condensation.
Champagne cooler and flutes
Also, the Champagne flute stems are sinspired by the carbon fiber used inside Aston Martin's One-77 chassis.
Aston Martin previously partnered with Mobiado to use the automaker's cutting-edge technology and fine materials to produce a smartphone, that is now up for retail (see story).
Indeed, automotive inspiration is evident in all of the forms including mobile phones, pens and cufflinks. The collection starts at $284.
Silver by Aston Martin tumblers
This line by Aston Martin is likely a move to increase brand loyalty in its core demographic.
Driving sales
Since not all consumers can afford luxury cars, most high-end automakers offer small branded items to build loyalty and relationships so that buyers will one day keep the marque in mind when it comes time to buy a vehicle.
For example, Italian automaker Ferrari created a collection of premium golf equipment, footwear, apparel and accessories in collaboration with Cobra Puma Golf.
The Ferrari Golf Collection is based on the automaker's philosophies such as innovation, performance and design as well as the golfer lifestyle. The line broke in July at select Ferrari loations and United States-based golf retailers as well as ecommerce site Trendy Golf (see story).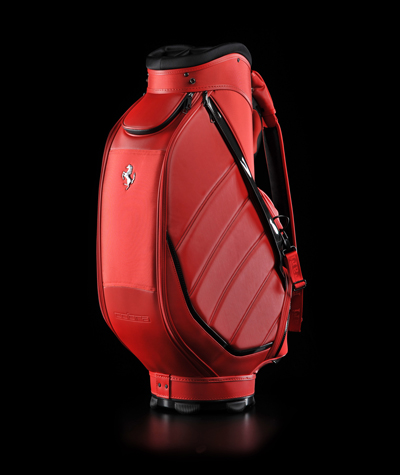 Ferrari golf bag
Also, marketers such as BMW, Mercedes-Benz, Porsche and Bentley offer accessories and apparel with branded logos to boost aspirational buys.
Most brands retail their branded apparel and accessories at their dealerships, but Aston Martin's use of a shop-in-shop in Harrods takes it up a peg.
Aston Martin and Harrods both hold positions as renowned British institutions for the upper-class.
The fact that Aston Martin chose to debut its Silver collection at Harrods speaks volumes both for the retailer and the automaker.
"This strategy will give Aston Martin an opportunity to connect with luxury buyers in the crowded metropolis of London," Ms. Strum said.
"This aligns well with its initial launch of the Cygnet, initially featured on the ground floor of Harrods to reach the same demographic," she said.
Final Take
Rachel Lamb, associate reporter on Luxury Daily, New York