Department store Bergdorf Goodman is using its fall magalog to push its 111th anniversary designer collection as well as display the usual array of luxury brand advertisements and New York-centric editorial content.
The 400 pages-plus magalog contains advertisements from luxury brands such as Ralph Lauren, Givenchy, Christian Dior, Tom Ford, Chanel, Lavin and Hermés as well as content from various contributors and fall-themed editorial and fashion spreads. Bergdorf is centering the magalog on its 111th anniversary by dedicating many of the pages to the items and inspiration behind the collection.
"Given its substance and style, the magazine-catalog is treated with more reverence than a typical catalog," said Elizabeth DeMaso, managing partner at Brenes Co., New York.
"The quality of the book and the creativity it showcases ensures that it will find a place in the reader's home," she said. "Rich in editorial content, Bergdorf's piece encourages the reader to immerse themselves in the luxury fashion world, both through the written word and beautiful visuals.
"It has a decidedly New York point of view and, like most magalogs, captures attention and enhances the luxury image for the retailer and the brands it purveys."
Ms. DeMaso is not affiliated with Bergdorf, but agreed to comment as an industry expert.
Bergdorf Goodman did not respond before press deadline.
Delivering fashion
In traditional fashion, Bergdorf is distributing the fall 2012 magazine to its affluent consumer base via mail.

The magazine's main section is dedicated to women's fashion, but consumers can turn the magazine and flip it upside-down to read the men's section.
The first ad in the book shows Ralph Lauren's fall/winter 2012 collection. It is followed by quite a few beauty and fragrance ads from luxury marketers such as Aerin, La Mer, Givenchy, Dior, Amore Pacific, Donna Karan, Tom Ford, Lancôme, Chanel, Yves Saint Laurent and Hermés.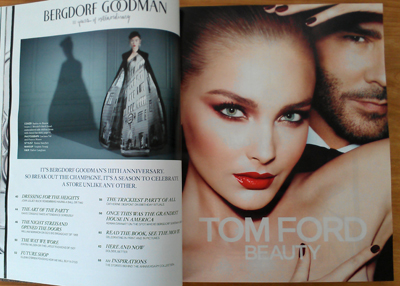 Tom Ford ad 
Also, Miu Miu and Chanel have ads within the Notes from the Runway section with Bergdorf fashion director Linda Fargo.
Editorial content in the fall 2012 issue includes essays on dressing for galas, party-going, Bergdorf Goodman's television debut, fashions from the retailer's first year, the future of shopping, birthday rituals and the history of the store's site as well as eight fashion and accessories spreads.
Meanwhile, the men's section contains essays on personal fashion, trends from the retailer's first year and men's shoes and five fashion spreads. It shows ads from Ralph Lauren, Cadillac, Hermés, Ermenegildo Zegna and NetJets.
Men's magalog section cover 
Bergdorf is no stranger to direct mail catalogs. It seems to use a New York edge and in-house photography to set itself apart from other retailers in the market and reach affluent consumers in their homes.
In June, it released a women's fall preview magazine that strengthened its authority in the New York lifestyle scene through editorial and luxury brand ads from Céline, Yves Saint Laurent, Dolce & Gabbana, Hermès and Chanel (see story).
"Bergdorf's outsized magalog is a tradition and with the release pitched around its 111 anniversary, that is no time to change," said Pam Danziger, president of Unity Marketing, Stephens, PA. "So from a customer's perspective, it sends a message of luxury, opulence and special attention that is in keeping with Bergdorf's brand."
Happy anniversary
Not only is Bergdorf using its fall magalog to push fall apparel, accessories and beauty products, but also to raise awareness for its 111th anniversary collection, which comprises exclusive, limited-edition pieces inspired by the store created by high-end labels.
The 111th anniversary content begins with excerpts from the new book, "Scatter My Ashes at Bergdorf Goodman." The retailer also shares information about its corresponding documentary film.

Another section gives illustrations and inspiration from labels that participated in the anniversary collection such as Valentino, Marchesa, Caroline Herrera, Dolce & Gabbana, Manolo Blahnik, 3.1 Phillip Lim and Michael Kors.
111th anniversary collection spread 
Next, an 82-page spread shows the 111th women's anniversary collection. Apparel images are presented in a slightly-blurred style and some contain fireworks or the New York skyline while the collection's shoes, bags, fragrance and jewelry items are showcased in sharp images.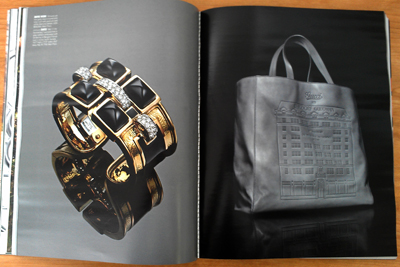 111th anniversary collection spread 
Meanwhile, the men's 111th anniversary collection spread is presented with sharp images that have a slight green undertone. It includes suits, jackets, accessories and shoes.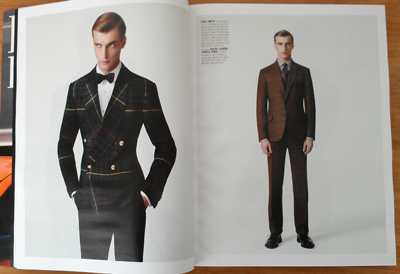 Men's 111th anniversary collection spread 
Bergdorf's move to present its limited-edition collection in a traditional manner can only strengthen its reputation among its target consumers.
"As Bergdorf celebrates its 111th anniversary, there have been a number of touchstones including exclusive products, sales and events," Ms. DeMaso said. "Bringing that celebration into the magalog is a great way to further establish Bergdorf as the authority of New York luxury fashion."
Final Take
Tricia Carr, editorial assistant on Luxury Daily, New York