New York department store Bergdorf Goodman is topping off its direct mail efforts for its 111th anniversary with a 56-page fall/winter shoe book that represents the aftermath of a large celebration.
The pages of the direct mail book are littered with fallen Champagne glasses, corks, balloons, confetti, cakes and other party paraphernalia. The images present shoes by Christian Dior, Manolo Blahnik, Christian Louboutin, Alexander McQueen, Jimmy Choo, Chanel and other luxury brands.
"The visual style of the book elevates a category that is inherently functional to something that you absolutely need," said Nicole Baboun, strategist at Siegel+Gale, New York. "Just looking at a spread you can see how much creativity and thought went into every shot, playing up the details of each shoe.
"Take shattered glass from a goblet and the heel of a shoe with a crystal detail, for instance, with the props used in the shot," she said. "The shoes are presented as mini-masterpieces.
"This book is definitely one that will linger on coffee tables and tempt shoppers who are sure to eventually cave-in and splurge."
Ms. Baboun is not affiliated with Bergdorf, but agreed to comment as an industry expert.
Bergdorf did not respond before press deadline.
Step on it
The cover of the fall/winter shoe book shows a gold Manolo Blahnik pump in the shadow of a disco ball.

The front inside cover reads, "This Fall Bergdorf Goodman celebrates its 111th Anniversary. It's a season to raise a glass to a store with a show salon unlike any other. So step out in style, sip some Champagne and make a little bit of mischief."
The first image shows an indigo suede Dior pump on its side next to a toppled white-iced cake.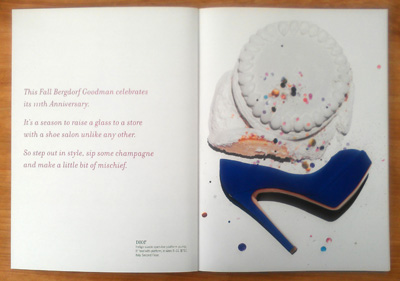 First pages 
Some of the images in the book show party favors while others contain only a white or black background.
A spread of House of Harlow's "Zenith" shoes is accompanied by a gold cardboard cake platter that holds crumbs and a used cake server.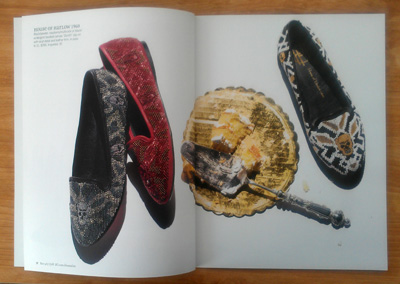 Pages 10-11
Later on, a pair of Christian Louboutin ankle boots stands alone while on the opposite page an Alexander McQueen T-strap pump sits on top of an orange balloon against a black background.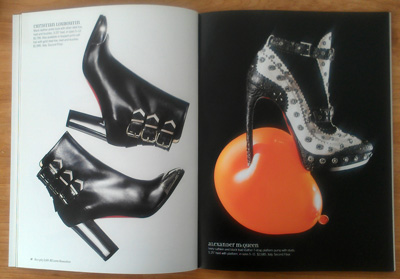 Pages 18-19
Another spread shows Repetto flats on one page and an Oscar de la Renta peep-toe shoe on the other juxtaposed with brightly-colored party decorations.
Pages 24-25 
Also, a Chanel spread of the label's "Crystal Age" booties shows a full glass of Champagne, a broken glass, a cork and gold foil.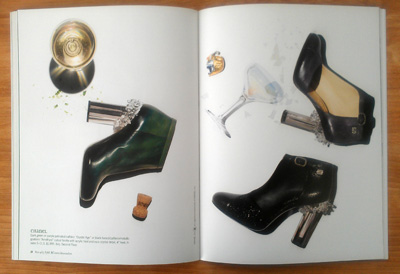 Pages 38-39
Booking it
Bergdorf often uses department-specific catalogs to push merchandise. Its shoe books are a seasonal staple for the brand.
For example, Bergdorf showcased its spring shoe styles through an independent catalog earlier this year. The 53-page shoe book showed sandals and other spring styles from labels such as Brian Atwood, Yves Saint Laurent and Jimmy Choo.
The first page of the catalog referred consumers to the shoe salon on the second floor and shared a link to download the Today's Shoes mobile application (see story).
In addition, the retailer sent a 32-page jewelry book via mail this spring that presented pieces from new designer collections with many pieces taking on a dark, edgy feel.
Bergdorf presented lesser-known designers in this book, which could be a move to position itself as a trendsetter in the jewelry industry (see story).
In its most recent shoe book, Bergdorf is looking to get consumers in-store and shop on its ecommerce site through sharp images of its shoe offerings.
The only calls to action are the page footers that show a phone number and link to the shoe salon at http://BG.com/shoesalon.
"Bergdorf bills itself as the 'pinnacle of style, service and inspiration' and this book fully delivers on that promise," Ms. Baboun said. "The visual drama of each shot is high style and most certainly a source of fashion inspiration.
"As for the service piece, Bergdorf gives you all of the information about the construction and price of the shoes and, perhaps most importantly, it directs you to the right floor for a seamless 'see it, want it, shop it' experience," she said.
Final Take
Tricia Carr, editorial assistant on Luxury Daily, New York