British jeweler Boodles is encouraging on-the-go transactions via its new mobile-optimized Web site that streamlines browsing and purchasing functions and helps to bridge the gap between its in-store and digital properties.
Smartphone users can now browse full collections, create wish lists, contact a Boodles store and complete purchases. The site was created as a complement to Boodles' ecommerce site since so many consumers were accessing it via smartphones.
"As part of the wider digital strategy, we designed and developed an ecommerce Web site for Boodles and launched in June of this year," said Garrett Dearey, London-based head of agency and digital at Illustrated London News Ltd., the digital agency of record for Boodles. "It represented a big step in terms of digital presence and marked a change from the previous Flash-based site.
"From the outset, we ensured that the site was optimized for tablets and mobiles," he said. "However, it became clear from the site's analytics that a high proportion of visitors were accessing through a mobile device, specifically from an international perspective.
"As such, it was apparent that a dedicated mobile site, such as the one we released last week, was required to ensure that the user can interact with the brand and purchase products in a manner appropriate to the device they are using."
Diamonds are mobile's best friend
Boodles' mobile site can be accessed at http://boodles.com. It is optimized for the iPhone, Android and BlackBerry.
The site provides the same information as Boodles' Internet site. Users can browse more than 600 pieces of jewelry in addition to other similar functions.
The landing page of the mobile site contains a search field, drop-down menu, click-to-browse image and buttons to browse each type of product offered by the jeweler.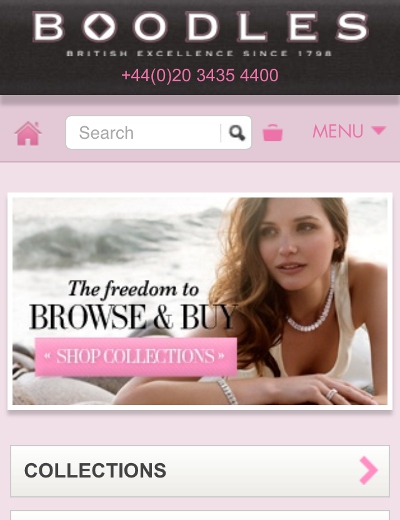 Boodles mobile site 
The drop-down menu is static on the site throughout the browsing experience. It lets users register or log in with an existing account, view collections, contact the brand or view a list of store locations.
Each store location is shown as a sketch. Users can choose to see each store on a Google map and click the button that shows the store's phone number to call it.
The opening image shows a woman lying on stones with ocean waves behind her. She is wearing a diamond necklace, bracelet and ring.
Below the image are the site's browsing sections that include Collections, Rings, Necklaces, Earrings, Bracelets, Engagement, New Designs, High Jewellery and Patek Philippe.
At the bottom of the page, users can enter their email address to receive the quarterly brand newsletter, contact the brand and view a sizing guide and buying guide.
Furthermore, each collection page contains a description of the collection. Below are the pieces in the collection.
Each product page contains a large image and specifications. Users can choose their size, inquire about the product, add it to a wish list, book a store appointment, email it to a friend or share it via Twitter, Pinterest and Facebook.
These pages also offer additional products that users might like.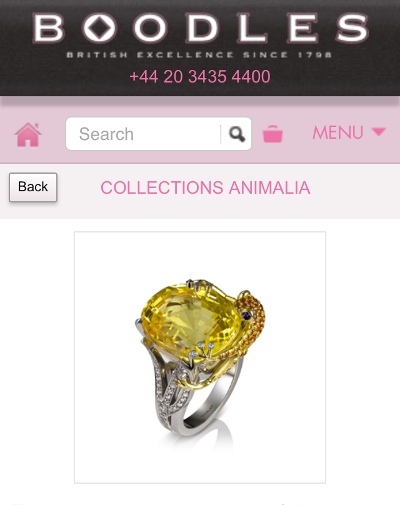 Product page 
Multipurpose site
Boodles created its mobile site with a few goals in mind, per Mr. Dearey.
The brand looked to create an experience that was appropriate for mobile devices. It is also looking to engage a highly-connected global affluent audience.
It was important that Boodles recognize consumers' expectations on mobile, which are slightly different from what they expect on Web sites, per Mr. Dearey.
"They are researching while on the move and require product and pricing information and imagery in a more expedient manner, so rather than present a more feature, story-telling experience as we do on the Web site, we present to the user a sharper, more-focused site that majors on product and price," Mr. Dearey said.
"However, it is vital that we also acknowledge the fact that some will still prefer to view the Web site rather than the dedicated mobile site, and as such it is very easy to switch between the two, and so a deeper brand experience is made available," he said.
Also, the site provides a simple way to purchase an item no matter where the customer is located. It is part of a broader natural search strategy.
The last goal is to drive in-store footfall.
"This last point is critical to the Boodles online proposition insofar as that while online and mobile commerce are central to the digital strategy, the personal care and attention that the in-store Boodles teams are famed for will always be key to the brand," Mr. Dearey said.
On-the-go luxury
Other luxury marketers are revamping their mobile sites so that consumers can make purchases and have access to additional capabilities found on ecommerce sites.
Recently, department store Barneys New York solidified its mobile savvy through a new responsive HTML5 site that offers consumers the same inventory that can be accessed on its Web site, as well as lets shoppers sort by gender, color, style and designer.
The mobile site aims to make the shopping experience more seamless and lets consumers quickly and easily search, filter, find and purchase their favorite products (see story).
In addition, French label Balenciaga, a member of the PPR family, is firming its mobile strategy with a new optimized site that lets consumers make purchases, browse new collections and campaigns and locate nearby retail stores (see story).
"Mobile commerce sites cannot be described as common within the high-end luxury space," Mr. Dearey said. "Creating such a dedicated application in itself sets Boodles apart from the competition and underlines the progressive approach of this 214-year-old brand.
"In addition, it demonstrates a willingness to embrace the technology required to connect with an increasingly mobile and highly connected affluent audience," he said.
Final Take
Tricia Carr, editorial assistant on Luxury Daily, New York