Receive the latest articles for free. Click here to get the Luxury Daily newsletters.
The Langham reintroduces lobby as ultra-luxe venue
By
---
November 5, 2012


High-end hotel The Langham, Boston, is opening its new lobby lounge to transform the initial look of the property and serve as an updated setting to offer meals and cocktails.
The Langham culminated an eight-month, $6 million lobby renovation through the opening of The Reserve Nov. 2. Luxury hotels likely focus their time and resources on creating a lounge atmosphere on-site so that affluent guests and locals think of the property as a place to have a unique experience and not just one in which to sleep.
"We continuously look to improve our guests' experience, which is the primary reason we created a new sense of arrival and Champagne lounge," said Rachelle Boudreau, director of sales and marketing at The Langham, Boston.
"The transformed lobby and new lounge will contribute to the overall satisfaction of our current guests while adding a new, exciting element to the hotel that will also drive new business," she said.
Reserve a seat
The Langham, Boston, is housed in the Federal Reserve Bank building that opened in 1922.
The hotel looked to blend modern and classic elements when renovating its lobby so that it could preserve the history of the space, per Mr. Denis.
The result is The Reserve designed by CBT Architects. It is a European-style Champagne lounge and the third dining area located on-property.
The space has an open floor plan. There is also a new welcoming concierge center and reception area. The entrance was revamped to be more dramatic. The Reserve contains custom purple-and-gold leather banquets, high-back chairs and dark-wood mixed-height tables.
The floor is made from white Italian marble.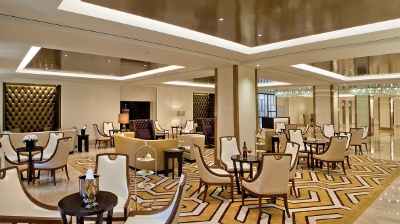 The Reserve 
The new lobby lounge will serve continental breakfast 6:30-10 a.m., lunch 11 a.m.-2 p.m. and beverages until midnight. Later this month, the lounge will serve dinner.
Hotel executive chef Mark Sapienza created the menus. The all-day menu includes snacks, light entrees and desserts.
Beverages served include Champagne and wine by the glass or bottle as well as domestic and imported beers.
Also, The Reserve will continue the British tradition of afternoon tea beginning in December with Tiffin Afternoon Tea.
"The Reserve is unique to Boston and while we are using some traditional advertising channels to spread the word, we are relying heavily on social and digital media and public relations outreach to generate buzz and word-of-mouth," Ms. Boudreau said.
Lounging in luxury
Luxury hotels must keep up with their affluent consumers by updating the spaces in which guests dine and relax during their stay.
Other luxury hotels are upping the high-end feel of their property through new or enhanced spaces.
For instance, boutique hotel Le Bristol Paris bolstered its property with the addition of ultra-luxe lounge Le Bar du Bristol that will likely be a stomping ground for young, affluent consumers.
The completion of the Le Bar du Bristol was part of the hotel's three-year, $143 million renovation project (see story).
In addition, Starwood Hotels & Resorts' St. Regis Aspen Resort opened a concept restaurant through an exclusive licensing agreement with American Express Publishing's Food & Wine called the Chefs Club by Food & Wine that is based on the publication's Best New Chef award program (see story).
Venues like these can help strengthen the reputation of a hotel as a hangout for affluent consumers.
It is likely that Boston-based consumers as well as those traveling to the city will want to stop by and view The Reserve since it was under construction for so long.
"The Langham's location in Boston's financial district played a large role in the concept, which allows for a comfortable setting to meet over coffee, breakfast, lunch or after-work cocktails," Ms. Boudreau said. "Our menu is also available for those on the go.
"During the week, we see The Reserve attracting businessmen and women and, on the weekend, we expect to see a sophisticated leisure crowd," she said.
Final Take
Tricia Carr, editorial assistant on Luxury Daily, New York 
Like this article? Sign up for a free subscription to Luxury Daily's must-read newsletters. Click here!
Related content:
None Found
Tags: Boston, Federal Reserve Bank, In-store, lobby lounge, luxury, luxury marketing, luxury travel, Rachelle Boudreau, The Langham, The Reserve, travel and hospitality
You can
leave a response
, or
trackback
from your own site.