Porsche enlisted online luxury lifestyle publication JustLuxe for a barrage of online media efforts including homepage takeovers and sweepstake promotions. The carmaker gathered 2,100 leads during the campaign.
Brand
Porsche Boxster Spyder
Duration
Feb. 15, 2010 – May 2010
Objective
Porsche's goal was to use registeration information from thrill-seeking, active affluent male consumers, approximately aged 35-41 with an annual household income of $110,000.
"For new prospecting, prioritize those that are aficionados of other activities that correlate well with the unique experience offered by the Boxster Spyder -- manual roof, strap door handles, racing seats -- such as pilots, powerboat enthusiasts, motorcycle owners and the like," said Josh Cherfoli, online and relationship marketing manager, Porsche Cars North America,  Atlanta.
JustLuxe custom-builds ads for its approximately 80 luxury clients, and used Porsche's target audience as a way to market the brand in the most effective way possible.
"Our innovative approach to advertising is catered directly to clientele that we work with," said Kamran Razavi, San Diego-based CEO of JustLuxe and RGM Group, the site's owner.
Tactics used
In order to reach the target audience of thrill-seekers, Porsche used a unique sweepstakes offering throughout the JustLuxe Web site.
The brand integrated content throughout the site, including a homepage takeover, video integration and content in the vehicle section.
JustLuxe placed three Boxster Spyder ads on its homepage that prompted site visitors to click on them to learn more about the promotions.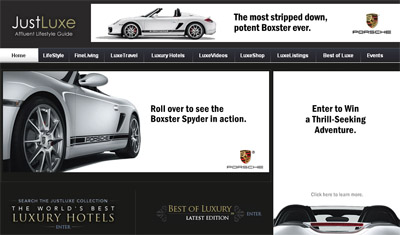 Homepage takeover ads
Porsche enthusiasts were encouraged to sign up to receive additional information, and by doing so were entered into a sweepstakes with a chance to win one of three thrill-seeking experiences.
The brand offered a chance to go to sport driving school, where customers would learn how to race with a fleet of more than 40 Porsche vehicles.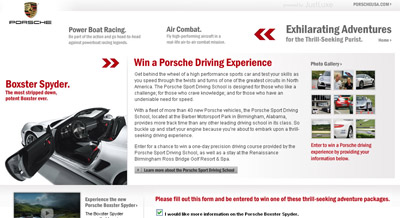 Driving school promotion
The second adventure was an air combat mission, where the thrill-seeking consumer would learn aerobatics and weapon handling in a jet.
Air combat mission
The third win offered powerboat racing lessons during a stay in Palm Beach.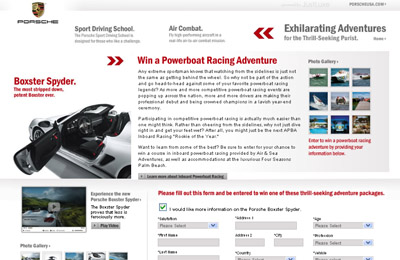 Powerboat experience
In addition to being found on the homepage, ads were placed throughout JustLuxe.
There was also a Boxster Spyder video and photo gallery.
Boxster Spyder campaign video found on JustLuxe
Results
Porsche's advertising efforts on JustLuxe went extremely well.
The brand advertises in places to capture qualified prospects through consumers' search for purity, adventure and need to keep their edge, according to Mr. Cherfoli.
"JustLuxe's users responded extremely positively to the overall campaign messaging and exceeded client expectations gathering over 2,100 leads during the campaign," said JustLuxe.