Celebrity Cruises is taking early action and attempting to reach luxury consumers to encourage travel bookings for the winter 2013-14 cruise season using its Web site and social media.
The cruise line is offering an itinerary more than one year in advance to reach consumers at a time when winter 2013 vacation options are being considered, claims the brand. The package lineup includes cruises to the Caribbean, Australia, the Galapagos Islands, Hawaii, South America and the South Pacific.
"I'm sure these new additions are to get a jump on the season and so the brand can be a leader," said Deborah Deming, luxury travel consultant for Frosch Classic, Woodland Hills, CA.
"Opening up the itineraries and getting people to look forward to them is a good thing," she said. "Overall, in the travel industry, brands can get hurt by [consumers] waiting to the last minute.
"This is creating the illusion that booking early will get a traveler the best value."
Ms. Deming is not affiliated with Celebrity Cruises, but agreed to comment as an industry expert.
Celebrity Cruises could not comment before press deadline.
Cruising the Web
The new cruise offerings are being marketed to consumers via the brand's Web site at http://www.celebritycruises.com.
The slide on the site's opening page takes users to a page that highlights destinations such as Galapagos Islands, Alaska and Europe.
Celebrity Cruises' 2013-14 itinerary Web site section 
Each potential destination is accompanied by a description of experiences that the cruise line offers.
Users can click on each destination section to view and book trips. They can easily find trips with a comprehensive search by date, destination and ship type.
Celebrity also shared a link to the 2013-14 season offerings via its Facebook page with 327,961 followers.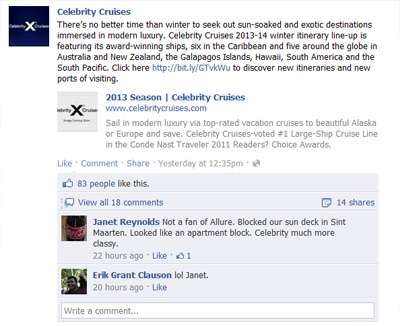 Celebrity Cruises' Facebook post 
Celebrity Cruises seems to be making use of its existing Internet marketing tools to attract potential consumers and to encourage bookings.
"I think the [consumers] that look that far in advance are the ones that are really accumulating miles to fly," Ms. Deming said.
"People in the luxury section will spend $20,000-$40,000 to go away, but they want to fly free," she said. "Putting the itinerary out there for people to lock into trips helps them plan their calendar to use their miles and plan the trip in advance."
Cabin fever 
Celebrity Cruises seems to be planning its itinerary with luxury consumers in mind due to the extensive list of trips.
The winter 2013-14 season will see stops in 42 different countries, claims the brand.
For example, the brand is offering a 35-night cruise departing from Auckland, New Zealand and ending in Sydney, Australia for March 2014.
There are a series of 14-night cruises between Buenos Aires, Argentina and Valpraiso, Chile, December 2013 and January and March 2014.
The cruise line will also take two 14-night trips to Antarctica that depart from Buenos Aires in February 2014.
These premium destinations offer a unique experience for luxury consumers.
Celebrity Cruises expanded its offering to help return customers plan an exciting new trip and to reach potential consumers who are attracted to these destinations, claims the brand.
The brand previously improved its cruise schedule by creating specialized trips for luxury consumers.
For example, Celebrity Cruises created a Excite the Senses Culinary Themed Cruises initiative that consists of eight food-themed voyages based on the company's lifestyle book, "Excite the Senses" (see story).
In addition, the cruise line catered towards affluent guests with the opening a of a Bulgari boutique on the vessel "Celebrity Silhouette" (see story).
"Celebrity doesn't have a great landing for a luxury consumer marketing, so by getting out there earlier, they are being the leader," Ms. Deming said. "Going out to the public with [the itineraries] will get more brand recognition, which they lack.
"As long as the cruise lines are providing perceived value for the market, people will travel," she said.
Final Take
Tricia Carr, editorial assistant on Luxury Daily, New York