Luxury advertisers including Breguet, Hermès, David Yurman, Bulgari, Cartier, Tiffany & Co., Dior, Bottega Veneta and Chanel are flaunting fall ad campaigns in the latest 119-ad-page issue of Condé Nast's Architectural Digest.
The November issue marks a year-to-date ad page increase of 9.5 percent, continuing the publication's steady growth. This special edition of the magazine is the "Before & After" issue and therefore, advertisers seem to blend with the concept.
"This November is the Before & After issue, and it features Nate Berkus's own New York apartment renovation on the cover and inside," said Giulio Capua, vice president and publisher of Architectural Digest, New York.
"The advertising is in keeping with the editorial feel, with the highest-end in jewelry and watches, home furnishings, auto and travel," he said.

"We expect to end 2012 with nice growth, and are focused on our January issue, which will showcase design secrets of the 'AD100' as well as new talent to watch."
Sheen of luxury
The fourth quarter generally brings about jewelry and watch advertisers for the publication, per Mr. Capua.
Jewelry and watch advertisers in the November issue include Breguet, David Yurman, Bulgari, Rolex, Cartier, Vacheron Constantin, Tiffany & Co., Assael, Dior, Bottega Veneta, Rado, Glashütte and Chanel.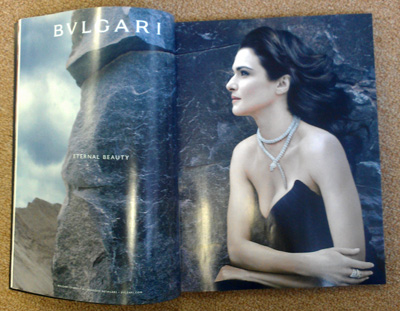 Bulgari ad
In fact, Bottega Veneta's ad signifies the launch of its jewelry line.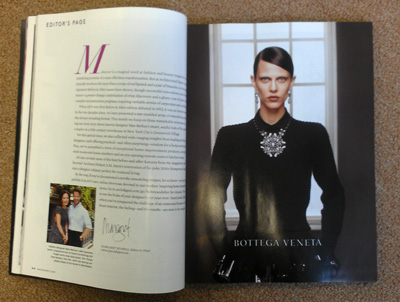 Bottega Veneta
Chanel took up the back cover with its all-white ad for the J12 Automatic timepiece.
Additionally, automotive is a reoccurring ad theme.
Cadillac starts off the book with a two-page spread on the front inside cover. Mercedes and Lexus placed ads in the issue as well.
Lexus' ad is part of its multichannel campaign centered on the 2013 ES in which it is reaching consumers via television, print, digital and outdoor advertising (see story).
Expectedly, home décor and kitchen advertisers are prevalent in the issue. These include Restoration Hardware, Calvin Klein Home, Hunter Douglas, Nate Berkus Collection for Target and Roche Bobois in front of book.
There is also an ad in this issue that highlights Architectural Digest's marketing partnership with Delta Air Lines.
"We are also running a custom Delta Air Lines unit featuring the creation of their first-ever outdoor Sky Deck at the Delta Sky Club," Mr. Capua said.
"This is a fully-integrated program that involved Architectural Digest securing designer Thom Filicia to work on the project  – a sort of before and after of our own," he said.
Luxe status
While the November issue marks a year-to-date ad page increase of 9.5 percent, the October issue also boasted growth.
The issue was up to 101 ad pages, which was an approximate increase of 5.2 percent from October of last year and 11 percent so far this year.
Marketers present in the October issue included Ralph Lauren, Breguet, David Yurman and Omega (see story).
Also, the book from January to August was up 58 pages, an 11 percent jump from 2011.
The July issue contained advertisers including Breguet, Cartier, Vacheron Constantin and Schumacher that together lent a lifestyle vibe (see story).
All in all, the steady presence of luxury advertisers in this particular affluent publication could be indicative of the regrowth of the sector.
"The luxury industry is reportedly on track to increase between 7-9 percent in 2012, which is on track with our growth as well," Mr. Capua said. "Many of our advertisers are already reporting double-digit growth in the first half of 2012."
Final Take
Tricia Carr, editorial assistant on Luxury Daily, New York