Receive the latest articles for free. Click here to get the Luxury Daily newsletters.
Hermès, Maserati make splash in Robb Report print edition
By
---
June 12, 2012


While some marketers go for a modern and interactive approach to advertising in Robb Report's Best of the Best issue for the iPad, classic brands including Chanel, Louis Vuitton, Hublot, Hermès, Roger Dubuis, the Bellagio, McLaren and Lamborghini are going for a more tactile approach in the print version.
The Best of the Best outlines the creams of the crop in the wheels, style, journeys, leisure, home and wings and water segments. The Robb Report tablet version offers interactivity, but most marketers choose a more traditional and modern marketing tactic in the print edition.
"The value to print advertisers marketing in this annual celebration of the very best goods and services that are new to market is the halo effect that this brings," said David Arnold, New York-based senior vice president group publishing director at Robb Report. "Our readers understand that as is true with our editorial our advertising represents the best of the best as well.
"The tactile experience of reading along with the remarkably high production qualities really make a significant statement about the brands featured in this magazine," he said. "Also a loyal and consistent affluent reader who really relishes the opportunity to sit back and read our magazine in an oasis and helps them digest every morsel."
Best of the rest
There are approximately 130 advertisers in the 2012 Robb Report Best of the Best issue, in both the print and tablet editions (see story).
Industry heavy-hitters including Patek Philippe, Chanel, Ralph Lauren, Hermès and Louis Vuitton take up the front of book ads.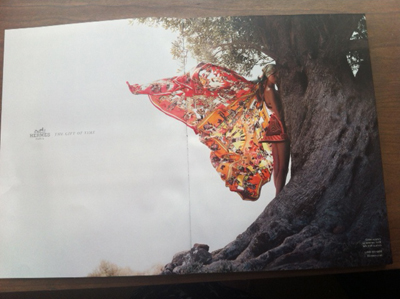 Hermès ad
Many of the front-of-book ads include watchmakers and spirits brands speckled with menswear designers such as Stefano Ricci and Ermenegildo Zegna.
Although front-of-book ads are usually where advertisers see the most visibility, what differentiates this issue is the competitive placement interspersed in the "Best of" lists.
For example, Graff, Jaeger-LeCoultre, Bonhams, Leviev, Gran Patron, BMW and Net Jets are prominent advertisers in the "wheels" section of the list.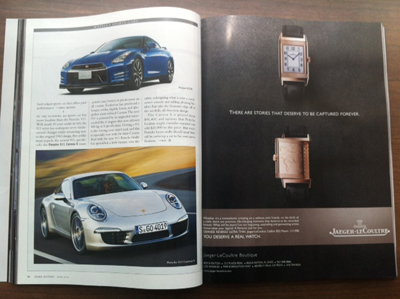 Jaeger-LeCoultre ad in Wheels
Meanwhile, Carl F. Bucherer, Gergé, Maserati, Balvenie, Magellano, Molina, The Grand Del Mar and The Plaza take up valuable real estate in the "style section."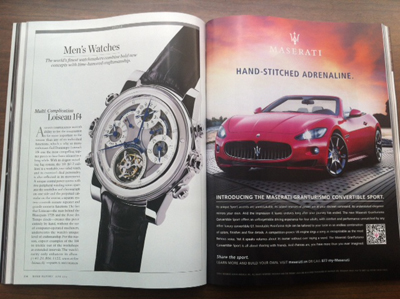 Maserati ad in Style
In the "journeys" segment, Inspirato, Flexjet, Benetti, Silver Oak, Véreté and Rolls-Royce Motor Cars are advertisers.
Marketers including F.P. Journe, Orbita, St. Regis, Viceroy, Bertani and La Palina take up space in the leisure section.
In "home," Vi-Spring, JBL Synthesis, TW Steel, Yellowstone Club and Jet Aviation are marketers.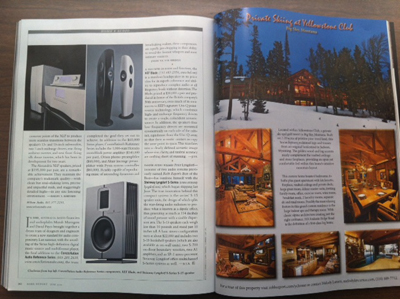 Yellowstone Club ad in Home
Finally, "wings and water" boasts ads from Monaco Yacht Show, Avantair, Festival de La Plaisance, Fairmont's Hamilton Princess and XOJet.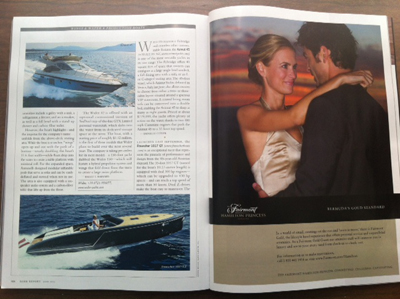 Hamilton Princess ad in Water
Pretty in print
Ads in the Best of the Best issue not only build visibility, but have an sense of pedigree.
"There is a higher degree of luxury creditability given by the reader to brands advertising in Robb Report's Best of the Best publication," said Courtney Albert, brand strategist at Parker Avery, Atlanta.
"Many readers might assume that all the brands featured throughout have been deemed Best of the Best, including advertisers and not just the editorial content," she said.
The Best of the Best list takes up the bulk of the issue, but there are still other points of notice including a Q&A with author Jonathan Kellerman and Classifieds. There is also a full register of advertisers with page numbers in the back of the book.
The June Robb Report also comes with a Collection supplement, which contains features such as "12 ways to upgrade: elevate the items in your life," Battling Black Marlin in Panama," "A race-ready auto collection," "Animation art on display," "Vintage wooden race boats" and "Winning auction bids."
Marketers including One Thousand Ocean, Swissvax, 3rd Home and Four Seasons Private Residences in Denver take advantage of this extra real estate that comes free with the Best of the Best list.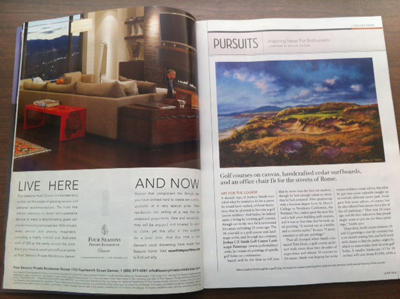 Four Seasons Private Residences, Denver ad in Collection
Even though the digital version of the Best of the Best issue includes interactivity that could lead to more transactions or visibility on social media and Web sites, the print edition is equally important to advertisers, per Robb Report's Mr. Arnold.
Furthermore, Robb Report's core audience grew up with print ads and is likely to respond to this type of advertising rather than another demographic.
"The consumers of our brand look at the advertising very closely as it totally complements the editorial and vice versa," Mr. Arnold said. "To receive this endorsement for a brand adds a significant value to the products and services that our editors pick.
"It is an impartial and independent vote from the editors who have spent a year reviewing the array of new offerings from every significant luxury brand in the world," he said.
Final Take
Rachel Lamb, associate reporter on Luxury Daily, New York

Like this article? Sign up for a free subscription to Luxury Daily's must-read newsletters. Click here!
Related content:
None Found
Tags: Best of the Best, Courtney Albert, David Arnold, luxury, luxury marketing, Parker Avery, Robb Report
You can
leave a response
, or
trackback
from your own site.