Receive the latest articles for free. Click here to get the Luxury Daily newsletters.
Chanel divulges history of N°5 through Marilyn Monroe video
By
---
November 16, 2012


French fashion house Chanel is inviting consumers to learn the intimate history of its N°5 fragrance through a video featuring Marilyn Monroe that is the second chapter of its Inside Chanel videos.
The "Marilyn and N°5 – Inside Chanel" video releases today and will be shown on the label's Web site and YouTube channel. Chanel will continue to push the campaign through its digital properties.
"Legend has it that Marilyn Monroe made Chanel N°5 famous, so the brand is reminding consumers of its connection to one of the world's most iconic stars," said John Casey, founder and director at FreshFluff, New York. "Marilyn has an everlasting power and presence, and so does the brand, reinforced through this connection and video tribute to Marilyn.
"Social media is the most conducive way to spread a social video," he said. "I would imagine that anything that features Marilyn Monroe would be enormously popular on social media Web sites.
"You cannot go wrong employing Marilyn."
Mr. Casey is not affiliated with Chanel, but agreed to comment as an industry expert.
Chanel declined to comment.
Marilyn and N°5
The video for the Inside Chanel N°5 campaign is approximately two and a half minutes long. It starts off with a black background as the words "Inside Chanel" and "Chapitre 2 Marilyn et N°5" appear.
Next, photographs of Ms. Monroe are displayed. Captions appear between shots.
The images are Ms. Monroe in Life Magazine and Modern Screen Magazine.
The widely-known quote by Ms. Monroe about her only wearing Chanel N°5 to bed is the theme of the video. It is shown both in writing and heard as a recording at the end of the video.
"Marilyn and N°5" video
The video ends with the label's logo and the Inside Chanel Web site address.
Interactive History
The "Marilyn and N°5" video is part two of a larger Inside Chanel campaign that is available at www.inside-chanel.com.
Chanel is introducing consumers to its brand heritage via the microsite that is retracing the people and events that led up to the creation of the label.
The interactive site features two- to four-minute short films that tell events and encounters marking the life of founder Coco Chanel.
Just as consumers can look to Chanel.com as a hub for products and launches, Inside Chanel can be used for the history of the brand (see story).
The microsite also offers an interactive timeline depicting the history of the brand.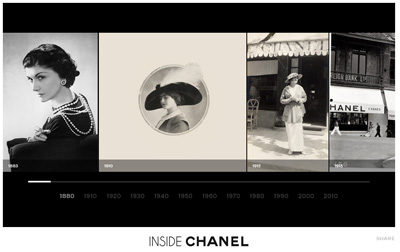 Inside Chanel
Star power
Ms. Monroe is not the only celebrity used in the Chanel N°5 campaign.
The brand recently used digital and mobile banner ads to promote the groundbreaking Chanel No. 5 fragrance video campaign with actor Brad Pitt.
The campaign that kicked off Oct. 14 featured Mr. Pitt – the first male brand ambassador for the women's fragrance – in creative that the label is rolling out via print, TV, digital and mobile (see story).
"On the heels of the widely popular commercial that features Mr. Pitt, it just makes sense for the brand to dig back into its heritage and reinforce its alignment with one of the world's most iconic stars," Mr. Casey said. "She helped make the brand famous through her unsolicited endorsement.
"Both Chanel N°5 and Marilyn Monroe remain enormously popular fixtures in global society and to luxury consumers," he said.
Final take
Erin Shea, editorial assistant on Luxury Daily, New York

Like this article? Sign up for a free subscription to Luxury Daily's must-read newsletters. Click here!
Related content:
None Found
Tags: Chanel, Chanel N°5, Chanel No. 5, Fragrance and personal care, Frangrances, Freshfluff, Internet, John Casey, Marilyn Monroe, social media, Video, video marketing
You can
leave a response
, or
trackback
from your own site.