Receive the latest articles for free. Click here to get the Luxury Daily newsletters.
Chloé fetes iconic anniversary collection via video series
By
---
January 30, 2013


French fashion house Chloé is showcasing its limited-edition 60th anniversary collection in a series of eight mini films that celebrate the designers who have contributed to the label since its formation in 1952.
The label is honoring the past design direction of founder Gaby Aghion, Karl Lagerfeld, Stella McCartney, Phoebe Philo, Hannah Macgibbon and Clare Waight Keller through a collection of 16 reissued pieces that are showcased in the videos. The collection and mini film series release on the heels of the "Chloé. Attitudes" exhibit at the Palais de Tokyo that also centered on the brand's iconic designs throughout his history.
"These videos leverage both past and present imagery to express Chloé's rich heritage in meeting the needs of modern women," said Rachel Lewis, senior strategist at iProspect, Fort Worth, TX.
"[They] educate consumers unfamiliar with the brand on Chloé's core values, while reinforcing those ideas in the minds of loyalists," she said. "Episode 1 highlights Chloe's French roots while also explaining the origins of the brand and its purpose in the marketplace."
Ms. Lewis is not affiliated with Chloé, but agreed to comment as an industry expert.
Chloé did not respond before press deadline.
Design stars
The 60th anniversary collection includes nine ready-to-wear items, five handbags and two pairs of shoes that emulate some of the brand's most popular items from the Chloé Archives.
There are 60 of each re-edited piece available for purchase.
Re-editions featured in the collection include the 1960 Embrun dress by Ms. Aghion, 1983 Violin dress by Mr. Lagerfeld, 2001 Pineapple t-shirt by Ms. McCartney, 2009 camel cape by Ms. MacGibbon and Paddington bag.
The collection was first launched at Paris' Printemps where it was available for purchase beginning Jan. 24.
Next, items will be available Mar. 1 at London department store Selfridges and online retailer Net-A-Porter and then at Barney's New York Mar. 3 and Isetan Tokyo Mar. 27.
Chloé is presenting the history of some of the pieces in the collection in an eight-part online video series.
So far, the label has released two of the videos titled "Chloé Edition Anniversaire – Episode 1" and "Chloé Edition Anniversaire – Episode 2." The series is in French, but English subtitles are shown on the video on Facebook.
The first film explores La blouse that was part of the spring/summer 1960 collection by Ms. Aghion.
Video still 
The video includes historic clips of the original piece as well as shots of women wearing the re-edition. There is commentary by Michèle Rosier, a designer at Chloé from 1962-1970.
Episode 1
The second video discusses La robe Violon from spring/summer 1983 and La pochette Eventail from fall/winter 1979. Both pieces are by Mr. Lagerfeld.
The film mostly shows women wearing the re-edition of the La robe Violon and carrying La pochette Eventail in a nightclub setting with commentary from artist and author Philippe Morillon.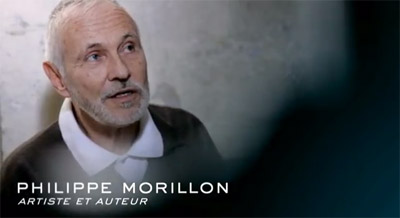 Episode 2
"The videos feature first-person accounts of individuals with close ties to a time in the brand's history," Ms. Lewis said. "These personal accounts humanize the brand's influence and impact on a particular point in time.
"For example, in Episode 1, the designer explains how as women entered the workforce in greater numbers, Chloé designed clothing for women looking for a chic, comfortable workplace look," she said. "This connection gives modern consumers an appreciation for Chloé's dedication to meeting the needs of women."
Happy anniversary
Chloé celebrated its 60th anniversary with an additional digital experience last year.
"The Alphabet" campaign took each letter and matched it with a part of the brand story. Each letter was presented via video, archived imagery, music and editorial via a section of the label's Web site.
The digital effort was inspired by Ms. Aghion's creative process for naming her collections.
After the campaign ended, consumers could produce a friend's name using the 60th anniversary images of letters and send an email, enabling Chloé to reach more consumers organically through peer-to-peer connections (see story).
While the Alphabet campaign pushed the history of the brand, the new video series demonstrates the label's commitment to the evolution of the modern woman, per Ms. Lewis.
"As times changed, and a woman's wardrobe became more diverse, Chloé has also evolved to meet these needs," Ms. Lewis said. "These videos reinforce the notion that Chloe embodies both modern and timeless elegance."
Final Take
Tricia Carr, editorial assistant on Luxury Daily, New York

Like this article? Sign up for a free subscription to Luxury Daily's must-read newsletters. Click here!
Related content:
None Found
Tags: Apparel and accessories, Chloe, Chloé Edition Anniversaire, Chloé. Attitudes, Clare Waight Keller, digital marketing, fashion marketing, Gaby Aghion, Hannah Macgibbon, Internet, iProspect, Karl Lagerfeld, La pochette Eventail, La robe Violon, luxury, luxury marketing, Michèle Rosier, Philippe Morillon, Phoebe Philo, Rachel Lewis, social video, Stella McCartney, video marketing
You can
leave a response
, or
trackback
from your own site.