Swiss jeweler Chopard is celebrating the anniversary of its Happy Sport watch through a mobile application that lets consumers personalize their own timepiece and explore other custom creations.
The "My Happy Sport" app gives users complete control of every piece of their watch. By providing the personalization technology, the app likely aims to inspire consumers to purchase their own custom watch from the watchmaker, but does not include commerce.
"I believe brands such as Chopard want to create mobile apps that provide fans with an interactive experience of their products on their mobile device, which I believe is the next best thing to being in the store, but without being bothered by salespeople," said Matt Hunter, channel manager at Impact Radius, Santa Barbara, CA.
"I'd say the brand's target audience for this app is both men and women, urban, with both high social standing and income, primarily in Europe, China and the United States, who appreciate art and lifestyle," he said.
Mr. Hunter is not affiliated with Chopard, but agreed to comment as an industry expert.
Chopard did not respond by press deadline.
My Happy Sport app is available for free for iPod, iPhone and iPad in the App Store.
Happy app
Through the My Happy Sport app, consumers can design their own timepiece or start with an existing design.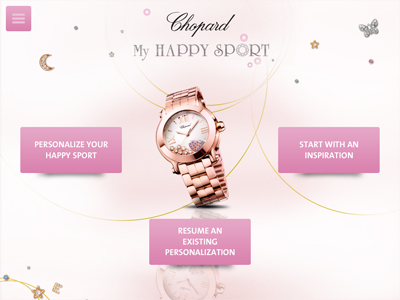 Start page
With the option to design one from scratch, the app takes users through a variety of different steps to customize every aspect of their watch.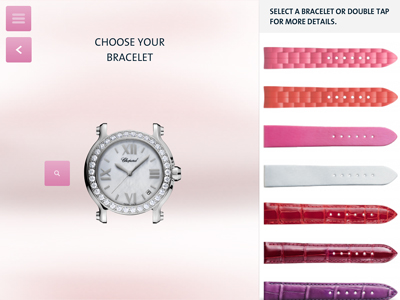 Customization 
The app asks consumers to enter their contact information and gives them a unique code to be able to access their design After all of the personalization steps are complete,It also asks consumers if they would like to sign up for the Chopard newsletter.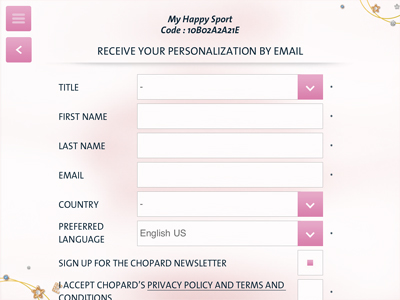 Email option
Once the information has been entered, consumers can locate a nearby store or share their design on social media.
Also, an Internet version of the My Happy Sport app is available through a microsite. The site can be accessed at http://happysport.chopard.com.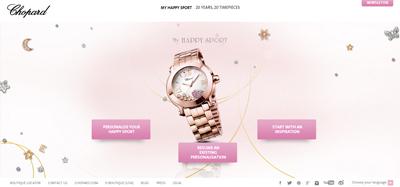 Microsite
In addition to creating this app, Chopard is also promoting the 20th anniversary through its social media pages.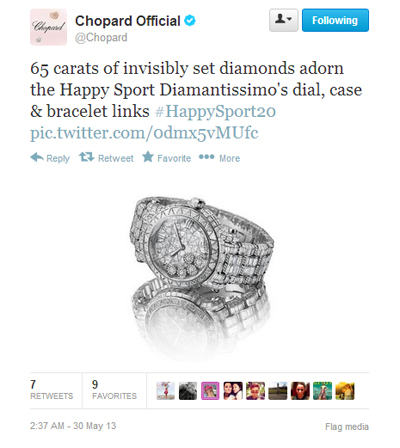 Tweet
However, neither the app nor the Web site offer a purchase option for the customized Happy Sport watch.
"I think every mobile app selling a product or service should make including a purchase option mandatory," Mr. Hunter said. "Why would you ever want to miss out on a sale?"
Create your own
Other luxury jewelers have created mobile apps to allow consumers to experience their jewelry before coming to a store.
For instance, precision-cut crystal maker Swarovski pushed its holiday collections through a contest where users on its "Multiface(t)s: Style Yourself with Jewelry" mobile app were able to enter to win prizes by uploading their augmented reality images to Instagram.
Using the augmented reality technology of the Multiface(t)s mobile app, users can virtually try on pieces of jewelry (see story).
Also, Danish brand Georg Jensen engages savvy consumers by combining augmented reality, animation and video in its Fusion Ring mobile app available on the iPad.
The app allows users to build their own Fusion Ring and watch it come together from multiple angles. It is available in the App Store and in select Georg Jensen stores in Britain on the brand's personalized iPads (see story).
With emerging technologies in mobile, it seems as though more jewelry brands are flaunting products through mobile apps.
"We're still in the infancy stages of developing mobile apps, where smartphones and tablets are growing with popularity in the current technology cycle, but with the emergence of entering a third computing cycle of wearables and drivables," Mr. Hunter said.
"I see even more potential for brands such as Chopard to expand its reach of luxury watches and jewelry into and eventually everywhere computing," he said.
Final take
Erin Shea, editorial assistant on Luxury Daily, New York