Fashion label Diane von Furstenberg is partnering with French mineral water brand evian to create limited-edition bottles that feature the designer's logo and a handwritten saying.
Consumers around the globe will be able to purchase the "DVF Limited Edition" 750ml bottle. The label could get additional exposure to new consumers and an active audience through this collaboration.
"Evian and San Pelligrino have worked with designer brands to create exclusive labels," said Pam Danziger, president of Unity Marketing, Stephens, PA. "These partnerships look to be win-win for both brands.
"The water bottles can open the designer brands like Diane von Furstenberg to new audiences, as well as giving Diane von Furstenberg a new canvas to promote her brand to her core audience," she said. "Frankly, designer water is both a luxury and a necessity.
"Such partnerships around designers and water brands just makes sense for all."
Ms. Danziger is not affiliated with Diane von Furstenberg or evian, but agreed to comment as an industry expert.
Diane von Furstenberg and evian were not available for direct comment before press deadline.
Pure genius
The Diane von Furstenberg evian bottle "reflects a playful celebration of life," according to both brands.
The front of the bottle shows Diane von Furstenberg's logo. It is a red heart on its side with the letters DVF in clear text.
The heart logo is shown in a hue of red that was created exclusively for the bottle design.
The neck of the bottle features a wrap-around quote in Ms. von Furstenberg's handwriting. It reads, "Water is life is love is life is water is…," which is one of the brand's mantras.
The bottle is printed with organic ink and made from 100 percent recyclable packaging. It features evian's new screw cap design.
The price of each bottle is $7.99.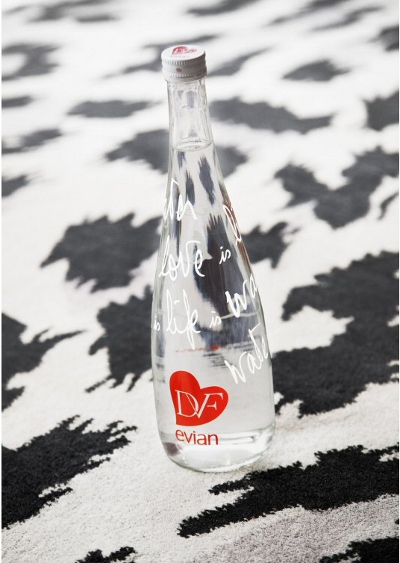 Diane von Furstenberg bottle 
Diane von Furstenberg chose to partner with evian because "drinking water is one of the most important things we can do to love ourselves and love is life," per the designer.
Ms. von Furstenberg is the first U.S. and female designer to collaborate on a bottle design with evian as a part of the water brand's 2013 limited-edition bottle collection.
Labels such as Issey Miyake, Paul Smith, Jean Paul Gaultier, Christian Lacroix and André Courrèges have previously partnered with evian.
For instance, French label Courrèges celebrated its 50th anniversary by designing a limited-edition bottle for evian.
The bottle debuted during Fashion's Night Out at the upscale mini department stores Jeffrey in New York and in colette in Paris (see story).
Perfect pairs
Other luxury marketers are partnering with more-accessible brands to increase awareness to the general population.
For instance, Toyota Corp.'s Lexus will gain year-round exposure across Madison Square Garden's sports, entertainment and media properties in New York through a long-term partnership with the Madison Square Garden Co. (see story).
In addition, Neiman Marcus is partnering with Target for a limited-edition, 50-product holiday collection featuring 24 designers including Marc Jacobs, Oscar de la Renta, Diane von Furstenberg and Proenza Schouler (see story).
Also, Barneys New York will entice holiday foot traffic from affluent kids-at-heart through a moving art exhibit in its Madison Avenue flagship store holiday windows created under a partnership with Walt Disney Co. (see story).
As in all efforts, luxury marketers need to be sure that the resulting products or displays from a mainstream brand partnership fall into the luxury brand's image and lifestyle.
"Evian has built a highly-recognized global brand by successfully promoting the purity of water from the Alps," said Karen Kreamer, president of K2 Brand Consulting, Overland Park, KS. "There is certainly an element of luxury and exclusivity associated with the evian brand.
"But even with luxury brands, the goal is to effectively manage category trends - in this case, environmental responsibility - without losing the brand's essence or core meaning," she said.
"Diane von Furstenberg will be able to expand her brand beyond fashion and associate her brand with a healthy lifestyle."
However, there are real consumer concerns for the environmental impact of bottled water.
"In the bottled water category, a brand's socially responsible practices are a driving force in brand consideration and purchase," Mr. Kreamer said. "I believe a designer bottle for bottled water crosses the line from effective luxury brand marketing to excessive indulgence."
Final Take
Tricia Carr, editorial assistant on Luxury Daily, New York