Montblanc, a maker of writing instruments and watches, is tapping consumers' interest in mobile image sharing by inviting them to participate in a project centering on photographs taken at the exact same moment.
The "Montblanc Worldsecond" application-based campaign and contest begins today when the first of 60 events takes place. IPhone and Android users will be prompted to take an image at the exact same time, which the brand will curate on a microsite.
"Artistic expression, storytelling and Montblanc are a timeless combination," said Terry Dean Pepper, director of international brand communications and licensing at Montblanc, Hamburg, Germany. "We are passionate about arts, culture and craftsmanship, and our target audience shares this passion.
"Last year's award-winning 'Beauty of a Second' one-second film festival offers vivid testimony to this," he said. "Its success encouraged us to continue on this path of inviting the audience to take center-stage in our watch campaign."
One second
The Montblanc Worldsecond mobile app is available for free in the Apple App Store and Google Play.
The brand will also offer a Chinese adaptation of the app.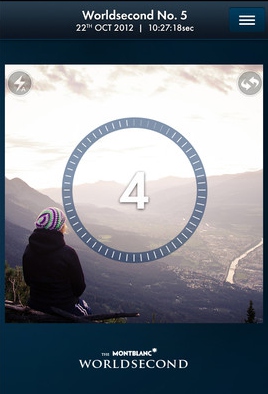 App countdown 
Through the app platform, consumers can automatically take an image at the exact same time as other users. The app shows a countdown to the moment when the image will be captured.
There will be 60 different Worldseconds at which users will take simultaneous images around the world through the end of December.
Campaign video 
The images taken from smartphones at one Worldsecond will be uploaded to a mosaic-style gallery that is available in the app or on a microsite at http://worldsecond.montblanc.com.
In each gallery, users can choose from the selection of images to make their own image collections that can be shared via social media.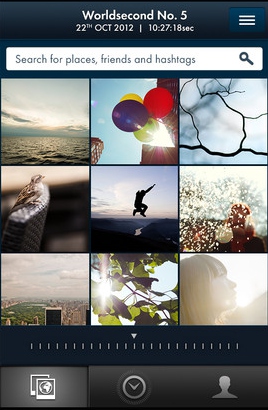 App gallery 
The contest portion of the Montblanc Worldsecond campaign runs through Dec. 31.
Montblanc will announce one winner in two categories: Worldsecond Photo and Worldsecond Gallery. Winners will receive a timepiece from the Montblanc TimeWalker collection.
The brand designed this campaign to align its timepieces with the concept of recording time on a global scale, per Montblanc.
"First of all, we know that more and more people have at least one smartphone within reach, day and night," Mr. Pepper said. "Add to that a key technical requirement of the project - the idea is to capture photos everywhere and anywhere at exactly the same time, accurate to the second.
"Hence a mobile app seemed the logical choice, allowing us to integrate such a unique synchronized shutter functionality," he said. "Of course, there is more to the project than just a mobile app.
"Everybody is invited to embark with us on an exciting, photo-by-photo journey around the world."
Worth 1,000 words
Many luxury marketers are tapping the popularity of mobile image sharing to increase participation in campaigns.
For instance, Four Seasons Hotels & Resorts collaborated with LVMH Moët Hennessy Louis Vuitton's independent lifestyle site Nowness to host a photography contest that encouraged consumers to share off-the-beaten-path venues in their home city.
Consumers who submitted images for the Your Secret Cities contest via Twitter or Sina Weibo for those in China were entered to win a $2,500 Four Seasons gift card. Nowness kicked off the contest with editorial content that showcases hidden places in Shanghai chosen by Elle China senior fashion editor and street-style blogger Leaf Greener (see story).
In addition, U.S. label Michael Kors hosted a contest via mobile app Instagram during which users could flaunt their favorite brand watch for the chance to win a limited-edition timepiece.
Instagram users could upload an image with hashtag #MKTimeless for the chance to win one of three numbered New York Limited Edition Runway Watch timepieces (see story).
It is important that luxury marketers differentiate the brand during mobile image contests since there are so many of these types of efforts across the channel. This includes those within the luxury industry as well those across the entire mobile landscape.
Montblanc could distinguish itself by creating a mobile experience, rather than a short-lived contest.
The brand is also one of the few marketers that is using its own app instead of Instagram.
"Montblanc's photo sharing idea is potentially a very good one as mobile phone consumers love to take and share photos," said Simon Buckingham, CEO of Appitalism, New York. "The strategy is to associate and celebrate special moments in life and associate them with Montblanc.
"Montblanc wants to be not just a product but part of the experience," he said. "The contest cleverly uses a mobile app to time-stamp the photos and then allows easy social media sharing - this makes the contest easy to enter and easy to share.
"Photo sharing is something that most smartphone users do, so it makes sense to incorporate this into a contest."
Final Take
Tricia Carr, editorial assistant on Luxury Daily, New York