Dolce & Gabbana launched a video series starring popular blogger Bryan Boy as an elusive employee that was set to convey the brand lifestyle and reveal the identity behind the mysterious @IWork4DG Twitter handle.
The label wanted to create a new method of storytelling including influencer Bryan Boy as its muse. The 30-second videos were released every two days, which Dolce & Gabbana says increased its virality and built buzz.
"Social video adds value to luxury brands because their target market is able to live vicariously through Bryan Boy's mini job experiences at the company," said Dalia Strum, president of Dalia Inc., New York. "He creates a luster around each job position, which adds to its appeal and exclusivity.
"This strategy focuses on brand-textual stories, which should develop stronger relationships with its clientele by making them feel as though they are part of Dolce & Gabbana's lifestyle and culture," she said. "Essentially, that should create stronger brand loyalty, which will convert to sales."
Ms. Strum is not affiliated with Dolce & Gabbana, but agreed to comment as an industry expert.
Dolce & Gabbana was not able to comment for this article.
All in a day's work
The six videos follow Bryan Boy as he goes about his daily duties as "IWork4DG."
The @IWork4DG Twitter handle was launched last year as an attempt to personify the Dolce & Gabbana brand and give an insider's perspective into the label (see story).
There are six videos which include a job interview, working in the office, playing in the showroom, goofing off at reception, window dressing in a boutique and playing bartender in a martini bar.
"Working 9-5" video
The videos show brand awareness that involve viewers inside the Dolce & Gabbana lifestyle in a unique way, per the brand.
Dolce & Gabbana built up the series before it was released, creating buzz and excitement on its social networks.
The brand's social media channels including its blog Swide, YouTube, Facebook and Twitter aggregate the video and offer behind-the-scenes information.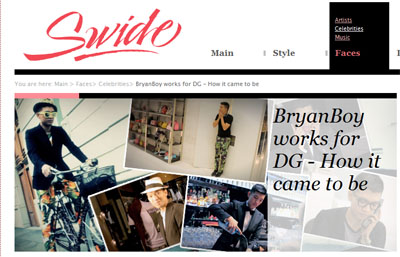 Information on Swide
In addition, Bryan Boy himself posted videos and commentary on his blog and social media.
Blog buzz
Working with bloggers is becoming a way that luxury brands are marketing towards younger consumers.
Indeed, using platforms that allow interaction with brands are a way for consumers to build relationships with luxury marketers.
This is useful because even though young consumers may not be able to buy luxury goods now, they eventually will.
For example, Rebecca Minkoff enlisted 14 well-known bloggers to introduce the new spring/summer 2013 collection through a contest that spanned Facebook, Twitter, Instagram, Pinterest, Stylecaster, SocialCam and the Minkette blog.
The label shot the Morning After Walk of Shame contest in Southampton, NY, last month where each of the bloggers wore an outfit from the new collection. Consumers could vote on the contest and upload their own images to win a gift card from Rebecca Minkoff (see story).
Also, Condé Nast subsidiary Fairchild Fashion Media will acquire Fashion Networks International, best known for its curated blog portal NowManifest, in a move that is likely to increase the publishing giant's Web presence at a crucial time.
NowManifest – which hosts popular bloggers including Bryan Boy, Elin Kling and Anna Dello Russo – attracts nearly 1.2 million unique visitors per month (see story).
Bloggers have their own fanbases, and a brand using an endorsing figure to convey a brand lifestyle and push products could entice fans to fall in love with a brand, too.
"Working with bloggers is a good idea for brands because they are able to communicate their thoughts and experiences through their own voice," Ms. Strum said.
"Consumers are looking for different opportunities that brands can enhance their lifestyle and by curating this desired content from Bryan Boy's point of view, it keeps them interested as well as inspired," she said. "Consumers are better able to embrace the brand when they are able to get more insight into the company."
Final Take
Rachel Lamb, associate reporter on Luxury Daily, New York