Italian fashion house Dolce & Gabbana is promoting its The One fragrance with a multi-layered print and film approach that exudes a glamorous lifestyle to target affluent consumers.
After building anticipation for the film with three teaser videos, the full version of the "Street of Dreams" television commercial, directed by filmmaker Martin Scorsese, was released Nov. 6. By showing small glimpses into the making of Mr. Scorsese's Street of Dreams over a few weeks, Dolce & Gabbana was able to captivate consumer curiosity.
"The goal of a trailer is to attract and build an audience for the full film and by giving just a glimpse of the characters, plot and cinematography, it creates intrigue and leaves the audience wanting more," said Kelly Cooper, marketing manager for ShopIgniter, Portland, OR.
"Trailers have the components of viral content," she said. "Video is an easy-to-consume and share medium and when introduced to a brand's target market, can build momentum, quickly increasing reach. Dolce & Gabbana was smart to incorporate digital channels in the distribution of the Street of Dreams trailers and promoting it in social mobile channels specifically, was a strategic tactic.
"This was a move to take advantage of the peer-to-peer sharing inherent in social to create buzz, increase exposure and build an audience for video premier."
Ms. Cooper is not affiliated with Dolce & Gabbana, but agreed to comment as an industry expert.
Dolce & Gabbana did not respond by press deadline.
Silver screen story
After heavily promoting Street of Dreams with trailers that showed only behind-the-scenes footage, Dolce & Gabbana finally released its full version of the film via email.
Mr. Scorsese worked with Dolce & Gabbana to create a love story film with elements of Hollywood and Italy that is accessible to audiences around the world. Shot on black-and-white film, Mr. Scorsese drew inspiration from old Hollywood and the screen actors of Europe.
The Street of Dreams film stars actors Scarlett Johansson and Matthew McConaughey. In the opening scenes, Mr. McConaughey is seen driving down a Brooklyn street toward the Brooklyn Bridge, while Ms. Johansson is shown standing outside the lobby of a hotel.
Mr. McConaughey picks up Ms. Johansson from the hotel and they begin to joke about his lateness and the limited time they have to share together. The couple drives away while the camera pans upward to show the viewer the New York architecture.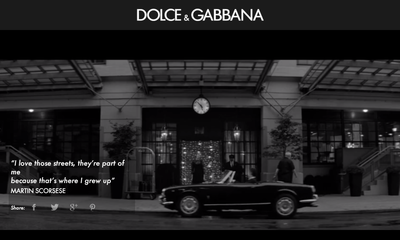 As they drive, the conversation turns to Mr. McConaughey's loner car that he felt "fit the role" and Ms. Johansson's dress. Mr. McConaughey notes that he recognizes her dress from a magazine.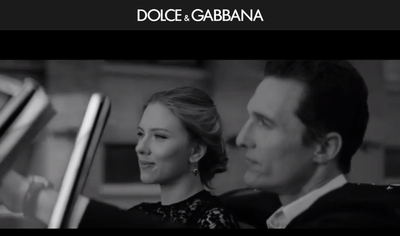 The flirty nature of the film continues as they pull up to a small apartment building on Manhattan's Greenwich Avenue. Ms. Johansson states that she misses the city because it is always changing as Mr. McConaughey jokes about the location of the building they are approaching and how he acts before a love scene.
In the following scene, the couple is seen standing on a balcony overlooking the Manhattan skyline.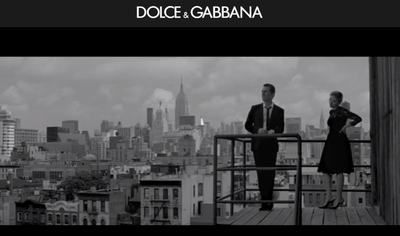 The film ends to reveal the men's and women's bottle of Dolce & Gabbana's The One fragrance.
Dolce & Gabbana The One: Street of Dreams a Martin Scorsese picture - Director's cut
Dolce & Gabbana's Street of Dreams email directs consumers to additional content. After viewing the film, consumers can explore the rest of The One's section of the brand's Web site.
Scrolling down reveals Mr. Scorsese's inspirations, the three behind-the-scenes trailers, the print campaign photographed in Hollywood and Cinecittà, Italy by photographer Peter Lindbergh and a behind-the-scenes gallery.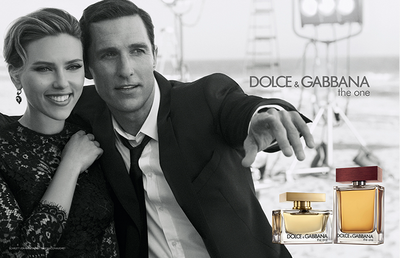 The Web site's final section gives the fragrance's notes for the men's and women's version but does not direct consumers to an ecommerce option.
Double up
Dolce & Gabbana's use of a multi-layered campaign enables the brand to appeal to a wider audience. Other brands have also used this tactic to promote products to different age groups.
For example, Italian fashion house Fendi used a dual marketing strategy to promote its latest fragrance L'Acquarossa to appeal to the many ages of its enthusiasts.
Fendi's approach includes an email campaign bolstered by a social media initiative. Although the email campaign is intertwined with Fendi's social media efforts, it is more likely that older enthusiasts will appreciate the email alerts for brand updates (see story).
Since a fragrance can not be translated via digital, brands rely on lifestyle depictions to interest consumers.
For instance, British label Burberry hosted Brit Rhythm music events in New York, London and Singapore to promote its men's fragrance collection and emboss the brand's associations with music.
The post-punk band White Lies and indie-rock quartet Peace alternated between the #THISISBRIT locations to lift the Brit Rhythm fragrance campaign to a crescendo after a multi-tiered campaign. Three videos that aim to capture the tone of each night have been released to captivate the many fans unable to attend the events (see story).
Even abstract videos that do not connect directly to a fragrance can evoke the lifestyle of a brand.
"A video can embody brand lifestyle,  from the actors casted, the script, set and cinematic style," Ms. Cooper said.
"The elements of  Street of Dreams create a glamorous, luxurious and, of course, romantic experience for the viewer," she said.
"This video depicts a lifestyle that is quintessential Dolce & Gabbana."
Final take
Jen King, editorial assistant on Luxury Daily, New York