Four Seasons Hotels and Resorts is letting consumers take the reins for its first companywide Breast Cancer Awareness Month program that gives a percentage of the proceeds of specialty cocktails to local charities.
At select properties throughout North and South America, on-site bars will offer a property-specific pink cocktail during the month of October. Though the campaign fulfills philanthropic goals for the brand, it could also help to keep consumers on-property during their stay to support the cause and eat at the hotels' restaurants.
"Our strategy was to run a national cocktail promotion that gave our bartenders an opportunity to create something new for our guests while at the same time supporting a worthy cause," said Guy Rigby, vice president of food and beverage at Four Seasons Americas, Toronto.
"This is our first year doing 'Drink Pink,'" he said. "However, we are always looking for fun, innovative ways to come up with new food and beverage promotions that benefit a cause.
"In 2010, we ran a promotion serving Chilean wines in our hotels to raise money to support the victims of the earthquake."
Happy hour
The Drink Pink program is supported at the corporate level, but differs at each hotel.

Each property will offer an exclusive pink-colored beverage or culinary experience. When purchased, a percentage of the proceeds of the Drink Pink item will go to a local breast cancer awareness charity chosen by the hotel.
Participating hotels are those found in markets such as Atlanta, Austin, Baltimore, Boston,  Buenos Aires, Chicago, Costa Rica, Dallas, Denver, Hawaii, Houston, Las Vegas, Los Angeles, Miami, New York, Palm Beach, Philadelphia, San Francisco, Santa Barbara, Seattle, Toronto, Vancouver and Washington, DC.
At Four Seasons Costa Rica, guests can order the "Pink Hope" drink for $14.25, of which $1.40 will go to the Unidad Móvil para la Detección Temprana del Cáncer de Mama. The cocktail is made with Ketel One Vodka, peach liquor, grenadine, simple syrup, mint leaves and oranges.
Pink Hope cocktail 
Also, the "You've Been Pink'd" drink served at the Four Seasons Resort at Palm Beach is made with Patron Silver, fresh squeezed lime juice, agave nectar and chill hibiscus tea. Ten percent of the proceeds from each drink go to the Sari Asher Center for Integrative Cancer Care.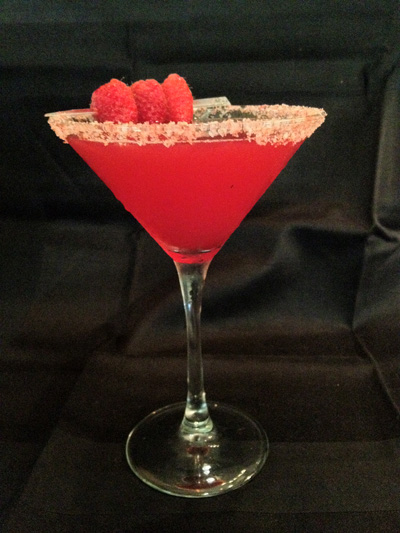 You've Been Pink'd cocktail 
Additionally, the Four Seasons Hotel Washington's themed drink is "The Pink Lady" made with Plymouth Gin, apple brandy, fresh lemon, grenadine and egg whites and garnished with a lemon twist shaped like the breast cancer awareness ribbon.
Proceeds go to the Center for Breast Health at the Cancer Institute at Medstar Washington Hospital.
Other "Drink Pink" menu options include the Calico Jack Rose at Four Seasons Hotel Baltimore that supports the Johns Hopkins Avon Foundation Breast Center, the Pink Lady at Beverly Wilshire that supports the Noreen Fraser Foundation and a pink cocktail at Four Seasons Hotel Atlanta that supports the Georgia Cancer Center for Excellence at Grady Health System.
Some hotels are offering events rather than a cocktail.
For instance, Four Seasons Hotel Chicago is holding an afternoon tea that includes a glass of Lourent-Perrier-Cuvee Rose and pink-inspired pastries. Some proceeds to go the Lynn Sage Cancer Research Foundation.
A good cause
Other luxury hotel brands are letting consumers participate in charitable programs.
For instance, high-end destination club Inspirato partnered with local, national and global charities for its Inspired Giving platform that offers non-members access to its property portfolio in exchange for donations to organizations (see story).
In addition, Ritz-Carlton Hotel Co. participated in Breast Cancer Awareness Month last year with a debut program at its spas that benefits the Look Good … Feel Better organization which helps cancer patients to feel better about themselves.
The hotel chain partnered with skincare brand Clarisonic to donate a combined $10 for each facial bought at the participating U.S. hotel locations (see story).
With a corporate-run program for Breast Cancer Awareness month rather than a localized donation, Four Seasons will likely see increased participation.
The brand is using social media and internal marketing at its properties as well as a social media push from the corporate level to raise awareness for Drink Pink.
On Twitter, users can follow the #DrinkPink hashtag.
"The difference between a companywide program versus a local program is that with a national program, it shows that we have all come together to support one very worthy cause and it supports the company's vision on community support," Mr. Rigby said.
Final Take
Tricia Carr, editorial assistant on Luxury Daily, New York