The Four Seasons Hotel, Toronto is honoring its soon-to-be closed original location and marketing its new property with a memory book Facebook application in which previous guests can memorialize the 35-year-old property.
The property is calling on consumers to contribute to the online memory book via the brand's Facebook page by uploading photos and sharing personal anecdotes from time spent at the hotel. The current location is closing its doors March 28 to reopen two blocks away this summer.
"We wanted to pay tribute to this building by acknowledging the very people who have memorable moments tied to it," said Dimitrios Zarikos, regional vice president and general manager for the Four Seasons Hotel, Toronto.
"Facebook allows us to have a large reach and capture those special moments on a grander scale," he said. "The immediate effect of social media allows our fans to view the memories live as soon as they are processed into the Facebook application."
Scroll down memory lane
The Four Seasons Hotel, Toronto created the memory book app to address the more than three decades that the current location at 21 Avenue Rd. has been serving the public.
Users can reach the memory book by going to the hotel's Toronto property Facebook page and clicking on the app from the top menu.
Previous guests and event attendees can upload personal photos and share memorable moments in a text box in the app.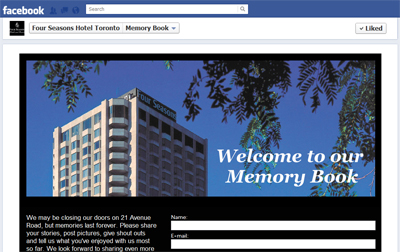 Four Seasons Hotel, Toronto memory book app 
This type of promotion could appeal to the emotions of luxury consumers by creating an environment to reminisce. It could also encourage patronage of the new property, claims the brand.
For example, a couple wrote about their engagement story which took place at the hotel's Avenue Bar in August 2011. The pair posted a picture and praised the employees by adding "we forgot to take a photo that night, so the next morning the Four Seasons generously let us go back in and take a picture in the spot where we got engaged."
In addition, current and former employees are posting memories. One example is a former intern who stayed on the fourth floor and saw humanitarian and athlete Terry Fox when he stopped at the hotel during his Marathon of Hope in 1980.
A button lets users share a link to the memory book from most email clients and social media accounts.
The hotel is also using its Twitter account with more than 2,000 followers to promote the memory book.
"Facebook is an important tool to use in any integrated marketing strategy," Mr. Zarikos said. "It is the sum of the whole that makes any campaign successful, but this album was really designed to capture the memories of our guests and pay tribute to 21 Avenue Road."
New digs
The new property at 60 Yorkville Ave. will open this summer two blocks from the current location.
A Web site of information and photos depicting the new 55-floor hotel has taken over the previous URL for Toronto's soon-to-be-closed location.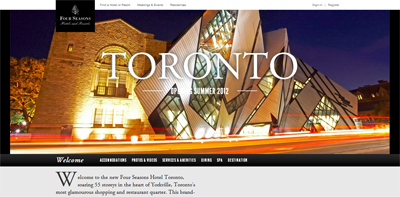 Four Seasons Hotel, Toronto Web site
The new Four Seasons Hotel, Toronto will feature a large spa and a high-end restaurant.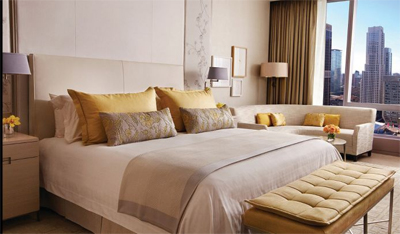 Guest room at the new Four Seasons Hotel, Toronto location
The hotel's Facebook and Twitter accounts will promote the new property after its opening.
The Four Seasons brand and many of its properties are active on social media platforms to reach luxury consumers, claims the brand.
In fact, the brand's inaugural Four Seasons Luxury Trend Report completed in 2012 found that approximately 78 percent of affluent consumers are on social networks, with approximately 65 percent of whom believe that brands that have no presence on these media outlets are out of touch (see story).
For example, Four Seasons Hotels and Resorts tapped into the St. Valentine's Day craze by creating a fan-curated "love bucket" giveaway app on its corporate Facebook page.
In addition, digital media advertising now accounts for 50 percent of the brand's total marketing efforts, according to the brand (see story).
Meanwhile, the Four Seasons Hotel Los Angeles at Beverly Hills upped its digital outreach with a free mobile app for the iPhone and iPad called LuxuryLA that displays the affluent Californian lifestyle through includes content, video and images (see story).
"As a brand, we tend to be very active and dynamic on many social media channels and this feature on our Facebook page is really business as usual for us," Mr. Zarikos said.
"Facebook seemed like the most logical platform in which to capture a larger audience quickly," he said.
Final Take
Tricia Carr, editorial assistant on Luxury Daily, New York