Four Seasons Hotels & Resorts is collaborating with LVMH Moët Hennessy Louis Vuitton's independent lifestyle site Nowness to host a photography contest that encourages consumers to share off-the-beaten-path venues in their home city.
Consumers who submit images for the Your Secret Cities contest via Twitter or Sina Weibo, for those in China, are entered to win a $2500 Four Seasons gift card. Nowness kicked off the contest with editorial content that showcases hidden places in Shanghai chosen by Elle China senior fashion editor and street-style blogger Leaf Greener.
"The opportunity to collaborate with the Nowness Secret Cities contest was a natural fit," said Laura Fairweather, manager of corporate public relations at Four Seasons Hotels & Resorts, Toronto. "We are both targeting the digitally-savvy luxury consumer and engagement with them is paramount in all that we do.
"The story, which was partially shot at our new property in Shanghai, embodies the energy and future of where Four Seasons is headed in China," she said.
"We are excited to be able to leverage this promotion to provide a sneak peek of what is to come at Four Seasons Hotel Pudong, Shanghai, opening later this month."
Nowness could not comment directly on this matter.
Smile for the camera
Nowness initiated the contest by posting Ms. Greener's list of her favorite places in Shanghai accompanied with photography by Liao Dan. One of the features venues is Four Seasons Hotel Pudong.
Four Seasons Hotel Pudong photograph by Liao Dan
The post also explained that users could create their own visual guide to their favorite city to enter the Your Secret Cities contest.
The contest is based on Nowness' ongoing Secret Cities photography series that features visual city guides from different contributors.
Users can enter up to five original images via Twitter or Sina Weibo with a caption that contains the city name and contest hashtag #NownessSecretCities. They must follow Nowness on either social network to be eligible to win.
Nowness and Four Seasons are using this contest to reach a global audience. Nowness is curating all of the images from around the world on a section of the site.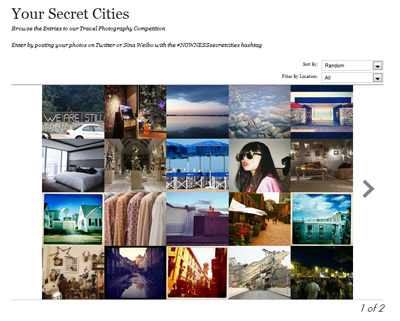 Contest images on Nowness.com 
The entry period began Aug. 21 and ends Sept. 3.
Then, there will be a nine-day public voting period on Nowness to judge the city guides, followed by a review of 10 finalists by a panel of judges. The winner will be announced Sept. 25.
Judges are Nowness contributors such as I Love You magazine's Marcus Gaab, photographer Brigitte Lacombe, fashion animator Quentin Jones, filmmaker Zoe Cassavetes and Yimmy's Yayo blogger James W. Mataitis Bailey.
"The goal of this effort is to increase awareness of both Nowness and Four Seasons Hotels & Resorts," Ms. Fairweather said.
"With a new site in China, Nowness China is a great platform for us to reach new consumers there," she said. "With 12 new hotels opening in China over the coming four years, it is an important growth market for Four Seasons and the audience and content of Nowness aligns perfectly with the interests of our current and future guests."
Image overload
Four Seasons is hardly the first luxury brand to participate in social image sharing. 

Lately, there are so many luxury marketers participating in image-based digital campaigns that brands might take the extra step to make their efforts unique.
Brand partnerships are one way to do this.
"Nowness is an appropriate partner for the Four Seasons because it captures the attention of a younger audience while still highlighting a lifestyle that is lived by lovers of art, travel, music and beauty," said Brittany Mills, director of client services for B Culture Media, Atlanta.
"Nowness also has a large social following that could be synergistic with the Four Seasons' desired target audience," she said.
Another example is when luxury conglomerate PPR partnered with Parsons The New School for Design and The Fancy to build brand awareness among students through an online contest.
Twenty Parsons students presented their work to be selected and the five finalists now have their efforts displayed on The Fancy, a social media platform where consumers can help to select the winners (see story).
In addition, Bottega Veneta, Condé Nast's Vogue and Red Digital Camera partnered to host a contest for undiscovered photographers to award a prize package that included the opportunity to work on a special project with the Italian fashion house.
Bottega Veneta let its Facebook fans judge the contest (see story).
Each brand that participates can work to extend the reach of the contest to its own social media following.
In addition, partnerships help luxury brands cross-promote goods and services to a primarily affluent group.
As an editorial site, Nowness could boost entries in the Your Secret Cities contest with steady editorial content throughout the entry period, but Nowness did not announce future content besides the public voting.
However, Four Seasons and Nowness are promoting the contest via their social channels and will likely do so throughout the entry period to keep up engagement.
Four Seasons is also sharing the contest via FourSeasonsMagazine.com and Life by Four Seasons, its digital lifestyle magazine for the Chinese market.
"I think Four Season's strategy behind this effort is to partner with a brand in hopes of driving awareness with their younger demographic," Ms. Mills said.
"I do not believe that the Four Seasons is going to see a huge shift in its online audience, if any, but it will help to introduce its brand to the Instagram, and other photo sharing applications, user base and network," she said.
"The challenge for the Four Seasons, after the contest, is putting a plan together on how to continue to engage those active users and how they are going to stay present throughout those communities."
Final Take
Tricia Carr, editorial assistant on Luxury Daily, New York