Four Seasons Hotel Toronto is targeting the lesbian, gay, bisexual and transgender community as the official hotel sponsor of Toronto Pride 2013.
The hotel is inviting Pride attendees to stay at the property through an exclusive package June 21-July 4. The property is likely looking to boost bookings as the hotel of choice for Pride attendees since Toronto is the site of World Pride 2014.
"Four Seasons has been a part of the Toronto community for more than 50 years now," said Dimitrios Zarikos, regional vice president and general manager at Four Seasons Hotel Toronto. "Since the inception of Pride, we have always been large supporters of the celebration and with the opening of our brand new flagship, we believed it was the perfect time to get more involved.
"We welcome all special occasions and want to further enhance as many as possible with a special offer, so even more people can enjoy the festivities," he said. "Pride is one of those events"
Out and about
The Pride festival in Toronto June 21-30 offers parades, events, family areas and other activities throughout the city.
The Four Seasons Toronto is easily accessible to the Pride activities and the parade.
Toronto Pride parade
The Pride package offers guests overnight accommodations, daily breakfast for two at Café Boulud or room service, a daily credit of $48 to use anywhere inside the hotel and a late checkout at 3 p.m. Guest rooms start at approximately $612 per night.
The hotel is increasing its social media presence to make guests aware of its Pride package and it has placed ads on Toronto Pride's Web site.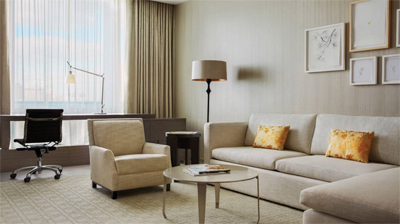 Suite
Four Seasons seems to be seeking long-term recognition as a hotel sponsor for the World Pride 2014 Festival in Toronto next June.
The property could experience a boost in bookings for the global event if it makes sure it is marketing itself as LGBT-friendly.
"The Pride events have become increasingly popular and, therefore, also increasingly profitable for those associated with the events," said Damon M. Banks, director of DMB Public Relations, New York.
"Especially with Toronto being the site of World Pride 2014, the Four Seasons Toronto is ideally situated to become the hotel of choice for both 2013 and 2014," he said. "Toronto is a fantastic backdrop for these events, and the new Four Seasons property is great addition to the city.
"I am encouraged to see more luxury properties and hospitality brands continue to reach out and open themselves up to the LGBT community."
Opening the doors
Some luxury hotels are seeing increased potential in targeting the LGBT community.
For instance, the Ritz-Carlton New York, Battery Park, is tapping into a new consumer market by offering tailored wedding packages for same-sex couples.
The hotel property has two different packages that can accommodate up to 50 wedding guests. These include an LGBT-certified Ritz-Carlton wedding consultant, wedding concierge, Statue of Liberty view accommodation on the wedding night, marriage officiant, Champagne toast and wedding cake, floral options and caricature of the wedding couple and Lady Liberty to commemorate the day (see story).
Luxury hotels may find it lucrative to target this audience since the LGBT community has a large number of affluent consumers.
Hosting LGBT-specific packages for Pride and other events is likely something that will continue on in the future.
"The days of sketchy gay-friendly hotels are behind us, as most of the gay travelers today are very affluent in the community and while they do respect hotels being gay-friendly, they also want luxurious accommodations and amenities," Mr. Banks said.
"As a result, we have seen in recent years more and more luxury hotel brands creating specialized divisions within their brand that cater to the gay community," he said.
Final take
Erin Shea, editorial assistant on Luxury Daily, New York