High-quality linens brand Frette is aiming for in-store and online buys through its new fall/winter 2012 catalog in which it is offering a coupon for 15 percent off the new collection.
The 20-page catalog was sent to current Frette customers. The book comprises both product and lifestyle content to round out the brand image.
"The tactile quality of a catalogue, based on page size and paper quality and use of color, can make a strong contribution to an image of luxury," said Ron Kurtz, president of American Affluence Research Center, Atlanta, GA. "The perception of luxury can be enhanced by the color and size of the product image.
"Extended copy, which may be required to explain or describe important product features of some products, can be best provided in hard copy," he said. "In comparison to digital media, catalogues can often give the consumer a better appreciation of the colors, textures and scale of some products.
"Catalogues can also make an attractive coffee table 'magazine' that gives exposure to other consumers."
Mr. Kurtz is not affiliated with Frette, but agreed to comment as an industry expert.
Feeling at home 
Right on the front inside cover, consumers find a coupon from the brand that is good for 15 percent off. They are instructed to present the card at its stores in New York; Boston; Beverly Hills; Costa Mesa, CA; Palo Alto, CA; or Aspen, CO.
"Incentives to promote certain types of behavior that can help close a sale can add value to a catalogue," Mr. Kurtz said. "For luxury products, such incentives need to be done tastefully and without diluting the prestige and exclusivity of the product.
"Incentives should not be used to promote behavior that creates inconvenience for the consumer, such as requiring an in-store visit when the purchase could just as easily be made by phone," he said.
The catalog is split into four sections: Couture, Edmond, Essentials and Bath.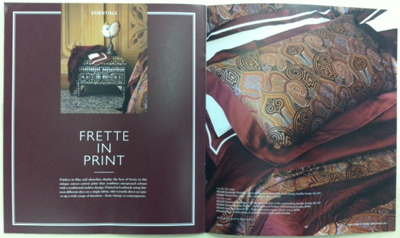 Frette collection
Each category kicks off with a small blurb about the collection's inspiration and describes key color schemes and moods.
The sections all contain images of Frette linens by themselves as well as them in use by women.
The catalog effectively translates the brand into a lifestyle through the text and pictures used.
The four collections seem to be targeted to different types of people so that no consumer feels alienated.
Frette catalog
Another strategy would be that consumers can aspire to be – or be with – the women seen in the catalog.
Special delivery 
Many luxury brands are beginning to use catalogs to kick off collections and to drive in-store and ecommerce transactions.
For example, department store chain Nordstrom is encouraging foot traffic to its in-store Men's Shops in the latest direct mail catalog that shows apparel, accessories, jewelry and fragrance through street-style photography.
The Nordstrom Men's Shop catalog is presenting this season's offerings in masculine, metropolitan brand imagery. The catalog seems to be skewed more towards aspirational consumers with lower-end price point items and fragrance strips in pages and mini inserts throughout (see story).
Also, jeweler Tiffany & Co. is looking to increase traffic to its new store in Manhattan's SoHo district through a targeted mail campaign with its newest catalog and personalized letter.
Serving as both an acquisition and retention tool, Tiffany is saying hello to new customers and reminding old ones to come check out the new property (see story).
Although direct mail serves as a way for marketers to engage with older, affluent consumers who have grown up with the channel, it is still necessary for brands to use the channel carefully.
"There is something to be said about disconnecting from technology and the oversaturation of marketing emails for a few minutes to browse through a tangible catalog," said Dalia Strum, president of Dalia Inc., New York.
"The creativity and time spent to create them could sometimes be considered a piece of art," she said. "The styling aspect that catalogs are able to provide is something that would be hard to replace.
"It is a better visual to help consumers actually picture those items in their actual wardrobe."
Final Take
Rachel Lamb, associate reporter on Luxury Daily, New York