Flash-sale online retailer Gilt Groupe is flaunting its international shipping abilities by extending its mobile shopping applications and mobile site to a worldwide audience in a move that could directly boost sales.
Consumers can now access the Gilt.com shopping app from anywhere in the world from iPhone, iPad, iPod Touch and Android devices and shop from the new international mobile site from any smartphone. The company is encouraging use of its mobile platforms by offering up to a $19.95 discount from the international shipping cost.
"With mobile and digital apps in particular and electronic distribution in general a company becomes an international brand whether they like it or not," said John Puterbaugh, founder/CEO of Nellymoser Inc., Arlington, MA. "Gilt is smart to get ahead of this and explicitly set up an international framework."
Mr. Puterbaugh is not affiliated with Gilt Groupe, but agreed to comment as an industry expert.
Gilt Groupe did not comment before press deadline.
Gilty pleasure
Gilt Groupe began offering its international apps for the iPad, iPhone, iPod touch and Android last week.
The apps are free to all users. Apps can be downloaded from Apple's App Store and Android's Google Play.
The company also expanded shopping abilities to its mobile site at http://m.gilt.com for international consumers using devices other than Apple and Android.
These apps were created to leverage the company's international shipping abilities to mobile users, per Gilt.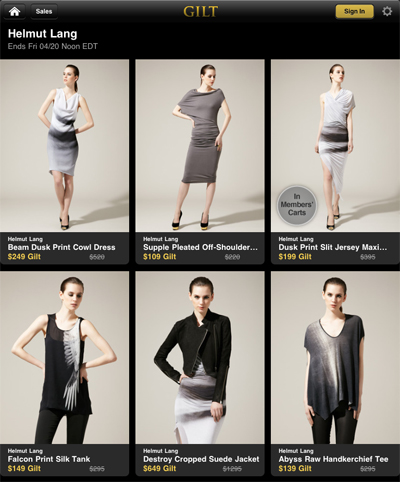 Gilt iPad app
The brand released the apps with an offer of discounted shipping. Users who choose international shipping during a purchase from a mobile device will receive up to $19.95 off the shipping cost of their next purchase.
Gilt.com ships to more than 100 countries, which is enabled by FiftyOne Global Ecommerce, which did not respond to a press inquiry by deadline.
FiftyOne's partnership gives Gilt.com key abilities such as converting currencies, international shipping, customs clearance and delivery via mobile and online.
From the app, users can browse and purchase items from Gilt.com's daily selection of discounted designer products and put sold out items on a personal waitlist.
With an extended app suite that covers most popular devices, it seems that international expansion was the company's natural next step.
"Given the personal nature of mobile apps and the mobile experience, brands are able to connect with consumers simultaneously on a much larger scale than in the past," Mr. Puterbaugh said. "It used to take a much longer, sustained effort to establish a brand.
"The challenge for marketers that are addressing an international audience is the ability to deliver the right content and experience at the right time and place," he said. "Too many marketers are simply trying to deliver anywhere, anytime experiences that resonate and are relevant to consumers."
Worldwide reach
Gilt's move to market its shipping abilities with an entire app suite shows that international customers are vital.
Other luxury retailers are looking to reach a broad audience with international shipping through mobile.
For example, British department store Harrods began offering international shipping through its mobile commerce-enabled site last year to reach an international audience.
The mobile site offered shipping to more than 40 countries at an international fixed-rate delivery fee (see story).
In addition, high-end department store chain Bloomingdale's looked to reach foreign consumers by offering international shipping to 91 countries in Africa, Asia, Australia, the Caribbean, Europe, the Middle East and South America (see story).
Following this trend, an international mobile app makes sense for Gilt at a time when international luxury markets are increasing, especially in China.
While smartphones are widely used in the U.S., smartphone ownership abroad is more strongly correlated to consumers of luxury brands, Mr. Puterbaugh said.
"The international audience for luxury brands is mobile and metropolitan to start with," Mr. Puterbaugh said.
"Furthermore, mobile enables brands to cater to and have a personal, more concierge-like experience that is tailored to individual tastes and interests in a way that general online destinations are not able to create and sustain," he said.
Final Take
Tricia Carr, editorial assistant on Luxury Daily, New York