French fashion label Givenchy is promoting its Very Irresistible fragrance's 10-year anniversary and a new Web site by featuring actress and brand ambassador Amanda Seyfriend.
The commercial debuts in lieu of Givenchy launching a newly designed Web site. Both the televised advertisement and Web site feature Ms. Seyfried as brand ambassador for the fragrance and fall/winter collection, which is likely to appeal to a younger audience.
"The ad should definitely generate interest in the brand and the fragrance, particularly with the new face of Amanda Seyfried," said Lauren Owen, project manager at Blue Moon Works, Denver, CO.
"However, the spot does not mention the anniversary in any way," she said. "If the main intention was to highlight the legacy and staying power of this signature fragrance, it may have been wise to in some way mention or allude to the anniversary in the spot.
"When you think of the number of fragrances which are released in any given year, to have one last for 10 years is a great message to share."
Ms. Owen is not affiliated with Givenchy, but agreed to comment as an industry expert.
Givenchy was unable to comment directly.
Simply irresistible
Givenchy's 46-second television commercial is set in a Parisian cafe. As a waiter carrying a tray walks passed the front door, a figure is seen approaching the cafe.
The figure has an air of mystery due to a tilted hat that obscures the identity. Masculine attire also complicates the character's possible gender.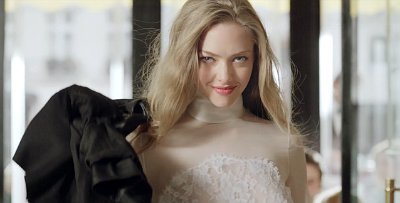 Still from Givenchy's TV commercial
Contemporary music plays as the figure continues to walk into the cafe. As this happens, the cafe patrons and waitstaff turn from their meals and responsibilities.
With all eyes on focused on them, the figure slowly raises her head to reveal a pair of maude lips. When she finally lifts her head completely, the viewer becomes aware of her identity.
Ms. Seyfried then continues to tilt her head to the side as she dramatically removes her hat. Shot from behind, Ms. Seyfried shakes out her long, blonde hair from beneath the hat.
As the wind continues to blow through her hair, Ms. Seyfried removes her overcoat to reveal a more feminine, cream-colored turtleneck.
Once removed, Ms. Seyfried playfully, yet clearly in control of the situation, throws the overcoat toward the camera while smiling deviously.
As the shot fades to black, a picture of Givenchy's Very Irresistible bottle appears as Ms. Seyfried says, "Very Irresistible. Givenchy."
Givenchy's TV commercial for Very Irresistible 
Ms. Seyfried can also be found on the redesigned Givenchy Web site. The new design features stills from the fall/winter 2013 collection with Ms. Seyfried's photograph being the first visitors see.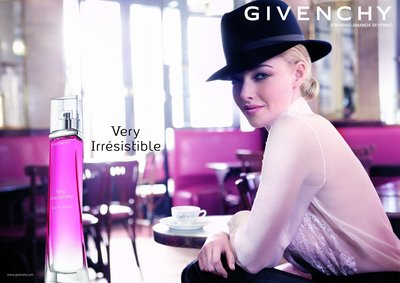 Print ad of Amanda Seyfried for Givenchy 
As visitors continue to scroll down, they are able to view stills as well as live footage of the men's spring/summer 2014 collection.
Further down there are sections highlighting Givenchy's history, pre-collection spring 2014 stills, a gallery of celebrities dressed in Givenchy and finally the latest collection, fall/winter 2013.
Celebrating the anniversary of Very Irresistible as well as the launch of the Givenchy's new Web site allows the brand to let enthusiasts connect to the brand's history while engaging consumers in new content.
Stepping stones
Givenchy is possibly using the Very Irresistible perfume anniversary as a stepping stone for non-affluent consumers interested in the brand. Often, luxury brands will target future affluent consumers through entry-level product.
Entry-level products such as beauty items and fragrances can help luxury brands establish life-long connections with consumers at a young age.
Since it is imperative that luxury brands gain younger consumers to survive, having entry-level products for younger, not-yet-affluent consumers can be a good way to introduce them to a brand. However, luxury brands cannot forget their core audience when promoting entry-level products to avoid losing loyal customers and devaluing their brand (see story).
Product lines with a lower price tag present consumers who may not yet be affluent with an avenue for brand engagement.
For example, Bang & Olufsen, a state-of-the-art Danish audio and video company, partnered with online menswear retailer Mr Porter to increase consumer exposure to the brand's less expensive B&O Play product collection.
Bang & Olufsen's B&O Play collection will be sold alongside other luxury products through Mr Porter in the United States. B&O Play debuted in January 2012 to appeal to design enthusiasts looking to stay digitally connected (see story).
Luxury marketers are always in search of different media to increase brand exposure. Givenchy is likely to benefit by using a TV spot.
"TV does have the benefit of pushing your way in front of eyes that may not have otherwise seen your brand," Ms. Owen said.
"So you can in fact reach an audience that you may not have been able to reach over social media," she said.
"TV not only serves to reach a new audience, but it also can help to reinforce and strengthen your online efforts when people see your spots on TV."
Final Take
Jen King, editorial assistant on Luxury Daily, New York