New York's Gramercy Park Hotel is partnering with the Gay and Lesbian Alliance Against Defamation to court same-sex couples with a package where proceeds support lesbian, gay, bisexual and transgender rights.
The "GLAAD You're Here" package brings guests on a champagne tour of its art collection and other romantic amenities. As same-sex marriage becomes widely accepted and championed, it is important for progressive hotels to recognize this lucrative consumer segment with specialized packages.
"We wanted to showcase our support for same-sex marriage by partnering with a local organization with the same goal," said Daniel Entenberg, the general manager of Gramercy Park Hotel, New York.
"We worked with our friends at GLAAD to create the ultimate New York City escape for couples looking to get away, celebrate and support a great cause," he said.
"We see the Gramercy Park Hotel as part of the community, so we like to support the causes important to our guests and neighbors."
Glad we're here
The GLAAD package aims to celebrate marriage equality as couples looking to plan their wedding are encouraged to consider the hotel's roof-top terrace. The hotel will make a donation to GLAAD on behalf of each guest booking this package. 
During the art tour, guests can view pieces by pop artist Andy Warhol, Young British Artists's Damien Hirst and neo-expressionist Jean-Michel Basquiat.
Mr. Warhol's "Henry Geldzahler" on display at Gramercy Park Hotel
The collection features contemporary art and is consistently refreshed with new pieces.
Mr. Hirst's "Le Caprice" on display at Gramercy Park Hotel
Guests are given $50 credit to the hotel's Rose Bar per day, where fashion week parties and celebrity book launches occasionally occur. On some nights, DJs or live performances entertain the crowd.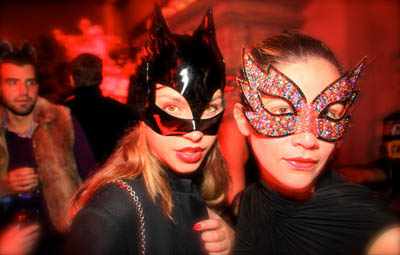 Gramercy Park Hotel Rose Bar
Other amenities include the hotel's signature Le Labo candle and an in-room intimacy kit.
GLAAD works to build support for LGBT equality through news, entertainment and social media. By ensuring that the stories of LGBT people are heard through the media, GLAAD promotes understanding, acceptance and equality.
GLAAD You're Here package starts at $650 per night.
Feet marching
Other luxury hotels have shown their commitment to same-sex couples.
For instance, Four Seasons Hotel Denver is celebrating Colorado's recent recognition of same-sex civil unions by tailoring a package for lesbian, gay, bisexual and transgender guests to celebrate their unions.
The "One Love" package encompasses the standard arrangements of a wedding and offers consultation and packages for honeymoons. Supporting important social issues demonstrates that the brand seeks to deliver a quality experience for all of its guests.
Similarly, The Ritz-Carlton New York, Battery Park, tapped into a new consumer market by offering tailored wedding packages for same-sex couples.
The hotel property has two different packages that can accommodate up to 50 wedding guests. Packages include an LGBT-certified Ritz-Carlton wedding consultant, wedding concierge, Statue of Liberty view accommodation on the wedding night, marriage officiant, Champagne toast and wedding cake, floral options and caricature of the wedding couple and Lady Liberty to commemorate the day (see story).
Specialized packages can spur consumers to feel a stronger affection for a hotel.
"As a lifestyle hotel, we have always been popular in the LGBT Community," Mr. Entenberg said.
"In addition, we have one of the most sought-after wedding destinations on the roof top terrace of the Gramercy," he said.
"Our retractable roof top, delivers uncompromised views of lower Manhattan."
Final Take
Joe McCarthy, editorial assistant on Luxury Daily, New York