Italian fashion label Gucci is extending its menswear offerings to include "Made to Measure," an in-store tailoring service that it is offering in 11 cities worldwide.
Gucci is offering the one-on-one Made to Measure experience in cities such as New York, Paris and Tokyo. The news, sent via email blast, featured photos from the advertising campaign for the service that featured actor, writer and director James Franco .
"With Gucci's made-in-Italy tradition and sartorial expertise, personalized formalwear is the ultimate way for a man to express his own style," said Frida Giannini, creative director at Gucci, Milan.
Suit up
Gucci launched the Made to Measure service to its existing consumer base with an email blast late last week.
The email included the lines "Personalized craftsmanship. Exceptional service. Exclusively yours. What more does any leading man—on, or off, screen—need" to tie-in spokesperson Mr. Franco.
Mr. Franco wore a pin-stripe suit and carried a briefcase in the black-and-white email image.
Gucci email blast for Made to Measure
Made to Measure is a service for luxury consumers that offers personalized clothing and shoes through an exclusive in-store experience according to the consumer's measurements and style, claims the brand.
Gucci will offer more than 80 fabrics, a selection of custom-made finishes, embroidery options and other customization choices for each made-to-order garment.
The high-end textile offerings include wool, cashmere, silk, satin and velvet.
Gucci will keep its textile choices in an understated palate of gray, navy blue and brown.
Selections from Made to Measure 
Dress shirts will also be available from the existing line for customization in fabric and color.
A selection of materials, colors, widths and other personalization options will also be offered for Gucci's signature men's shoes.
Made to Measure is available by appointment only in Gucci boutiques in Milan, Rome, Paris, London, New York, Beverly Hills, Tokyo, Hong Kong and Beijing. The Shangai Yifeng boutique will begin to offer Made to Measure on March 29.
Consumers can access information about the Made to Measure service on Gucci's "World of Gucci" Web site section.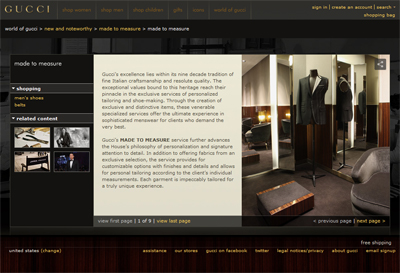 Gucci Made to Measure site
"It's a typical marketing approach," said Al Ries, chairman of marketing consultancy Ries & Ries, Roswell, GA. "How do we expand our brand to expand our sales and profits?
"[However], Gucci is a brand that primarily appeals to women," he said. "Men are not necessarily going to be attracted to a made-to-measure service from Gucci."
Red carpet-worthy
Mr. Franco will take a starring roll in the ad campaign for Gucci's Made to Measure service.
The campaign called "All the world's a stage" was the subject of Gucci's email blast that announced the customization program.
The ads feature black-and-white images of the actor wearing Gucci's custom suits on a film set.
Image from Mr. Franco's ad campaign 
Mr. Franco wears Gucci prints including pinstripes, checks, diagonal stripes and plaid.
Gucci featured a behind-the-scenes look at the making of the ad campaign on its YouTube page.
Video footage of "All the world's a stage" ad campaign with James Franco
In addition, the actor wore a black Made to Measure tuxedo and leather shoes to the 68th Golden Globe Awards in January.
Luxury brands are using similar tactics to raise awareness of their product.
Menswear is becoming more acclimated into the luxury world, especially with made-to-measure and bespoke components.
For example, late last year, luxury conglomerate PPR announced its intent to acquire men's fashion label and tailor Brioni.
PPR chairman/CEO François-Henri Pinault said that Brioni's acquisition makes a lot of sense for the conglomerate, especially since the growth in menswear is significantly stronger than in women's fashion (see story).
Also, Burberry did an ad campaign that focused on men's tailoring and featured actor Eddie Redmayne (see story).
In addition, Savile Row tailor Gieves & Hawkes is bringing its made-to-measure and custom-made apparel and accessories to United States consumers with a trunk show in New York and Chicago this month (see story).
"[Mr. Franco] has an innate ability to fuse classic elegance with contemporary style and interpret formalwear in an individual way, true to the spirit of our Made to Measure service," Gucci's Ms. Giannini said.
Final Take
Tricia Carr, editorial assistant on Luxury Daily, New York