Luxury automakers should sharpen their mobile advertising strategies and look to integrate new technologies since other industries seem to be dominating the medium.
Many luxury automakers are using their marketing budgets on other media platforms. Although automakers do have mobile strategies, they should look to increase their mobile efforts so they are not left scrambling in the dust of other marketers.
"Unlike other categories, automakers tend to advertise in places where all their competition is also advertising," said Jeff Gunderman, senior vice president and general manager at Eye, New York.
"This makes it difficult to stand out, so you might think that instead of being in that Saturday insert they would embrace new ways to research consumers, but I think it is also very hard to give up something that many of their competition are doing," he said.
"One thing that will assist in the transition over time is the ability to offer rich metrics and reporting on the results of a campaign, which mobile does and more traditional media does not."
Importance of mobile
Since many automakers and car dealers have been using other media for such a long time, the transition over to mobile is not likely a quick process.
"Automakers may not be dominating the mobile ad space at the moment, but they are not far behind," said Sara Read, vice president of business development at Red Fish Media, Miami, FL.
"Automakers do understand the value of mobile and have seen a change in the behavior of their consumers," she said. "More consumers today start their search via their mobile devices.
"I believe there will be an increase with automakers utilizing mobile ads in the near future."
Although automakers are aware of mobile ads, they have not used the mobile platform to its full potential. But a few brands have made use of QR codes and mobile banner ads.
For instance, Italian automaker Maserati is enhancing its text-laden print ad for the 2013 GranTurismo Convertible Sport with a QR code that lets consumers explore the model on their smartphone (see story).
Also, German automaker Porsche encouraged affluent mobile users to learn more about the new 29-miles-per-gallon Cayenne Diesel through an ad on Reuters that revealed a model summary, images and a video (see story).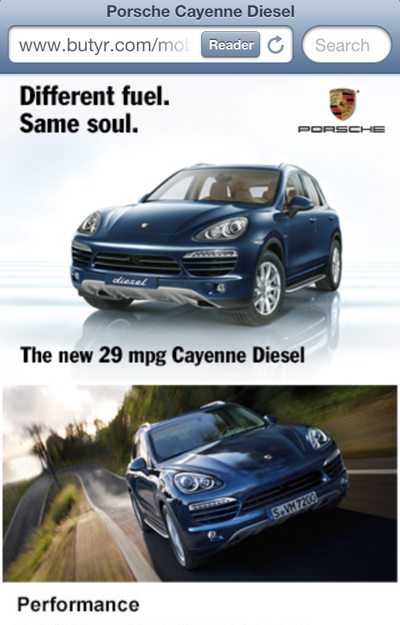 Click-through on Porsche ads
The theme of automakers' mobile ads seems to focus on branding while they are using other media to promote specific vehicles.
"We tend to see automakers advertising more the brand and brand awareness, while advertising is still a solid use of newspaper, TV, out-of-home and other print media," Eye's Mr. Gunderman said.
However, some automakers are embracing mobile technologies at the dealership, which shows the move toward mobile since dealerships usually rely heavily on print advertising.
"We see dealerships really beginning to embrace mobile at the location with QR codes on the window stickers to get more information about the car," Mr. Gunderman said.
Integrating technologies
Automakers should also keep in mind certain mobile technologies such as geo-targeting when creating mobile ads.
Some automakers have already integrated geo-targeting into mobile ads.
For instance, German automaker BMW raised the bar for mobile advertising among luxury marketers with a campaign that comprises video content and Google Maps integration to push the i concept vehicles.
The ads show the various i concept vehicles driving along the ad space and a Google Map of the area that the mobile user is in. A click-through leads to a BMW Web site that gives users a virtual test drive of an i concept vehicle (see story).
Geo-targeting and other technologies integrated on a mobile ad can personalize the experience for a consumer.
"Automakers should always incorporate some sort of geo-targeting technology into their mobile application or touch points," Red Fish Media's Ms. Read said.
"This makes for a friendly user experience and allows the automakers to capture the consumer and move them along through the purchasing process," she said.
Geo-targeting technologies also easily lead consumers to a dealership.
"The power of mobile is that it is in the hands of consumers when they are on the go as well as at home," Eye's Mr. Gunderman said.
"Consumers use their phones as navigation devices so incorporating geo-targeting to assist the consumer to find a dealership would be valuable," he said.
Final take
Erin Shea, editorial assistant on Luxury Daily, New York