German label Hugo Boss is bolstering the womenswear shopping experience on its ecommerce site through a virtual dressing room designed in partnership with Eat.Sleep.Wear. blogger Kim Pesch.
Female consumers can create their own outfit on Ms. Pesch using apparel and accessories that are organized by trend in the game-like dressing room. The digital campaign was enacted so that Hugo Boss could drive repeat traffic to its ecommerce site, per the label.
"Digital innovation is the new form of luxury," said Yuli Ziv, founder/CEO of Style Coalition, New York. "Sleek, technologically-advanced tools that are enhancing ecommerce could be perceived as a luxurious experience by the online consumers."
Ms. Ziv is not affiliated with Hugo Boss, but agreed to comment as an industry expert.
Hugo Boss could not comment directly on this matter before press deadline.
Getting dressed
The virtual dressing room can be found on Hugo Boss' ecommerce site.
Ms. Pesch acts as a black canvas on which users can build their own outfit from apparel and accessories in five categories: Polished Elegance, Contemporary Chic, Casual Chic, Modern Muse and Menswear-Inspired.
Each category is accompanied by a style tip from Ms. Pesch.
Users can click on an item to put it on the Eat.Sleep.Wear. blogger.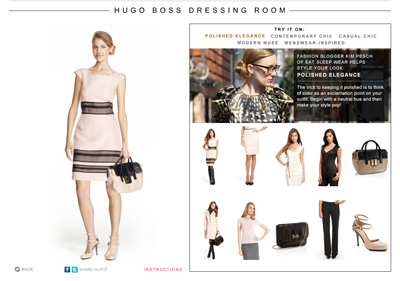 Virtual dressing room
They can also add each item from their outfit to their shopping bag from a menu below the virtual dressing room template. When the add-to-cart button is clicked, a new tab opens so that users can specify the color and size of the item that they wish to purchase.
There are also buttons so that users can share their outfit via Facebook and Twitter.
Hugo Boss encouraged traffic to its virtual dressing room via an email that it sent to its list last week. Users can also navigate to the experience from the homepage of Hugo Boss' ecommerce site.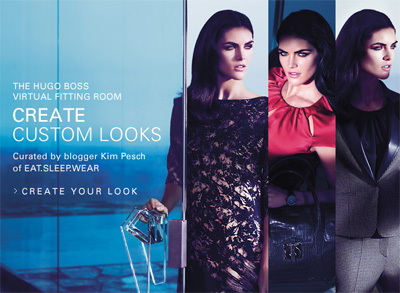 Email 
The label is looking to generate awareness and resonate with a fashion-forward female audience, per Hugo Boss.
"It seems like Hugo Boss is targeting a younger audience with this effort, tapping one of the influential fashion bloggers to promote the new feature," Ms. Ziv said.
"While using the influencer to curate looks was a smart approach, Hugo Boss could have widened the audience by using several influencers with diverse demographics or by simply offering variety of body shapes to play with," she said.
E for elegant
Other luxury marketers are switching up the experience on their ecommerce sites.
For instance, Italian label Valentino is upping the shopping experience on its ecommerce site through a digital shoe boutique that it is leveraging with two online-exclusive items designed by the creative directors.
The shoe section of Valentino's ecommerce site now uses the scroll function of a computer to let consumers go further into a display room, which the label is dubbing the world's largest virtual shoe boutique (see story).
In addition, London-based department store Harrods is boasting its status in both the fashion and food industries through a digital photography campaign that is transforming the retailer's ecommerce site into a stylish culinary experience.
Harrods will feature "Style to Savour" campaign photography shot at its on-site cafes on each section of its ecommerce site's parallax scrolling homepage and in a food-themed shopping guide during the month of October (see story).
Now that affluent consumers are comfortable on digital and most brands are offering ecommerce, it is imperative that luxury marketers distinguish the online shopping experience in some way.
Hugo Boss is using the power of an influencer that appeals to young women similar to other luxury marketers.
But there is potential for the brand to increase engagement and sales through this effort since it is directly on its ecommerce site and encourages time spent.
"Customizing the online shopping experience is a digital-savvy move from Hugo Boss," Ms. Ziv said.
"These days, simply having online access to merchandise is not enough," she said. "Consumers are looking for tools to enhance online shopping and help them replicate the fitting room experience.
"Mixing and matching various items gives users a better perspective and may increase the overall conversions."
Final Take
Tricia Carr, editorial assistant on Luxury Daily, New York