Louis Vuitton, Chanel and Giorgio Armani continue to push their fall/winter collections while fine jewelry brands compete for attention among the fashion advertisements in the September issue of Condé Nast's W magazine.
The issue focuses on the rebels of fashion with model Cara Delevingne on the cover of the 456-paged fall fashion issue. Publications with themes enable the reader to have a well-rounded and centralized reading experience.
"Our September issue was up 17 percent from last year by 46 pages, is the biggest September issue since 2008 and led the fashion set for percentage growth," said Lucy Kriz, publisher at W, New York.
"Over 26 percent of the paging is from new business. In other categories, beauty was plus 110 percent, jewelry and watch was plus  80 percent and retail was plus 15 percent," she said.
"Phase one of our Web site relaunch is up and we are seeing steady increase in traffic, up 180 percent in unique visitors from June 25-July 24, 2013 versus May 25-June 23, 2013."
W magazine has a ratebase circulation of 450,000. These readers are said to have a median household income of $155,215.
Rebel style
Louis Vuitton opens the issue with a three-page expanded ad for its fall/winter collection.
Louis Vuitton ad
Chanel took six pages of front-of-book ads to continue its latest collection.
Chanel ad
Apparel and accessory brands continue to advertise their fall/winter collections throughout the front-of-book pages of W magazine.
Brands that have ads to show off new collection include Gucci, Dior, Prada-owned Miu Miu, Saint Laurent, Fendi and others.
The first jewelry ad to be included among the many fashion brands is David Yurman.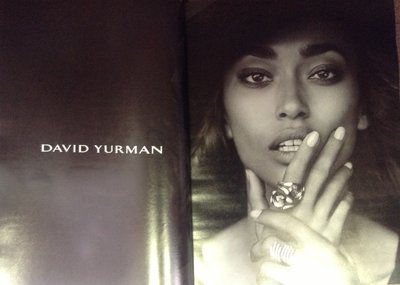 David Yurman ad
Tiffany & Co. continues its promotions of its newly updated Atlas collection in two back-to-back ads.
Tiffany & Co.'s Atlas collection ad
A mixture of fashion and beauty ads appear, which include Chanel cosmetics and skincare ads, Ferragamo, Givenchy, Mulberry and a sample of Saint Laurent's latest fragrance, Manifesto.
Ads pushed by jewelry brands come out in force before the featured content begins with ads from Tacori, David Webb, Pomellato, Gemfields and others.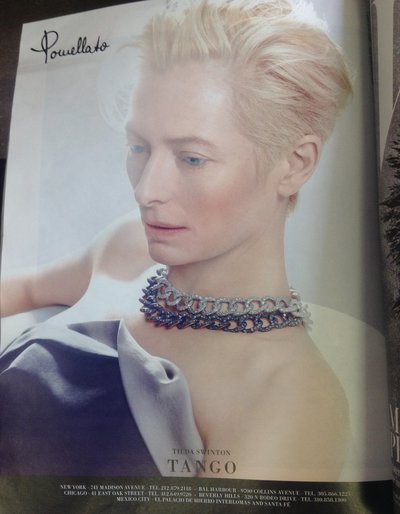 Pomellato ad
Appearing in the featured "Style Rebels" content pages is an interview with cover-girl Ms. Delevingne, a look at the career and work of photographer Lee Miller, a burlesque-styled photo spread featuring entertainer Carmen Carrera and more.
Gucci's third ad in the issue is found on the back cover.
Gucci ad
The September style issue also includes a Trends supplement with a similar pattern of ads found in the main issue. Advertisers include Bulgari, Dior, Fendi, Simon G and Hemmerle jewelry and others.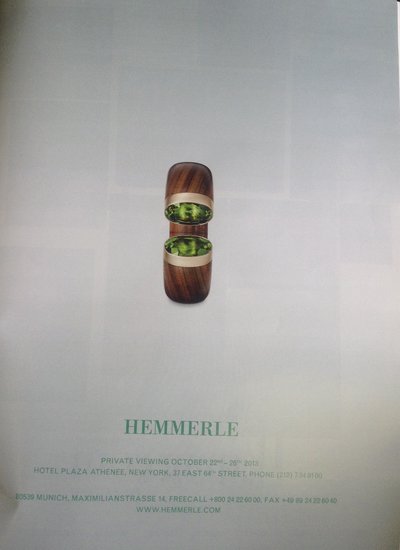 Hemmerle ad
The inclusion of additional information via a supplement shows the reader that a publication has their interest in mind and may create an invested readership.
Connect the dots
Publications with a clear connection among featured ads allows for a focused perspective among readers.
For example, Gucci, Fendi, Louis Vuitton and other luxury brands competed with one another by pushing new apparel and accessories collections in the August issue of W.
The magazine continued to see the largest ad increase take place among beauty brands, but apparel and accessories have also seen a consistent hike. Musicians Jennifer Lopez and Kanye West lended luxury brands extra bravado as the focus of featured articles in the 125-page issue (see story).
Additionally, Dolce & Gabbana, Gucci and other luxury apparel brands are advertising their entry-level products alongside advertisements for their high-end fall/winter collections in Condé Nast's Vogue to attract both affluent and aspirational consumers.
Among the many fall/winter fashion and accessories ads in the September fall fashion issue, brands took additional pages in the 902-paged issue to advertise beauty and fragrance collections. Brands likely featured ads for its beauty and fragrance collections to reach more consumer segments (see story).
The ads found in a magazine creates its own content.
"The September issue is the most anticipated issue of the year," said Betsy Csatorday, senior vice president and strategy director at Atelier, New York.
"We never really get over that 'back to school' fresh-start feeling, and the September issue is all about that kind of excitement, she said. "The ads are a big part of it - they are almost as much content as the editorial.
"For fashion brands, not being in the September issue is like missing the first day of school - the ultimate in missing out on the action."
Final Take
Jen King, editorial assistant on Luxury Daily, New York