Kering, owner of Gucci and other luxury fashion houses, is looking to propel itself and its brands through a digital storytelling campaign.
In a new video series, fashion blogger Garance Doré interviews the people behind Kering's brands in an effort to show the public how the conglomerate works with them to achieve its mission of "Empowering Imagination." Ms. Doré talks with key players at Gucci, Volcom and Christopher Kane in the first installment that focuses on the concept of a family of brands.
"The strategy behind this collaboration with Garance Doré was to complement the publicity about the group's change of name and illustrate the message of the corporate advertising film," said Louise Beveridge, senior vice president of communications at Kering, Paris. "It came to us very naturally, as we were looking to build digital storytelling around our name change.
"Garance was the perfect storyteller for us," she said. "Her friendly style, her French touch, the fact that she is well-known on digital media and her approach to fashion and lifestyle were all factors that appealed to us from the very beginning."
Getting to know you
The advertising campaign that supports the luxury and sports conglomerate's transition from PPR to Kering begins this month.

The digital storytelling portion called "Kering Stories" launched April 2 when the group released the first video called "Family."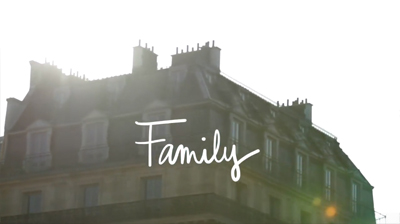 Video still 
The remaining videos will release on a monthly basis. All installments are translated into five languages and available on Kering's new Vimeo channel.
In the first episode, Ms. Doré introduces the series and interviews Kering CEO François-Henri Pinault, Gucci CEO Patrizio di Marco, executives at Volcom and designer Christopher Kane.
Mr. Pinault explains that Kering is a family-controlled group that nurtures its brands.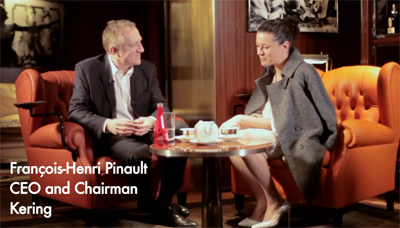 Video still 
Next, Mr. di Marco explains that being a part of the Kering family allows for the sharing of experiences and expertise among luxury brands.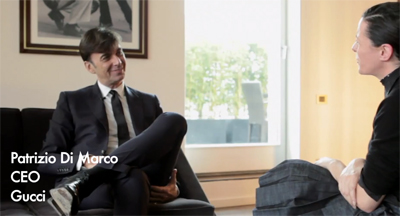 Video still 
Ms. Doré transitions to an interview with Volcom's Ethan Anderson, executive vice president and creative director, and Ryan Immegart, senior vice president of marketing, by telling viewers that Kering's luxury and sports brands share the same authenticity and are all driven by imagination.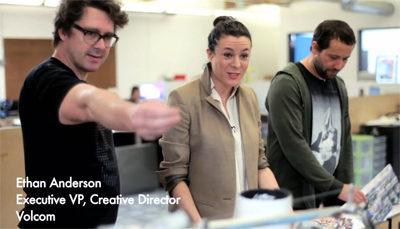 Video still 
The last interview takes place in London after a Christopher Kane runway show. The designer explains how the conglomerate supports and cherishes the creative process and assists his brand with business operations such as working with suppliers.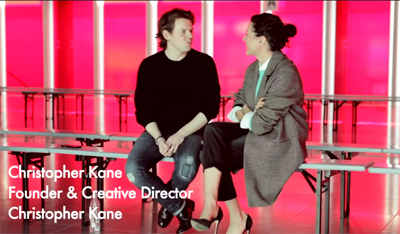 Video still 
The next episodes in the video series will center on other themes: Nurture, Create, Liberate and Sustain.
"Family" episode
Kering likely appointed Ms. Doré to lead the content to make it more authentic among the conglomerate's digital audience.
If a Kering executive were to conduct the interviews, it may have been less believable and would take away from the goal of openly informing the public about the rebranding efforts.
"Kering's use of video to tell a story about their brands helps consumers better understand the connecting themes that translate from Gucci to Volcom," said Ian Foley, a Portola Valley, CA,-based digital marketing strategist.
What's in a name?
Kering will officially change its name June 18 following approval at the annual general meeting.
The group chose a name change to solidify an internal transition that it began in 2005 from a focus on European distribution to apparel and accessories in the luxury and sport sectors.
The conglomerate's new identity also signals a shift in its corporate culture.
The name is meant to have meaning in the way it is pronounced in English as "caring." The group is looking to show that it cares for its brands, employees, stakeholders and the environment.
Kering is adopting a new logo of an owl that suggests wisdom and nurturing (see story).
The conglomerate chose video to drive its rebranding and restructuring efforts since digital storytelling has been a part of its culture for quite some time, per Ms. Beveridge.
"We believe that building incarnated digital storytelling around a group such as ours will help people grasp our identity and the wonderful brands we develop," Ms. Beveridge said.
"We are not only looking to speak to shareholders, but also to our business partners, from sports retailers to American buyers including young talents of tomorrow," she said. "We want to illustrate our inspiring way of doing business."
Final Take
Tricia Carr, associate reporter on Luxury Daily, New York